This post may contains affiliate links for your convenience. If you make a purchase after clicking a link we may earn a small commission but it won't cost you a penny more! Read our full disclosure policy here.
By: Teresa Pitman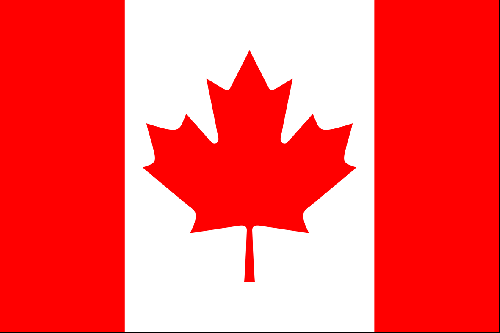 Did you know that Walt's last vacation before he passed away was in Canada? He clearly had some affection for his northern neighbours (yes, that's neighbours with a "u") and the feeling is returned: Walt Disney World is a top vacation destination for Canadian families.  In fact, a recent Toronto Star survey ranked it as the number two choice.
I'm one Canadian who has fallen in love with Walt Disney World. My family's connection with WDW was strengthened a couple of years ago when my two youngest sons both worked in the Canadian Pavilion through Disney's International Program. Both met lovely Canadian girls while they were there and are now engaged – the best kind of souvenir!
For Canadians, much of the planning for a Disney vacation is about how to get there: drive, fly from a Canadian airport, or fly from a US airport. I'll skip that discussion for today, and offer you a Canadian perspective on some aspects of WDW.
First, the Canadian pavilion. Canadians naturally gravitate to this spot once we arrive in Epcot. You can't help but feel a little Canadian pride as you look at the large building with the totem poles in front and the lovely gardens that lead to Le Cellier, the full-service restaurant on the lower level. Canada is a big country, but the pavilion designers have done a good job of incorporating little touches from various places. For example, the gardens are meant to represent the lovely Butchart Gardens in west coast British Columbia while the tall building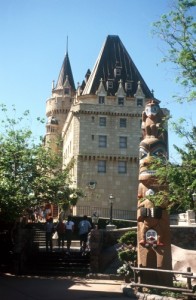 represents a well-known hotel in Quebec (Chateau Laurier).
The O Canada movie was re-done a few years ago and is much improved, although the prairie provinces in the centre of the country are sadly neglected. Martin Short is the film's host and narrator now and he tackles a few of the common myths about Canada as the audience is treated to scenic views and highlights of events such as the Calgary Stampede.
Non-Canadian visitors to the pavilion, however, may be surprised to learn that we don't consider red-and-black plaid lumberjack shirts to be our national costume. I do feel a little sorry for the young "cultural representatives" wearing those long-sleeved and very warm uniforms in hot Florida summers.
Le Cellier recently became a signature restaurant (two table service credits on the dining plan) at dinner; it is still a single dining plan credit at lunch. This steakhouse is fairly small in size but very popular, and the servers are genuine Canadians. So is much of the food. When you are seated at your table, you'll be told which Canadian province your section is named after (I've been there so many times, I think I've hit all of them).
But Epcot isn't the only park with a little Canadian presence. In Magic Kingdom, the clean up around the Fantasyland construction is currently being done by a Canadian company called Construction Cleaners and founded by Toronto's John Radford.
As well, from his offices in Animal Kingdom, Canadian Eduardo Valdes oversees the preparation and planning of food for all the animals in WDW – from the white ponies that pull Cinderella's carriage to the manatees in Epcot, plus all the animals in Animal Kingdom. He is a graduate of the University of Guelph, where I work part-time, and he's an expert in animal nutrition.
There are also a few things about WDW that tend to annoy Canadians. One is the American Adventure. I know, Walt was a very patriotic guy. But we Canadians claim Alexander Graham Bell as our own (I've even visited his home here in Canada) and sometimes we get a little exasperated by the suggestion that only Americans can create good things.
Canadians also bemoan the lack of real maple syrup and Tim Horton's coffee. There are petitions going around to have a Tim Horton's outlet added to the Canadian pavilion; you would see long line-ups of Canadians there all day long if that ever happened.
For me, living in Ontario, the trip to WDW is a lengthy one, but it's a journey worth making.