This post may contains affiliate links for your convenience. If you make a purchase after clicking a link we may earn a small commission but it won't cost you a penny more! Read our full disclosure policy here.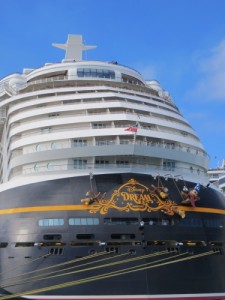 By Kristi Letsinger
I recently had the opportunity to take my first cruise.  We took the Disney Dream for a three night cruise to the Bahamas in December – and loved it!!
I had heard many great things about cruising with Disney but until I experienced myself I had no idea how wonderful it really is!
From the first moment that we walked onto the ship to the moment that we walked off we felt like we were very special passengers.  We were announced upon entering the huge main area of the ship.  The crew members who flanked the large door clapped and high fived us as we entered.  They did this for each passenger group.  At one point the clapping seemed to be especially loud and when we turned around we realized that it was because Mickey Mouse was boarding the ship!!
We boarded the ship before our room was ready so we headed to have a buffet lunch at the Enchanted Garden.  It was a great choice for our first meal on board.  The Dream has several dining locations and we were able to eat at most of them.  We sampled many, many different types of foods and had yummy desserts each night.  Snacks and drinks were everywhere and it was nice being able to grab a drink or snack at just about any time that you might need it.  You can also order room service!  We did not do this but plan to order milk and cookies before bed on our next trip!
The character interaction was the same quality as you would expect at the parks.  We saw many different characters.  I had my picture taken with Captain Mickey and Minnie.  They both spent as much time with me as they did with the kids.  At one point, while we were on the adult only beach, we saw Jack Sparrow walking down the shore!
We really enjoyed the shows, the pools, and just lounging in the adult's only area.  There was so much to do that on our three day trip we did not have time to do even half of it.  I did get to play bingo which was really fun, too!  Pirate night is also not to be missed with music, visits from pirates, fireworks, and a night time buffet that even had the famous Disney turkey legs!
Upon returning to our rooms each night we found chocolate on our beds, the schedule for the next day, and our beds turned down.  On pirate night we found a Mickey pirate bandana!  Our room steward was great and most nights we found cute towel animals on the bed.
I will not hesitate to take another Disney cruise.  I even booked while on board for a trip with my children.  There is so much for families to do that we won't be able to do even half of it.  That's okay – it is a reason to book another cruise while on board, like the one I just booked……Bon Voyage!