This post may contains affiliate links for your convenience. If you make a purchase after clicking a link we may earn a small commission but it won't cost you a penny more! Read our full disclosure policy here.
In January 2011 I had the great fortune to have a couple of Disney Dream experiences prior to the Maiden Voyage, both in the same stateroom category—which was a Category 5 Deluxe Oceanview Stateroom with Verandah.  This was also my first balcony experience on a Disney cruise (however I have sailed in balcony cabins on my sailings on other cruise lines.)  My first cruise on the Dream was January 19-21, which was the Inaugural Christening Cruise with my daughter, and the second was the "Magical Preview Cruise" with a colleague and fellow The Magic For Less Travel agent  January 23-26.  The second cruise was also Disney's Earmarked Conference for travel agents,  so it involved work and mandatory meetings, but was in a totally different location on the ship–same stateroom, different location.    First cruise was a 5A, #10644 which is far aft and on deck 10, and the second was a 5D, #6022 located forward on Deck 6.  (More on those differences below.)
The Category 5 balconies on the Disney Dream are 246 square feet, including the balcony.   As you walk in to the room there are closets  and the bathrooms on opposite sides of a small hallway.   The front area of the stateroom is a queen bed with a large storage area underneath (suitable for luggage and whatever else you don't want to look at during your cruise), and a tall cabinet with shelves.  There are two narrow tables on either side of the bed and an iPod dock/alarm clock, and heavy curtains separate the couch/alternate sleeping area.  There is a couch which flips into a daybed, and most staterooms have a pulldown berth.  In lieu of a coffee table, there's a trunk with a lid, which can be used for storage (more on this later).  Spanning the wall opposite the couch/daybed is a desk and mirror area with the usual light switches.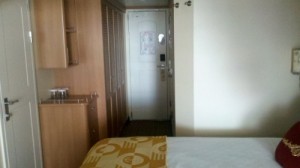 The balcony in these staterooms is a standard size, with two chairs and a little table.  It was "just right" for sitting and standing.   The Category 5 balconies have Plexiglas over the railings.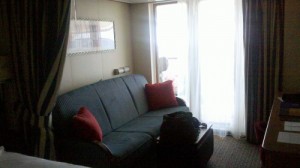 The table is actually a trunk, with a lid, and you can use it for storage.  Only problem with using it for storage is remembering to get your items out when you leave!  My colleague actually forgot some things in there when we left the ship after our conference.   The large desk opposite the daybed has duplicate switches for the lights in the stateroom, along with a new feature:  a night light.  I liked this feature for families, but for it not to be annoying to someone who needs absolute darkness the privacy curtain really must be pulled closed.
The Dream also has new flat screen televisions with a plethora of Disney movie options–so keep tabbing through those channels and you'll find something to watch.  And also new to DCL is the ability to review the guest account from the stateroom television monitor, like other cruise lines.  This is great, because it saves a trip to Guest Services to check room charges–which sure can add up as cruise ships are cashless.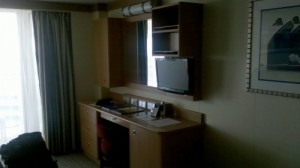 For two people, the Category 5 balcony stateroom on DCL was pretty spacious.  It would be manageable for a family of four too, as there are plenty of places to put personal belongings however this is still a cruise ship stateroom without a lot of floor space and the Category 4 staterooms are noticeably larger than the Cat 5 and 6's.  The Disney Dream has closet doors which open out into the little hallway–and the bathroom doors also open out.  Basically you can't be in the closet while someone is going in and out of the bathroom area.  I had mixed emotions on those doors as I like old sliders on the Magic and Wonder.  However with a sliding door you don't have full access to the space on the closet floor for luggage and most people feel like this is an improvement from doors that might slide and thud with the movement of the ship.
The Disney Dream has kept the split bathroom area in stateroom categories 10-4, which has a toilet and sink on one side, and a sink and tub on the other.  With two women sharing a cruise cabin, the two bathrooms worked out pretty well.  (Category 11 staterooms have a typical DCL bath with a small tub, sink and toilet–and this is larger than on other cruise lines.)  Bathroom amenities still include the Spa H20 products, which are also available in the shops and online.  (Note that you can find some of the DCL products in many of the Disney resort stores too.)
Typically cruise ships have one large bed which splits into two twins.  On the Disney Dream (and the Fantasy to follow) DCL has put in one queen bed.  While many people love the dedicated queen bed, I've got mixed feelings about it.    Having one bed with no bump down the middle is a great plus when your travel partners are your sleeping partners.  When my daughter and I sailed it was fine because I got the queen and she took the daybed.  However when I was with my colleague, one of us had to take the daybed.  My friend graciously took the daybed, and I got the queen.  (I owe her for that one!)  The daybed is of a decent quality, and adult could sleep on it without a problem.  However people who travel together do not necessarily want to sleep together, which could present a problem if the passengers didn't know that the beds do not split.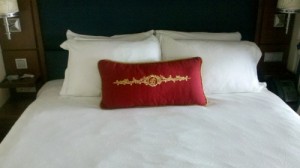 First cruise was Deck 10, #10644–which was far aft and only one deck up to Cabanas, which is the casual buffet.  This aft area is where I typically sail on all cruises–mainly so I don't get lost!  Cruise ships are similarly laid out, and by staying in the same place on each ship (mostly aft cabins) I know that I go either straight up or down for food.  The conference cruise had me down a few levels to Deck 6, #6022.  This was pretty far forward.  I noticed more of a rocking chair motion from this location–and I'm glad it wasn't too bad because DCL put me far forward for my May 2011 cruise.
Of course it was great to sail in a balcony on the Disney ship, but I will add that I didn't spend a whole lot of time in that stateroom to use it.  On the Disney Cruise, there's really a whole lot to do no matter your age group, which is why I've never found a need to book a balcony on DCL.  It was really nice though to be able to have sailaway from ports on my balcony versus the top decks.
And with that I leave you a picture of Disney's Castaway Cay, the little slice of paradise in the Bahamas, taken from my stateroom on Deck 10.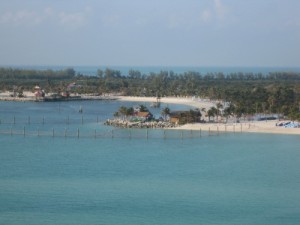 Incoming search terms:
https://www themouseforless com/blog_world/disney-dream-balcony-stateroom/
do balconies on the didney dream open
https://www themouseforless com/blog_world/disney-dream-balcony-stateroom/#:~:text=The Category 5 balconies on sides of a small hallway