This post may contains affiliate links for your convenience. If you make a purchase after clicking a link we may earn a small commission but it won't cost you a penny more! Read our full disclosure policy here.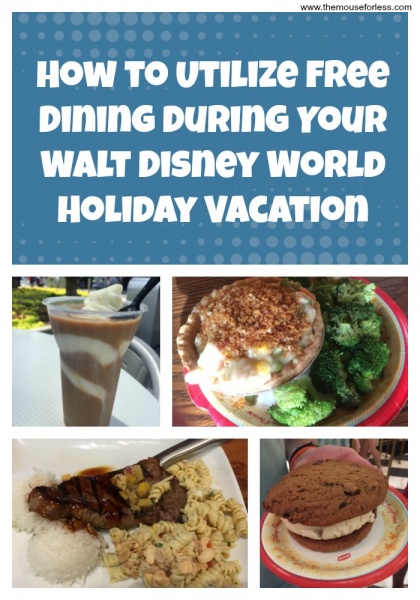 Free dining. It is honestly one of the most popular discounts that Walt Disney World offers. I mean people go bananas for it and for many, it's a must!
Here's what you need to know about Free Dining for 2017, in case you didn't know.
Guests can receive Free Dining when they purchase a non-discounted 5 night/6 day vacation package that includes your room at a select Walt Disney World Resort hotel and tickets. In addition, Guests must book a minimum 2-day Magic Your Way ticket with Park Hopper or Park Hopper Plus Option.
Guests staying at a Value or a Moderate Resort will receive the Quick Service Dining Plan for free. (Keep in mind that you can choose to upgrade to the standard or deluxe dining plans by paying the difference in cost per night).  Guests staying at a Deluxe or Deluxe Villa Resort will receive the standard Disney Dining Plan. (You can upgrade to the Deluxe Dining Plan by paying the difference in cost per night).
The Free Dining promotion is valid for most nights on the following dates:
August 13 through September 30
November 14 through November 20
November 25 through November 27
December 8 through December 23
Want to learn more about this year's Free Dining promotion? Check out our blog post.
Now….here's our best secret tip! If you are planning a Walt Disney World vacation during Thanksgiving or Christmas, as long as you check in on one of the dates that is valid for the Free Dining offer and you stay at that same resort for the duration of your vacation, you will be able to enjoy Free Dining during your stay! How awesome is that?!
Let's start with Thanksgiving. This year, Thanksgiving is on November 23. The last day to check into a room and still be able to receive Free Dining is November 20, which is the Monday of Thanksgiving week. Therefore, because you checked in on November 20, when Free Dining was being offered you will be able to take advantage of the Free Dining offer and have your Thanksgiving holiday meal for free!
The same opportunity works for Christmas too! According to the dates above, the last date to check in and utilize Free Dining for your entire vacation before the Christmas holiday is December 23, which is the Saturday prior to Christmas. (Christmas Day is on a Monday this year.) If you check in on December 23 and stay at that resort through at least Christmas Day, you will receive the promotion through the duration of your stay. This will then allow you to be able to enjoy both Christmas Eve and Christmas Day meals for free! (Oh and if you stay through New Year's at the same resort, you'll be able to take advantage of an even more fantastic deal!) Seriously, how awesome would it be to be able to celebrate the holidays, knowing you can enjoy your meals and not have to worry about how you're going to pay for them!
Do keep in mind that if you are looking to take advantage of Free Dining for the whole time, you must stay at one single resort. You cannot have a split stay, because as soon as you check out of your first resort, your Free Dining offer ends.
If you're wanting to know more about Free Dining and to request your no-obligation quote, make sure to contact The Magic For Less Travel.

Do you have great Free Dining tips? Share your suggestions in the comments!
Did you like this article? Make sure to share it with your friends! Check below for easy ways to share!