This post may contains affiliate links for your convenience. If you make a purchase after clicking a link we may earn a small commission but it won't cost you a penny more! Read our full disclosure policy here.
It was just 10 days after my gastric bypass surgery when my doctor cleared me.  Ten days?  My husband had taken three weeks off from work to take care of my post-op self.  Whatever could we do with the free time? I was about to find out how Disney dining after gastric bypass surgery was going to work.
Hours later, we were in the car on a spontaneous trip to Walt Disney World, and I was on the phone securing my family's favorite dining reservations.  Then it hit me.  I had been told that even when I was completely healed (which I was not), there would be foods I'd never be able to eat without serious gastrointestinal discomfort.  No Dole Whips or carrot cake cookies.  I'd never be capable of doing a buffet with my limited stomach capacity, so no more Boma, Chef Mickey's, or even **gasp** 'Ohana!  I am not ashamed to admit, tears were shed on that car ride when the reality of my gastrically altered self kicked in.
There have been many trials and errors in the nine years since.  I have learned lessons that I think are important to anyone who tackles their first post-gastric bypass trip to Walt Disney World, whether you are a month after surgery, a year post-op, or visiting long after you think you have things under control.  These are just a few things to keep in mind:
1 – All Foods Are Not Created Equal – There are some foods you just cannot eat.  You know them from your own attempts at home that some things just make you sick.  We all recognize the "stuck" feeling, where there feels like there might be a clog in the pipe, and nothing you try can get it to go down.  Guess what?  Despite the magic you'll find at Walt Disney World, you won't be able to get those things down there, either.  If turkey is a "sticking" point for you at home, don't make a bee-line for Toluca Legs.  You love pasta with the passion of a true Italian heart, but it doesn't love you back.  Chances are, Trattoria al Forno or Tutto Italia will cause more pain than pleasure.
2 – A Kid at Heart Does Not Mean a Kid in the Stomach – A lot of gastrically altered folks have asked if Walt Disney World will just allow them to order from a children's menu.  The answer is, in most cases, yes.  However, why would you want to?  Even with a trend towards healthier kids' menu options, you'll still find the foods heavily kid friendly.  Why settle for a fancily named mac and cheese (which may make you ill) when you really want the Le Cellier filet mignon?
3 – Go Small or Go Home (sick!) – I have discovered some of the most amazing – and filling – meals by looking at the appetizers on the menu.  The cured meats and sausages at Be Our Guest are a perfectly delicious meal, full of protein and tantalizing flavors.  I have made a meal of the fried herb and garlic cheese at 50s Prime Time Café. I feel as if I've died and gone to heaven with the Shellfish Tinashe at Sanaa. Many tastes on the appetizer menus are grown up, but the portions are just the right size.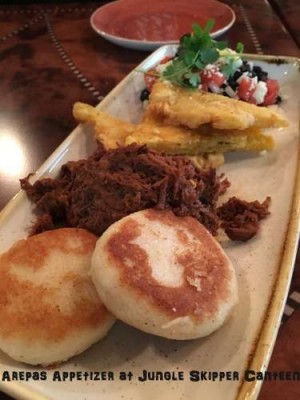 4 – Never Say No to a Buffet – It's expensive to think of enjoying your favorite all you care to eat meal when all you care to eat could fill a two jigger shot glass.  But here's the thing – the buffet or family style meals give you an opportunity to eat your fill of healthy proteins, fill a plate of good for your fruit, or give you a chance to have just a small bite of all the things you love but can't eat more than a taste of.  You will pay more than you could possibly eat, but I chalk some of that money up to the entertainment value.  I enjoy the character visits or coconut races, and that time with my children is priceless.
5 – Sharing is Caring – If you are visiting the theme parks with someone you love, ask them to share an entrée with you.  My husband will often order himself a salad or an appetizer, then split an entrée with me.  It allows me to have some of my Walt Disney World favorites without risking the temptation to over eat and become uncomfortable.
6 – When in Doubt, Room Service – Did you know that many of the resort hotels offer their signature meals as room service options?  The amazing Sanaa bread service can be delivered right to the door of your resort room.  Even the 'Ohana feast is offered as an in room dining option.  Not only does this let you try some things while you are close to the convenience of a "comfort station", but it also lets you enjoy as much as you want, and save the rest in your resort room refrigerator for later.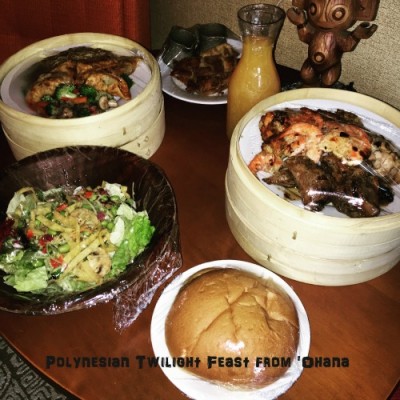 The further out from surgery you are, you will find that you can have a few bites of a Dole Whip or a small taste of that carrot cake cookie without becoming ill, but make sure your vacation isn't ruined by indulging on too much of the things you know you shouldn't (or can't) have.
Eat, drink, and be wary.  You want this vacation to be filled with magic, not misery!
Do you have any tips for dining at Walt Disney World after having Gastric Bypass Surgery? Share them in the comments!
Incoming search terms:
https://www themouseforless com/blog_world/disney-dining-gastric-bypass-surgery/
https://www themouseforless com/blog_world/disney-dining-gastric-bypass-surgery/#:~:text=2 – A Kid at Heart , in most cases, yes
https://www themouseforless com/blog_world/disney-dining-gastric-bypass-surgery/#:~:text=2 – A Kid at Heart why would you want to?
does disney give discounts to bariatric patients
disneyland after gastric bypass
weight loss surgery at disney world
Disney gastric bypass
disney food discount for weight management
Best restaurants to eat at after weight loss surgery
bariatric guide to walt disney world