This post may contains affiliate links for your convenience. If you make a purchase after clicking a link we may earn a small commission but it won't cost you a penny more! Read our full disclosure policy here.
Throughout the years, we've enjoyed many Disney movies, each showcasing a central character, one or more challenges, and invariably a lesson to be taken away.
Those movies have not only provided beloved primary characters that span generations, but they've also provided wonderful secondary characters which are often just as loved as the ones in the spotlight.  For me, many of these characters include what I refer to as the Disney Dads.  These dads are strong, loving, supportive, and many times flawed characters – in other words, rooted in reality.
We have loved so many of them through the years – they've made us laugh, cry, inspired us, buoyed our spirits, and taught us valuable lessons.  Here are my top favorites:
5.  James – Princess Tiana's Father (The Princess and the Frog).  James is a dedicated and hardworking family man who is happy with what he has in life – his wife, Eudora, and little girl, Tiana.  A loving father, he teaches Tiana what is important in life and spends as much time as possible with her, usually sharing their common love of cooking and using this time to teach her valuable life lessons telling her, "You dream and you wish with all your little heart, but remember, Tiana, that little star can only take you part of the way, you got to work hard too and you set your mind too.  Just promise your dad that you will never lose sight of what is really important".
His dream is to have his own restaurant some day, but he never achieves it because he is killed in action during the war, leaving Eudora to raise Tiana alone.  His dream becomes Tiana's dream as well, and she stays true to her father's advice to work hard to achieve it.  It is her memory of her father's words that keep her true to herself and ultimately make it possible to make her dream a reality.
4.  Fa Zhou – Mulan's Father (Mulan).  Fa Zhou is the head of the Fa family which includes his wife, Fa Li, his daughter, Mulan, and Grandmother Fa and is a respected war hero who was wounded in battle.  He is an understanding and loving father, although he chastises Mulan harshly when he feels that she has dishonored him by trying to keep him out of the impending war against the Huns who are set to invade China.  When he discovers that Mulan has taken his armor and sword and gone in the middle of the night to take his place in battle, disguising herself as a man and passing herself off as his son, Fa Zhou is heartbroken.  He is terrified of losing his daughter to war, but knows that, if he reveals her, she will be killed in accordance with Chinese law.  He is a broken man as he awaits news of his daughter's fate.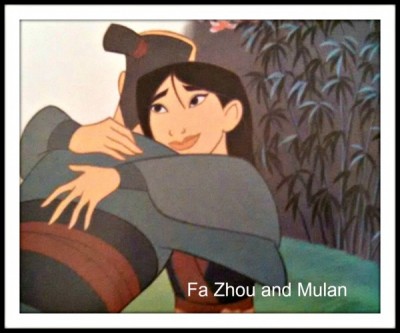 When next we see Fa Zhou, he is sitting under a cherry blossom tree and seems desolate and aged, as Mulan returns home after the war, a hero herself.  She presents him with the Emperor's crest as a gift to honor the family, but Fa Zhou pushes them aside and takes Mulan into his arms instead, telling her, "The greatest gift and honor is having you for a daughter".  In that moment, you see a father who seems to have his very life restored to him, and the love and pride he feels for his daughter ends this movie on an incredibly high note.
3.  Maurice – Belle's Father (Beauty and The Beast).  Maurice is a loving and supportive father, albeit a bit eccentric, especially to the townspeople in the small French town where he lives with his daughter, Belle.  Maurice, an elderly widower, dreams of inventing something magnificent so he can afford to move with Belle to a larger town, as his daughter has become disheartened with life in their small provincial town.  On his way to the fair with his latest invention, Maurice gets lost and comes to a castle filled with enchanted objects, and soon comes face to face with the Beast, who throws him in the dungeon for trespassing.  Belle goes looking for her father, and eventually finds that he is the Beast's prisoner.  It is heartbreaking when Maurice is thrown out of the castle by the Beast and returned to his home when Belle bravely agrees to take her father's place as the Beast's prisoner.  Maurice frantically tries to convince the townspeople to help him free Belle, but no one will help him.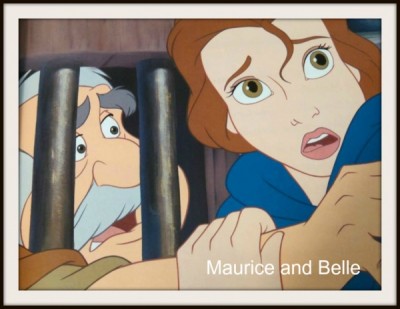 He is helpless when Gaston tries to have him committed to an asylum as he convinces everyone that Maurice is crazy after telling them about the Beast.  And, although at first he is terrified of the Beast, he is incredibly happy when Belle and the Beast find their happily ever after.
2.  Mufasa – Simba's Father (The Lion King).  Mufasa is a brave and loving father to Simba and ruler of the Pride Lands.  He is a responsible and wise leader and spends time with his son teaching him responsibility in order to prepare him to be king someday in accordance with the cycle of life, telling Simba, "I'm only brave when I have to be.  Simba, being brave doesn't mean you go looking for trouble".  Very soon thereafter, Mufasa shows Simba his true bravery when he saves his son's life.  After his father's death, burdened by guilt, and believing himself to be responsible for that tragedy, Simba runs away to a new life.  But, when his past catches up with him once more, it's a vision of Mufasa telling him, "You have forgotten who you are and so have forgotten me.  Look inside yourself, Simba.  You are more than what you have become.  You are my son…Remember who you are", that eventually leads Simba back to his rightful place as king of the Pride Lands.  Although The Lion King is not my favorite movie (probably because my daughter has made me watch it over and over and over again), this movie is ripe with countless lessons, not to mention a wonderful example of a good and loving father.  The interaction between Mufasa and Simba alone, short as it is, is worth watching this movie.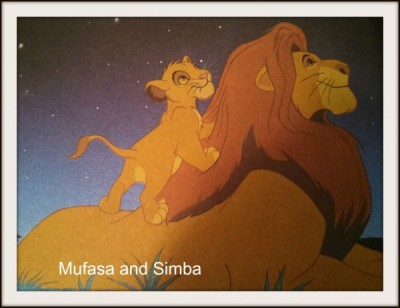 1.  Marlin – Nemo's Father (Finding Nemo).  Marlin is a clownfish whose wife and almost all of his children are killed by a barracuda, leaving him with only one child, his son, Nemo.  As a result of the attack that killed his wife and children, Marlin becomes an overprotective and paranoid father who constantly lives in fear, and he tries to convince Nemo that it might be safer for him to stay at home with him instead of starting school.  Nemo, however, is ready to go off into the world, much to his father's worry.  Feeling suffocated, Nemo rebels and turns a deaf ear to his father's warnings, and soon finds himself being caught by a human.  As Marlin helplessly watches Nemo being taken away, he is filled with determination and courage, and sets off on a journey to recover his son, a voyage which will bring him new friends, bravery to fight off sharks and jellyfish, hope when he finds clues as to Nemo's whereabouts, paralyzing fear when he believes his son is dead, and then incredible joy when he is reunited with Nemo once again.  On the way, he learns that he needs to trust Nemo to be more independent and also to trust that he has taught his son what he needs to know in order to make the right choices, but most importantly, he learns that Nemo is capable of doing much more than he gave him credit for.
Honorable Mention:  Walter Elias Disney – Mickey Mouse's Father.  I would be remiss in not giving honorable mention to Walt Disney, the man who created Mickey Mouse and ultimately Disney World, a place that has brought so much joy to not only millions of children, but just as many adults who have been gifted a chance at a second childhood thanks to his vision and perseverance.  Despite many trials and tribulations, Walt followed his dream of opening a family park where families could have fun together.  And, from that dream, emerged everything that is Walt Disney World and all it encompasses – all of the joy, laughter, love, and magic that it brings into the lives of everyone who walks into each of its parks worldwide.  Walt Disney not only gave the world Mickey Mouse, he gave the world so much more – whatever that individually entails for each person who enjoys even one moment of anything Disney.
Just like real fathers, these Disney Dads have made mistakes, rectified them, waged battle within themselves, hurt, inspired, faced their deepest fears, helped their children to triumph, sacrificed, imparted wisdom, and have been overjoyed at their children's happiness.  They ultimately show us how important fathers are in their children's lives, and, even if tragedy strikes, how the lessons they've taught their children continue to guide them throughout life.
Some of us may be fortunate to have a Disney Dad in our own lives.  Perhaps, it is the father who takes his children to Disney for the very first time; or the grandfather who makes sure to be a part of his grandchildren's Disney trips; maybe an uncle or family friend who takes his nieces and nephews or his friend's children to watch the newest Disney movie; or maybe even a teacher who uses Disney to fuel the imagination and creativity of his students…
For me, the Disney Dad in my life is my husband, who never having gone to Disney himself, was excited about taking our daughter for the first time when she was three years old.  He absolutely loved, still loves, seeing the look of wonder and excitement on her face on each of our trips and happily goes along with all of my Disney plans, whether it's going to a Disney movie, buying a Disney shirt, planning our next Disney trip, and even encouraging me to blog about Disney.
It's a wonderful feeling to know that our daughter has her own Disney Dad to keep the magic alive for her and all that comes with it.
Now it's your turn.  Which Disney Dad is your favorite and why?
Incoming search terms:
https://www themouseforless com/blog_world/disney-dads-club-favorite-disney-fathers/