This post may contains affiliate links for your convenience. If you make a purchase after clicking a link we may earn a small commission but it won't cost you a penny more! Read our full disclosure policy here.
From Our Magically Speaking Newsletter Archive – subscribe today!
By Teresa Pittman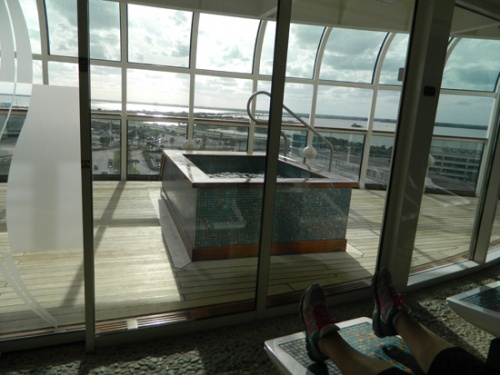 I strolled through the airport, dragging my Minnie Mouse suitcase behind me. A young couple smiled at me, and the wife said "Are you just back from Disney World?"
"Actually," I replied, "I'm just back from a Disney cruise."
"Oh," she said. "We love going to WDW, but we figured the cruises were just for families with kids. Is there anything to do for adults?"
She may have regretted asking me that question, as I spent the next 15 minutes or so listing all the activities the Disney Fantasy offered for adults, but they seemed both interested and surprised. I've heard similar comments from other people I've met, too. Disney's TV commercials have tended to focus on families, so they may have perpetuated that myth. But I'm here to tell you: a Disney cruise is a whole lot of fun for adults traveling without kids, too.
Like me. I'm single and a grandmother. I've cruised with my family in the past, but my last two cruises – one on the Dream and one on the Fantasy – were "girlfriend getaways" with friends.
So what can adults do on a Disney cruise?
You can relax. Really relax. Are you worried that your attempts to sunbathe or read a novel will be ruined by hordes of screaming children running past? Stop worrying. Just head to the adults-only decks and stretch out on a handy deck-chair. Every now and then a smiling CM will show up to ask if you want a drink. No kids in sight.
You can relax even more. If your past few weeks of work have left you exceptionally stressed, or you just want some pampering, a visit to the ship's spa may be in order. Watch the Navigator for special offers – I had a great "anti-sunburn" treatment the day after spending too much time on the beach at Castaway Cay. And be sure to check out the Rainforest Room.
You can be entertained. You've heard that Disney Cruises offer Broadway-quality shows, and that's true. Trust me, adults enjoy these as much as the kids do. There are also family comedy and magic shows throughout the day. In the evenings, though, many of those entertainers return to the stage with adult-only versions of their shows. It's Disney, so we're not talking X-rated by any means, but the humour is a bit more geared to an adult audience.
You can exercise your competitive side. Think you know everything about Disney? Or do you shine at general trivia games? You'll have your chance at fun trivia competitions held throughout the cruise – and you could even win a nice prize or two. Or challenge your friends and family to a mini-golf game up on the top deck.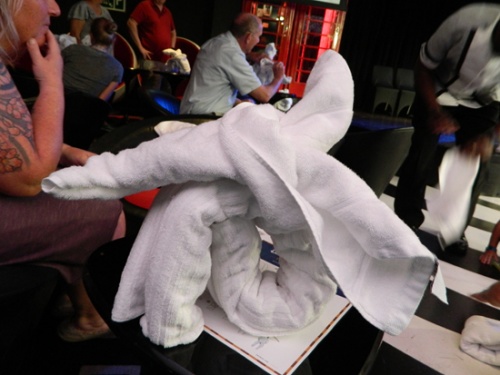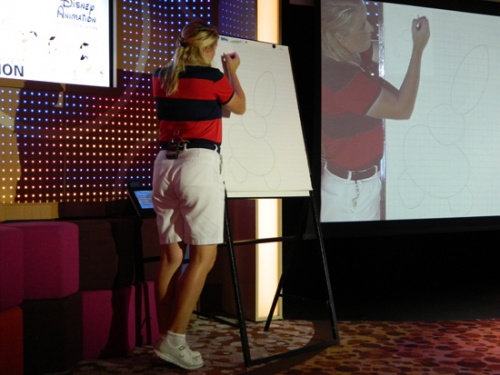 You can learn something new. Take a tour or try a class. I learned to draw some Disney characters while discovering a bit about the history of animation. I also tried my hand at folding towel animals – let's just say that wasn't my best work. The mixology class gave me and my friends a chance to make and taste five different drinks while being entertained by a very skilled bartender.
You can shop. Until you drop, if that's what you like. The shops on board have a nice selection of items, including clothing and accessories, and every port will have some attractive shopping options.
You can explore new places. One of the reasons cruises are so popular is that you get a chance to check out several ports, without unpacking, going through airport security or any of the other hassle travelers can face. You can book excursions ahead of time – Disney lists some, or you can go online to find others – depending on your interests. Or you can just wander around the port, do a little shopping or have a meal or a drink.
You can eat without kids. Each of the Disney cruise ships offers at least one adults-only premium restaurant, where you pay a little extra for a fancier meal and a kids-free experience. Even if you don't choose that option, though, taking the second seating for dinner will usually work. Most of the kids who are present will leave as soon as they finish eating – whisked away by the kid's club staff – and you can linger over dessert and drinks.
You can party! The nightclub section of the ship is as lively and fun as you could want. Wander from one themed area to another, or find your favorite and hang out there. You're sure to find a place that plays the music you like. And at the end of the night, no worries about finding a cab to get home. The Pirate Party that ends with fireworks will have plenty of kids joining you, but the adults seem pretty good at getting into the pirate spirit.
You can be alone. Not the partying type? Hang out on your balcony with a room-service snack and drink, watching the waves. Cuddle up with your partner and watch a movie on your cabin TV. Pick a secluded corner on the adults-only deck and dream for an hour or two.
I've really barely scratched the surface here. Disney cruises are naturally fun for families, but they have just as much to offer for adults traveling without little ones. Of course, there's one more bonus about a Disney cruise – if you want to, you can become a kid again! Get your photo with Mickey, scream as you zoom along the Aquaduck, solve the clues in the moving pictures and dance with the pirates on the pool deck. And maybe that's the best way of all to relax.
Magically Speaking Featured Article
Library of Congress ISSN:1556-3863