This post may contains affiliate links for your convenience. If you make a purchase after clicking a link we may earn a small commission but it won't cost you a penny more! Read our full disclosure policy here.
When planning your Disney Cruise vacation, one of the most important considerations is which kind of stateroom to book for your family. My husband and I have been very fortunate to have sailed with Disney Cruise Line three times, and I'd like to take you on a little tour of the Disney Cruise Line Staterooms I've stayed in, to show some of the features and benefits.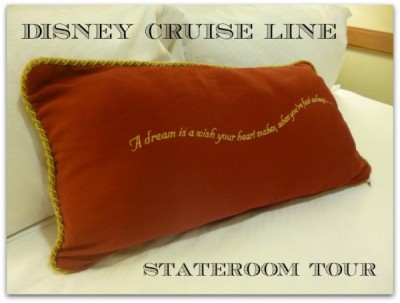 In order to save money, my husband and I always elect to stay in a Standard Inside Stateroom, the lowest-price category room. Below are pictures of our Standard Inside Stateroom on the Disney Magic (Category 11C).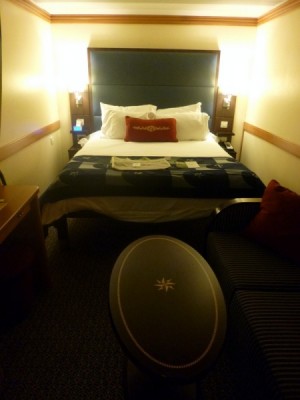 While there are no ocean views and they are snug, they offer just the right amount of room for two (they can even sleep three to four, thanks to a convertible sofa bed, and some inside staterooms are equipped with pull-down "bunk" style beds).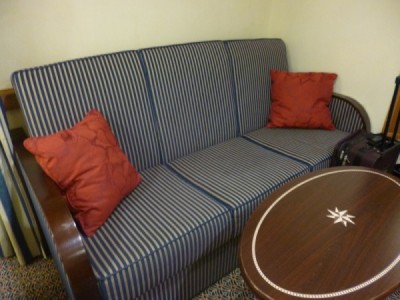 Disney ensures that these staterooms still have plenty of beauty and benefits to offer guests, with lots of Disney touches!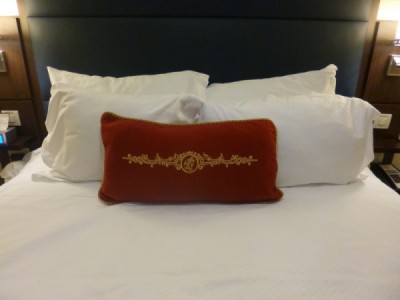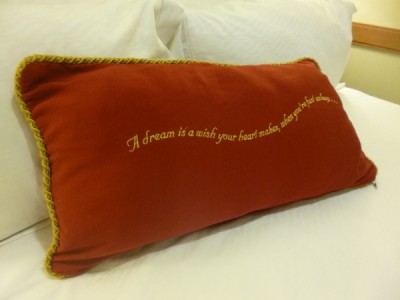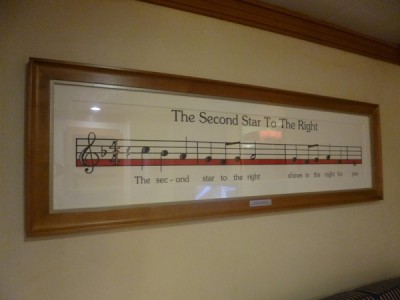 Though the room is small, plenty of lamps and overhead lights help to brighten things up. Another thing that helps any Disney Cruise Line stateroom feel roomy is the amount of storage for clothes and other belongings. There is the obvious, of course: the closet and dressers (though here's a tip: I'd recommend packing a few extra hangars for clothing. There are some in the closet, but more hangars help to maximize your space).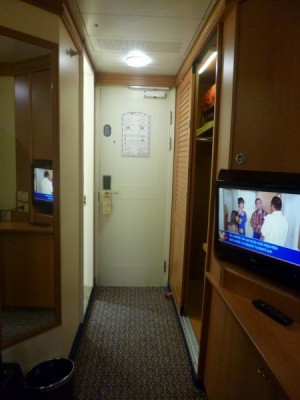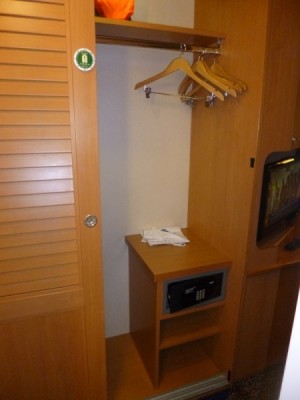 Best of all, on the Fantasy, the Dream, and the Magic, the beds are raised off the floor, allowing for room to store luggage under the bed. This may not seem like a big deal, but it really is, in terms of the amount of space it creates in the cabin.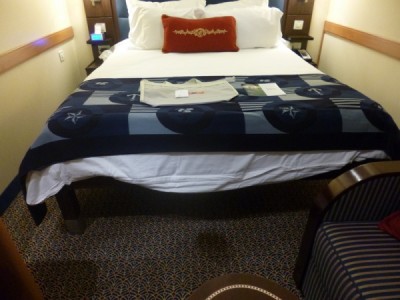 Other features include a flat-screen television that folds back into the wall when you aren't watching (which includes specific channels to help you stay informed of all the ship happenings). Underneath the TV, you'll see a small refrigerator in the photo below. (Did you know you can bring your own beverages, including alcohol, on a DCL cruise, as long as they come in your carry-on?)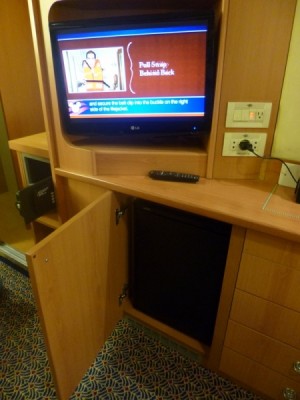 On this particular cruise, we were in a Category 11C stateroom, which has a standard bathroom (more on the Deluxe bathrooms in a little bit…). I'm sure it's no surprise that it's tiny, but the tub is roomy enough for a little one's bathtime.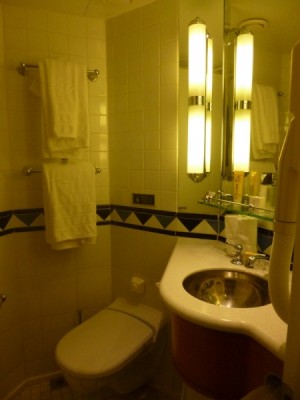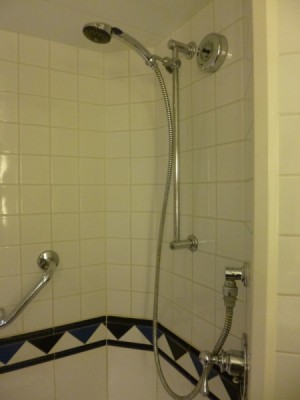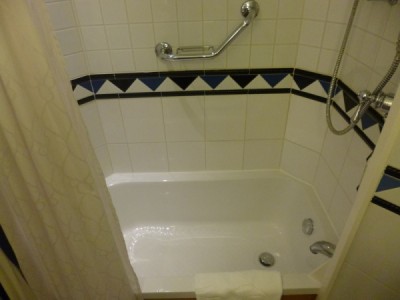 But the absolute best thing about any DCL stateroom bathroom? Seeing the H2O spa products sitting on the counter upon your arrival :).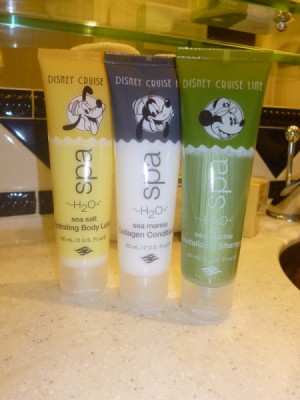 We also stayed in a Standard Inside Stateroom on the Disney Fantasy. Features were largely the same, with two exceptions. First, on the Fantasy and the Dream, Inside Stateroom guests enjoy a Disney innovation: Magical Portholes! These are amazing. Not only do the digital real-time images of the sea look incredibly genuine…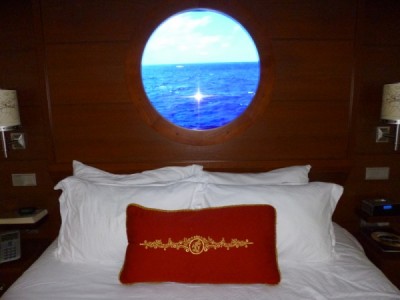 They also provide visits from Disney characters from time to time!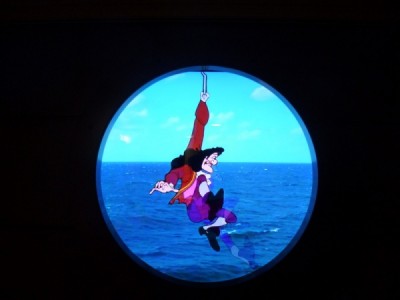 They do a LOT to alleviate any claustrophobia, if that's a concern for anyone in your party.
The second exception is the table you see in front of the couch — it opens up to offer even more storage. Oh, and that striped curtain you see? It can be pulled across the room in case one member of your party would like to nap, and the other would prefer to read or watch TV.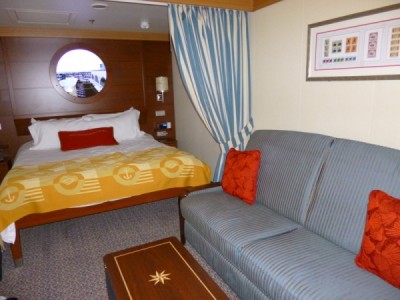 While I wrote the truth when I said my husband and I always elect to stay in an Inside Stateroom, we received a wonderful surprise on our previous cruise on the Magic — a free upgrade to a Deluxe Oceanview Stateroom (Category 9). Deluxe Oceanview Staterooms may have one large porthole window, or two smaller ones.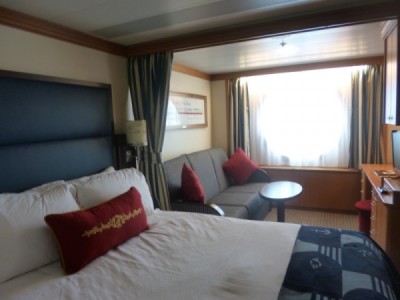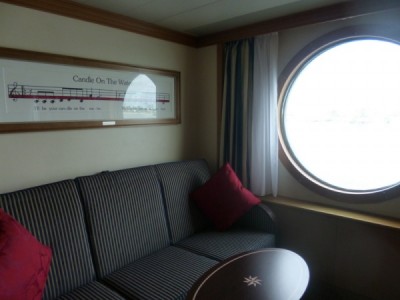 While the addition of square footage was a terrific bonus, we especially loved the huge window offering views of the ocean. There were times I stayed in our room just to enjoy it! I'll never forget seeing a jumping dolphin at eye level!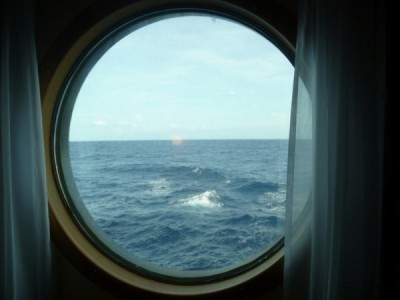 Another, more practical, bonus was the Deluxe Bathroom.  A deluxe bathroom is essentially a split bathroom with two separate entries: one side holds the shower and tub, as well as a sink and mirror, while the other side holds the toilet and another sink and mirror (a Disney Cruise Line original touch!). The pictures below are actually of two separate rooms.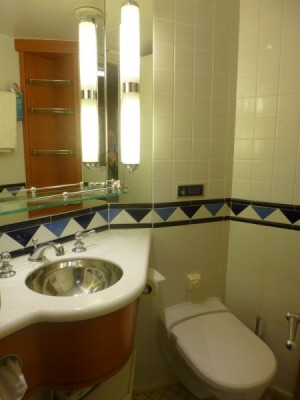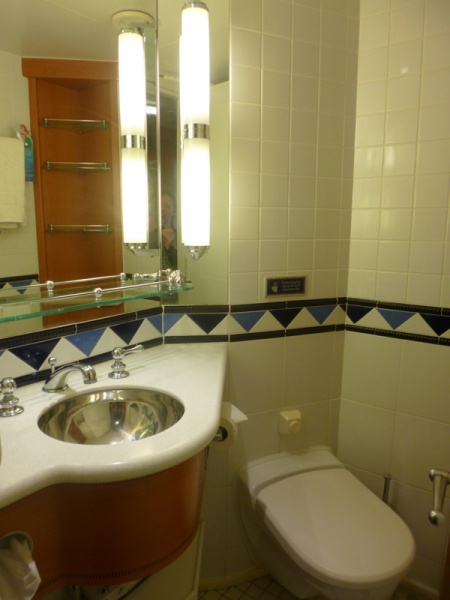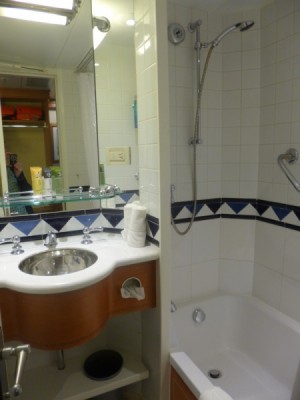 What a difference this makes! Two people can get ready at once thanks to the separate compartments.
I hope you enjoyed this little tour of these three staterooms: each of them unique in their own way, but all of them cozy and comfortable. If you have any questions about which stateroom is best for your family, a great resource is the Disney Cruise Line Cabins page here on The Mouse For Less. You can see floor plans for each style of stateroom, read about the benefits and features, and link to learn about the locations for each style of stateroom on any of the four Disney Cruise Line Ships.
Have fun exploring and daydreaming about YOUR Disney Cruise :)!
What's your favorite type of stateroom on-board Disney Cruise Line ships?
Incoming search terms:
disney cruise line cabin stateroom pillow