This post may contains affiliate links for your convenience. If you make a purchase after clicking a link we may earn a small commission but it won't cost you a penny more! Read our full disclosure policy here.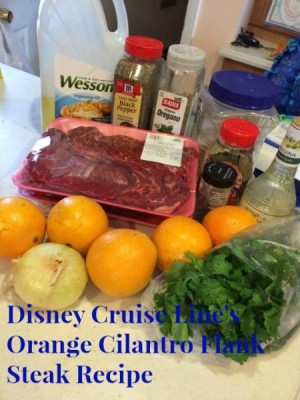 One of our favorite things to eat on Disney Cruise Line is steak. The dining room has a different steak selection each night, and one of them is better than the next. So I was excited to try out Disney Cruise Line's orange cilantro marinated flank steak here at home. Flank steak is one of my favorites because of its ability to come out so flavorful, but I had never tried it in an orange based marinade before.
Ingredients
6 lbs flank steak
5 oranges
1 bunch cilantro
1 onion
4 tablespoons brown sugar
2 bay leaves
2 teaspoons dried oregano
2 teaspoons dried thyme
2 teaspoons ground cumin
2 teaspoons ground black pepper
½ cup distilled white wine vinegar
1/3 cup vegetable oil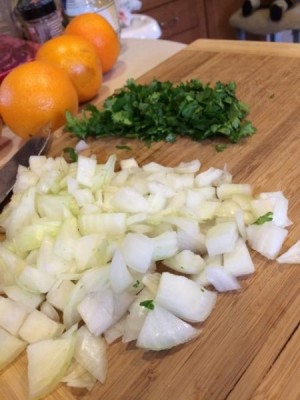 First, you will want to juice and zest the oranges. Five oranges create quite a bit of zest, but don't skimp on it, because the zest is very flavorful. Do a fine chop on your cilantro and a rough chop on the onions. These are all going into the marinade- so they do not have to look pretty.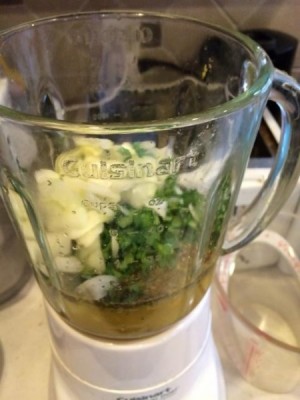 Then, add all of the ingredients (except the steak and vegetable oil) into a blender and blend until everything is well incorporated. Put the blended mixture into a bowl and then whisk in the vegetable oil. When your marinade is complete, pour it over your steak and refrigerate for up to 24 hours. We marinaded the steak in a deep baking dish, but it can also be done in a ziplock bag. Preferably, you can make this marinade in the evening and then cook your steak the following day.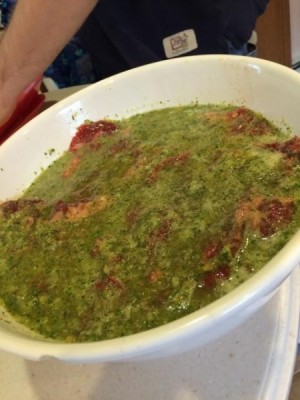 To cook the steak, you should sear it on either a grill or griddle for 4-5 minutes on each side. We used our indoor griddle due to the weather (personally, I think the grill would give this even more flavor). While the meat is searing, preheat your oven to 320 degrees. As the meat finishes on the grill, transfer it to an oven-safe pan or baking dish, and bake it for about 10-15 minutes depending on how well done you like your meat. We cooked it around 11-12 minutes for medium steaks.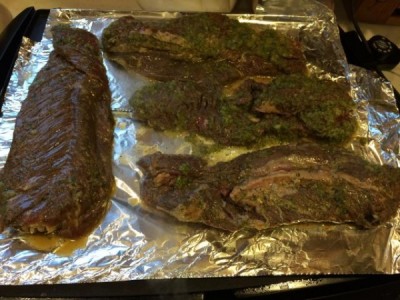 I was pleasantly surprised at how good this came out. The orange flavor permeated the meat and the cilantro gave it a little bit of a fresh bite. My whole family enjoyed this steak recipe, and I would not hesitate to use it again, especially if we are looking for a taste from Disney Cruise Line.
Happy Cooking!