This post may contains affiliate links for your convenience. If you make a purchase after clicking a link we may earn a small commission but it won't cost you a penny more! Read our full disclosure policy here.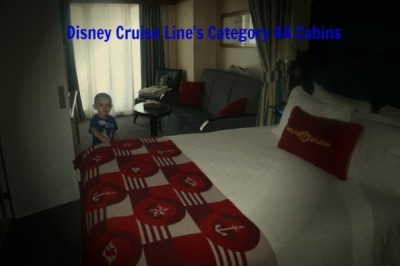 One of the challenges to cruising with a large family can be finding a cabin that fits your group. As a family of five (soon to be six), we have often had to split up into two separate cabins, which can be challenging. This is especially true when you have young children who cannot stay in a cabin on their own, because it limits you to finding two adjoining cabins with an interior door between them. These types of cabin situations can be difficult to find on a good day and become more and more of a rarity as you near your prospective sail date.
This is why I am a big proponent of Disney Cruise Line's Category 4 Cabins. Found on both the classic ships (Disney Magic and Disney Wonder) and the newer ships (Disney Dream and Disney Fantasy), these "deluxe family oceanview with verandah" cabins fit up to five passengers within the same cabin. At 304 square feet, these staterooms are larger than your typical cruise cabin, so that even with a group of five, you will not feel cramped.
Like most of Disney's staterooms, they feature a dual bathroom with a toilet/sink in one compartment and a bathtub/sink in a separate compartment. This is a lifesaver when sailing with a whole family because one parent can give the kids a bath or conduct their tooth brushing ritual while the other parent can use the facilities next door.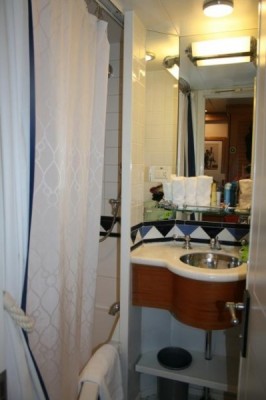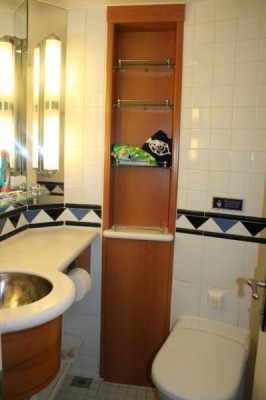 As for sleeping arrangements, the cabins offer a king sized bed (or two twins if you request that set up) in the bedroom area, and the rest of the beds are located in the living room area. These two sections of the cabin can be divided with a thick curtain if one group wants to go to bed earlier than the other.
The remaining three beds are tucked away during the day, and transformed into sleeping arrangements by your cabin steward while you are at dinner/evening activities. One bed is converted from the sofa, one pulls down from the ceiling, creating a bunk bed setup, and the last bed is a murphy bed that pulls down from the wall near the verandah. We have found this to be the perfect set-up for a family with three young children.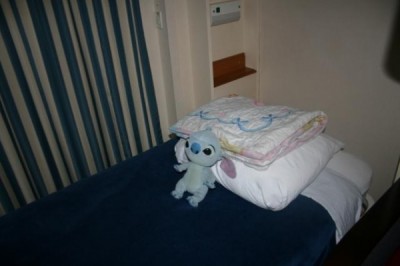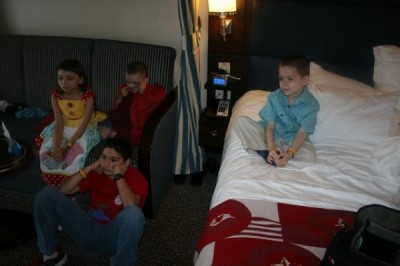 Like most Disney Cruise Line staterooms, you are also provided with plenty of drawers, cabinet space and a steamer style armoire as well as a desk, television, telephone and mini-fridge. We had plenty of space for our belongings, even on a two-week cruise.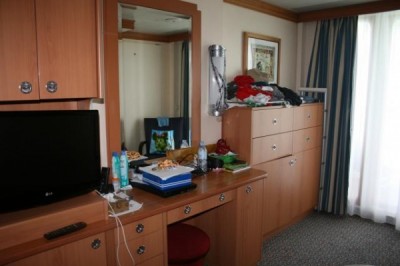 We also loved having a verandah at our disposal. It was wonderfully relaxing to step outside in the evening and watch the sea, the sunsets and the stars. Some mornings we even got up early to view the sunrise and the ship pulling into our port of call.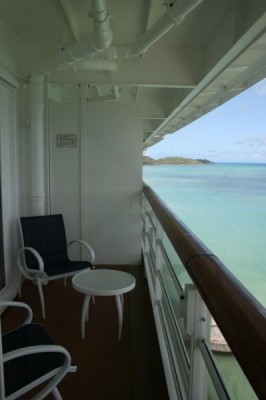 We also believed the Category 4 Cabins were an excellent value. They had as much space as we could get in one cabin before needing to move into the more pricy "concierge level" of cabins. Meanwhile, by fitting everyone in one cabin, we were able to pay the 1st/2nd passenger rates for each of the adults and then the discounted 3rd/4th/5th passenger rates for our children. By splitting into two cabins, we would have needed to pay the higher rate for four passengers and only the discounted rate for one.
Overall, I highly recommend this category of staterooms on Disney Cruise Line and urge you to consider it, especially if you are a group of five.
Have you stayed in a Category 4 Cabin before? What are your thoughts?
Incoming search terms:
https://www themouseforless com/blog_world/disney-cruise-lines-category-4-cabins/
any king beds on disney cruise
https://www themouseforless com/blog_world/disney-cruise-lines-category-4-cabins/#:~:text=As for sleeping arrangements, the in the living room area