This post may contains affiliate links for your convenience. If you make a purchase after clicking a link we may earn a small commission but it won't cost you a penny more! Read our full disclosure policy here.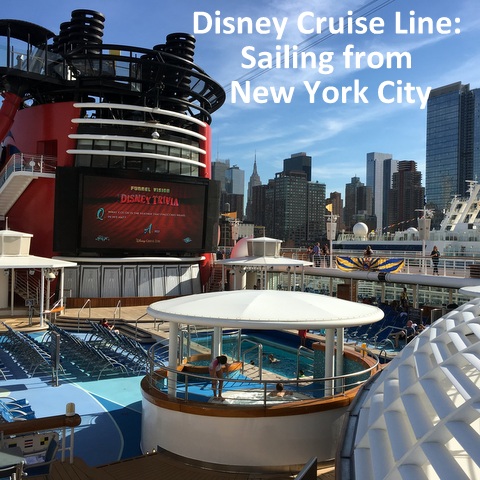 As a resident of the northeast, a Disney cruise adventure typically involves air travel.  My family was excited when DCL released itineraries that were leaving from New York City, eliminating that long day of airports and airplanes.  

This is an overview of my experience, along with some helpful hints for anyone sailing from NYC.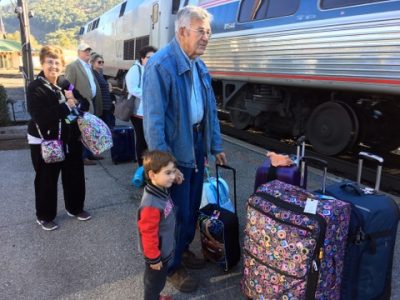 We boarded a train near home (Pennsylvania) that took us directly to Penn Station in New York City.  We arrived around 6pm on a Friday evening.  If you have ever been to Penn Station during rush hour on a Friday, you would understand how overwhelmed this country girl toting children and luggage was.  If you haven't been there during rush hour, I would recommend that you select any other possible time for your arrival.  We had hoped to spend the evening exploring the city and possibly seeing a Broadway show, but after our initial welcome to the concrete jungle, we were happy to have a quiet evening in our hotel instead.  
*Hint #1: If possible, do not arrive at Penn Station during rush hour.  

*Hint #2: Make flexible plans. We were really glad we didn't buy show tickets ahead of time. If you are set on seeing a show or seeing some of the sights, make sure you plan a couple of days before or after your cruise to do so.  

On Saturday we woke up and requested that our hotel staff call a driver to take us to the port.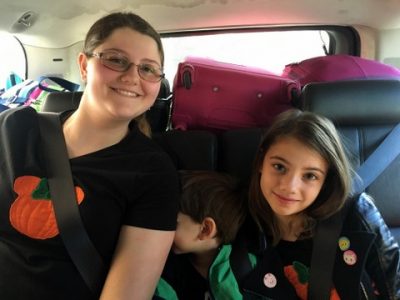 *Hint #3: Don't stress about getting around.  Throughout our stay in the city we used taxis, Uber, and private drivers.  All worked out to be about the same cost, so go with whatever is available.  With a group of 6 and all of our luggage, a private driver allowed us to all travel together in a larger vehicle.  With a taxi we had to split up between 2 cars, but the price for both taxis was the same as the price for the private car.  
My children knew we were going to New York City, but I managed to keep the cruise a secret for over a year.  They thought DCL only sailed from Florida, so they had no clue. My 3 year old was the first to spy the "Mickey Boat" at the port, and the gig was up.  But we had more surprises in store – they still had no idea their 5 cousins would be joining us aboard!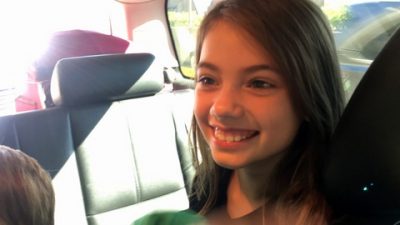 *Hint #4:  Address –  Disney departs from Pier 88 or Pier 90 at the Port of New York Manhattan Terminal:  12th Avenue at West 55th Street, New York, New York 10019
If you are driving to New York City, parking is available at the Manhattan Terminal between the Piers 88 and 90.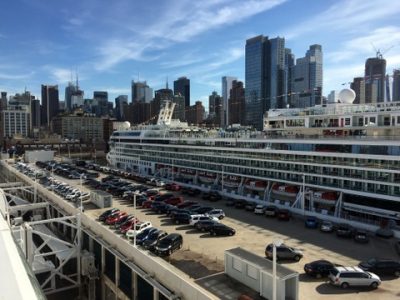 *Hint #5: Allow extra travel time.  Although New York City moves at a faster pace, the traffic and crowds slow everything down.  Allow lots of travel time so that you don't miss the boat.  

Our driver dropped us off right at the bow of the ship.  Cast members were there to greet us and collect our luggage.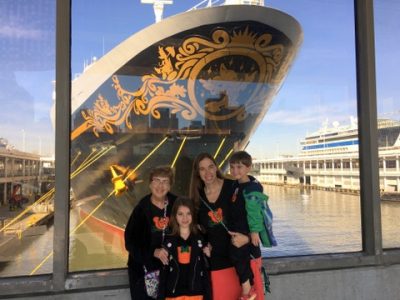 *Hint #6: Make sure you have your luggage tags on your suitcases prior to arrival at the port.  There are porters taking luggage to many different ships from the drop-off area, and you don't want your luggage to get on the wrong ship!  
We kept our carry-ons with us and entered the port.  The first stop was security.  Lines were long, but they moved quickly.  Guests boarding several different cruise ships all went through the same port security lines.  
Hint #7: If you are traveling with a large group, it might save time to split up between several different security lines and then meet up again once inside the port.  
Hint #8: Make sure you keep all valuables and necessary paperwork for boarding in your carry-on.  
After passing through security, Cast Members were available to direct guests to the proper check-in area. When we sailed, Disney was at the far end of the port, farthest from the security checkpoint.  There were several sets of bathrooms available, as well as a snack/drink kiosk. It was interesting to see the other cruise passengers waiting to board.  The energy level and fun factor was definitely much higher in the Disney boarding area.  I was glad that was my tribe!   
Hint #9:  DCL is more fun!  
In Disney's designated area there were separate lines for new cruisers, silver castaway club members (if this is your 2nd to 5th cruise), gold castaway club members (if this is your 6th – 10th cruise), platinum castaway club members (for those passengers who are cruising for the 11th+ time) and concierge passengers.  
Hint #10:  The Disney Cast Members are easily identifiable with their uniforms and name tags (and sometimes large Mickey hands!)  Don't hesitate to ask questions, as they are both knowledgeable and helpful.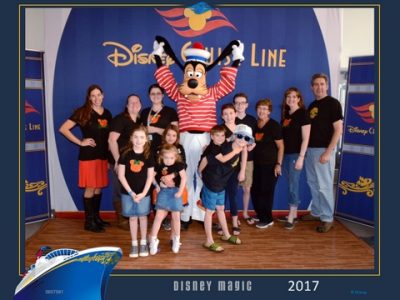 After checking in, there was an opportunity to meet Goofy (the welcome character generally changes throughout the day, so you might find Mickey, Minnie, Pluto, Goofy… don't worry if it isn't your favorite character, you will have a chance to meet all of them on board).  The seating area was pretty full when we arrived, but there were plenty of seats outside of Disney's designated area where we could still hear the boarding numbers being called.  
Up to $1,000 Onboard Credit
Deal
Receive up to 5% of your cruise price in shipboard credit exclusively from The Magic for Less Travel when you book any new Disney Cruise Line Sailing. This is not a rebate or check you will receive after you cruise; this is a shipboard credit you can use on your cruise! Use your credits for shopping, shore excursions, spa treatments and more. Restrictions apply. Request a no-obligation quote today! Read More
More
Less
Hint #11:  If you are traveling with a large group, it may be easier to find seating outside of the Disney check in area.  We were traveling with a group of 13, so just outside the Disney area in the port was a good meeting place for our families to gather.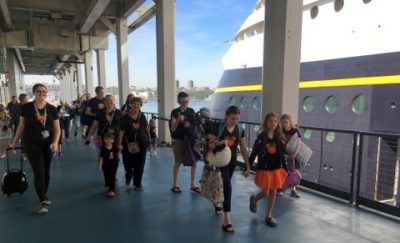 Once on board there were several characters available for meet and greets.  We were able to meet Pluto and Donald without any lines, as most people head straight to lunch after boarding.   This is also a great time to head up to Decks 9 and 10 to check out the city skyline.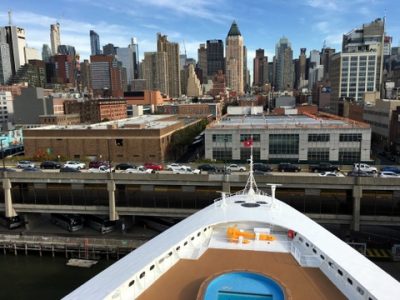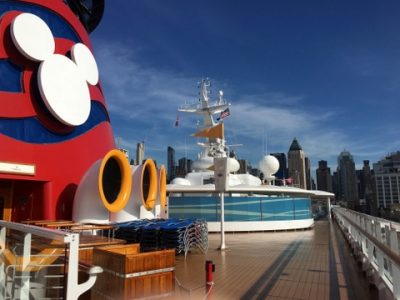 We enjoyed the lunch buffet at Cabana's with an amazing view of New York City.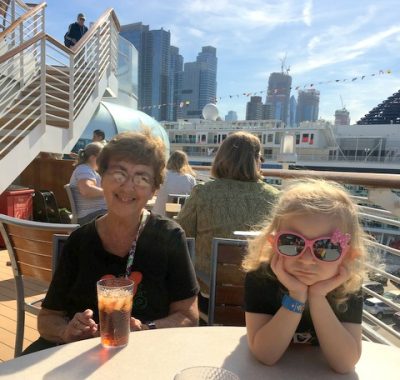 Hint #12:  Check your navigator for details about which restaurants are serving and scheduled hours.  There will be several different dining options open when you board. Cabana's is typically quite busy on embarkation day, but also offers the best city views.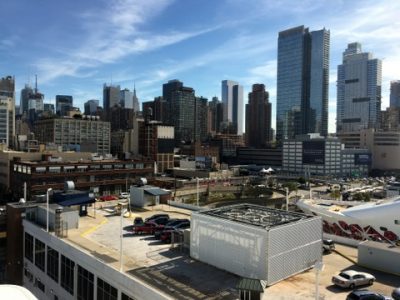 The sail away party started right after the mandatory muster drill. It was a nice welcome aboard, complete with music, dancing, and, of course, favorite Disney characters.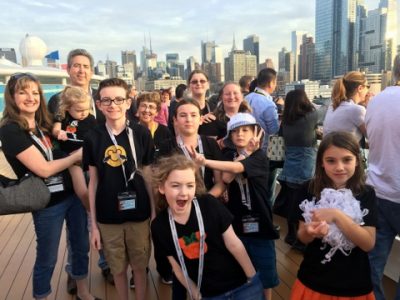 On the port side of the ship there was a fantastic view of the New York City skyline as we departed.  Ship photographers were wandering around taking photos, so keep an eye out for them to capture some fun family pics.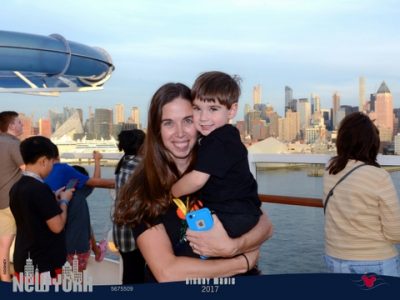 One thing we had most been looking forward to was sailing past the Statue of Liberty.  We were not disappointed and were greeted with a gorgeous sunset as we passed.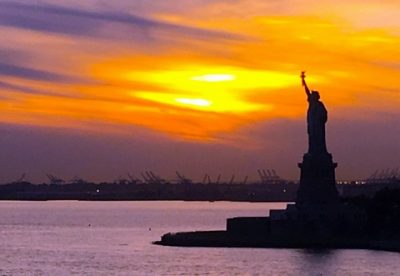 Lady Liberty bid us a safe journey from the starboard side of the ship.  Deck 10 forward was a great place to capture some pictures.  

Hint #13:  Make sure you check out both sides of the ship during sail away, as views of both the New York skyline (port) and the Statue of Liberty (starboard) are spectacular.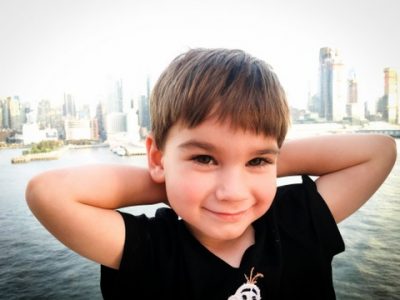 Our itinerary included several ports throughout Canada.  Select NYC sailings also include a celebration of the Marvel Heroes of New York (Black Panther, Iron Man, Spiderman), with special opportunities to meet these characters.  
Hint #14: Check the "On Board Fun" opportunities on the DCL website when completing your online check-in for special ticketed meet and greet opportunities on your cruise.  These tickets do not have a fee, but they are limited.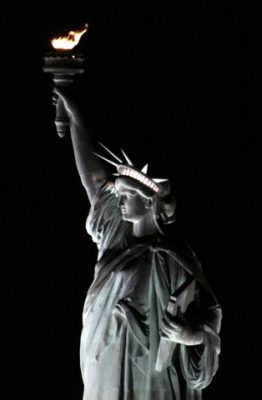 On disembarkation day, Lady Liberty welcomed us back along the port side of the ship.  There were quite a few guests up on Deck 10 to catch glimpses of the Statue of Liberty and skyline as we arrived back on land.  We sailed by Lady Liberty shortly after 5am (although that time could be drastically different based on itinerary and weather).  

Hint #15: Take your camera up to Deck 10 forward on disembarkation day to catch a few pictures of the Statue of Liberty in the night sky.  
Sailing out of NYC provided new sites and experiences for even the seasoned DCL traveler.  Although I prefer a warmer, beachy experience, this was a bucket list item that I am fortunate to have been able to experience.  
Do you have any tips for traveling on Disney Cruise Line in and out of NYC?  Share them in the comments. 
Did you like this article? Make sure to share it with your friends! Check below for easy ways to share!
Incoming search terms:
https://www themouseforless com/blog_world/disney-cruise-line-sailing-from-new-york-city/
https://www themouseforless com/blog_world/disney-cruise-line-sailing-from-new-york-city/#:~:text=If you are driving to the Piers 88 and 90
https://www themouseforless com/blog_world/disney-cruise-line-sailing-from-new-york-city/#:~:text=One thing we had most starboard side of the ship
is it worth it to park at nyc disney port