This post may contains affiliate links for your convenience. If you make a purchase after clicking a link we may earn a small commission but it won't cost you a penny more! Read our full disclosure policy here.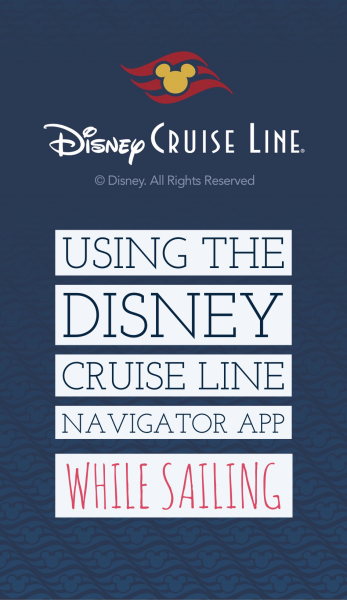 The Disney Cruise Line Navigator App recently updated allowing more functionality before your cruise. But what will you see when you are actually on your cruise?
The Navigator app is you link to EVERYTHING when you are on board. Make sure that you have the most up to date version BEFORE you board the ship. Once on the ship you will need to link the the WiFi "DCL-Guest Network" to get the app to realize that you are onboard. Then you will be able to sign in and see all your information.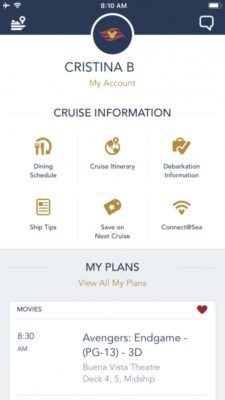 The main page links to everything else. "My Account" will let you change your basic information, pin code and see any charges to your account. I tried to avoid this page during the cruise…I mean who wants to know how much they are spending…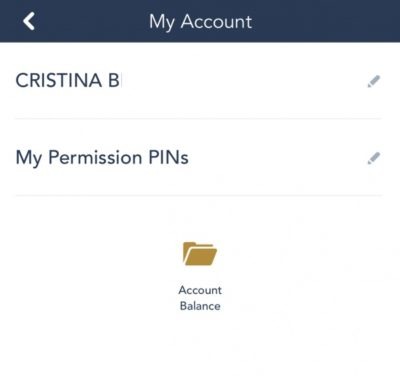 From the main page, you can also click on the "Dining Schedule" to see your main dining rotation and table number. This page also shows any character dining, Palo and Remy reservations you might have. If you changed your main dining time this page should show your new table number. This number will be different than what your Key to the World card will show. This page will also help you know the dining attire for the night. This page also helps you see the menus of each meal.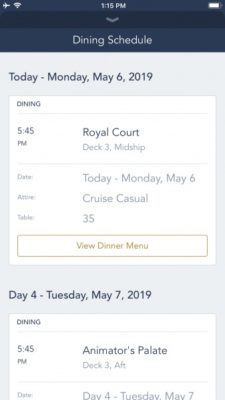 The cruise itinerary page shows you the basics of where you will be each day.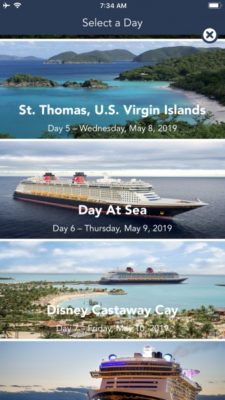 You can click on an individual day to see the plans or "Navigator" for that day.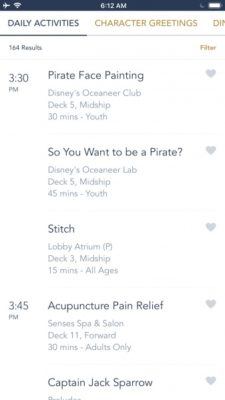 Then filter by all activities, character greetings, dining options, or youth clubs by scrolling to the right. Or click "Filter" to see different categories of events.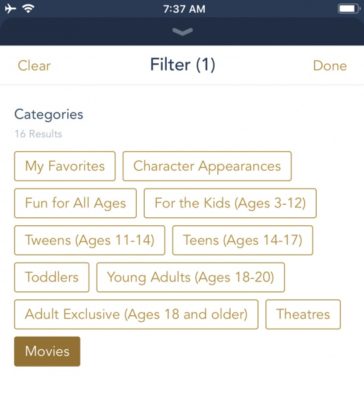 When you press the heart next to an activity it will then be added to your plans. This will allow you to see just the activities you have booked or would like to attend. This page really helped me see where everything was and if I over "booked" myself.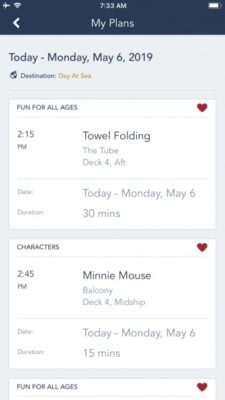 There has been an outcry in the Disney Cruise Line community because Disney stopped placing a paper version of the Navigator in your stateroom each night. As a first time cruiser this did not bother me. I still picked up a paper Navigator at Guest Services everyday to keep for memories, but I liked the app better. The app was updated if plans changed. For example, the first Mickey and Minnie Surprise Party at Sea wasn't on the paper Navigator. It was added to the app later in the morning and I wouldn't have known about this sneak preview if I only used the paper.
Another great thing about the DCL app is the chat feature! You will automatically be linked with anyone on your reservation, but you can also add other people if you know their Chat ID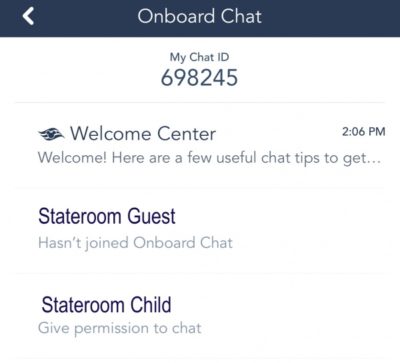 It was easy to chat back and forth, but you had to make sure your Navigator app was open and running in the background. If you closed down the app it would take a long time for the notifications of new messages to come through.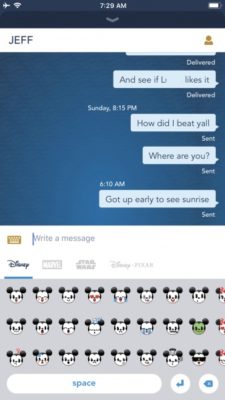 My favorite part was the emoticons! They were so cute!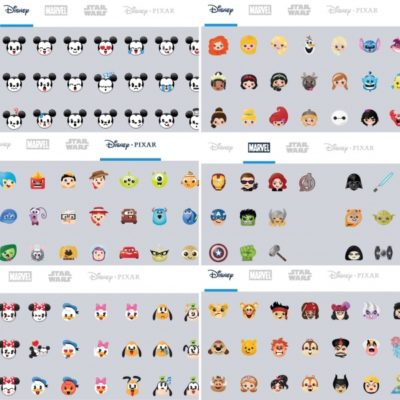 If you are having a great time on your cruise, and know that you are going to want to sail with DCL again, you can book another cruise while on board! Through the app you can get in a virtual line to book your next cruise or placeholder. This line could get very long near the end of the cruise. Read more about why you might want book onboard here.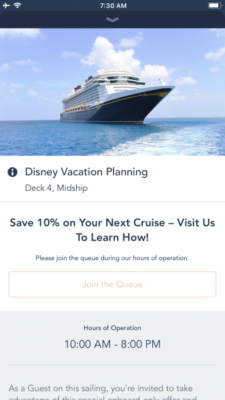 One of the things I used the most during my trip was the map. The first couple days I couldn't remember where the restaurants or kids clubs were located, but I always had my phone to help.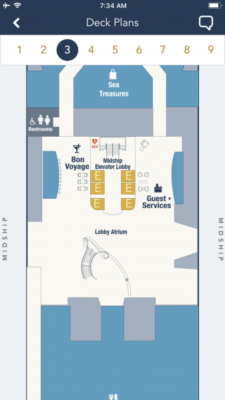 The Disney Cruise Line Navigator app was fairly easy to use. It was very helpful in planning all my activities and seeing them in one place. While some people still prefer the paper Navigator, I liked the app better.
What do you think? Let us know your thoughts in the comments, or on Facebook or Twitter!
Did you like this article? Make sure to share it with your friends! Check below for easy ways to share!
Want to sail on Disney Cruise Line? Contact The Magic for Less Travel for more information and a free, no-obligation quote.

Incoming search terms:
https://www themouseforless com/blog_world/disney-cruise-line-navigator-app-2/