This post may contains affiliate links for your convenience. If you make a purchase after clicking a link we may earn a small commission but it won't cost you a penny more! Read our full disclosure policy here.
From Our Magically Speaking Newsletter Archive – subscribe today!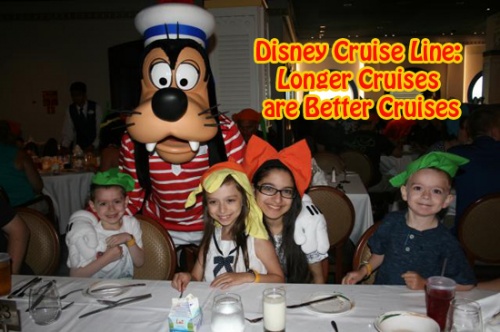 By Ginamarie Palmieri
My family and I will not be cruising this year. My four-year-old son is not pleased, but, I'm going to share something with all of you that I have been sharing with him. I would rather spend this year saving up money so that next year we can book a longer Disney Cruise vacation because longer cruises are better cruises.   If you have not had an opportunity to take a 14 or 15-night cruise, you may not know why this mantra holds true, so this article will share some tips and information about what makes a longer itinerary an excellent decision.
First, a longer itinerary gives you the opportunity to visit more unique ports of call, including some that may be once-in-a-lifetime visits. Whether you choose to take a 14-night Panama Canal itinerary that takes you through the locks of the canal or a transatlantic cruise with day after day at sea without sight of land, these experiences are only available on longer itineraries. We found a special peace in sailing across the ocean much like our ancestors had 100+ years ago (albeit in better accommodations). By taking these longer itineraries, we were able to visit places like Aruba, Puerto Vallerta, St. Kitts, Madeira, and the Canary Islands. These ports felt like special opportunities, and since they were off the beaten path, we did not have to compete with multiple other cruise ships at the piers like you may find on Eastern or Western Caribbean itineraries or in the Bahamas.
One of my favorite things to experience on a Disney Cruise is the food, and longer itineraries mean you have far more opportunities to try more food. This is beneficial in several ways. For one thing, with more sea days on your trip, there are more slots available for things like Palo brunch or dinner. This makes it less likely to get locked out of brunch due to lack of availability. In fact, we have found that Palo dinner reservations are easy to obtain on longer cruises, even after you get onboard.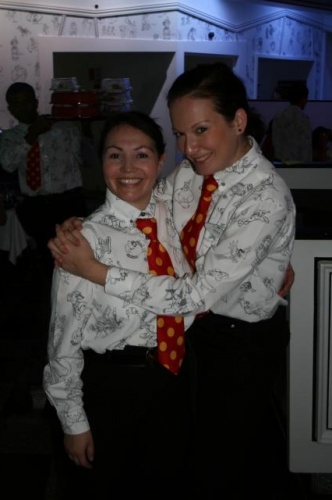 In the main dining room, a longer cruise gives your servers the opportunity to get to know you better. While service in the dining rooms is always good, it is even better when your servers know your preferences a couple of nights into the cruise, and then you have another 10+ days still to share with them. One caveat- after 14 nights with your dining team, you may be even more likely to ask them to come home with you!
The longer cruises also give Disney Cruise Line the opportunity to create special menus just for your cruise. These menus may contain local ingredients and cuisine or relate to a special celebration or show scheduled for that evening. We always love seeing some new menus to go alongside some of our old favorite menus (like Captain's Night or the Pirates in the Caribbean menu). We also love having multiple opportunities to sneak up to the shwarma station or the poolside grill for some lunch.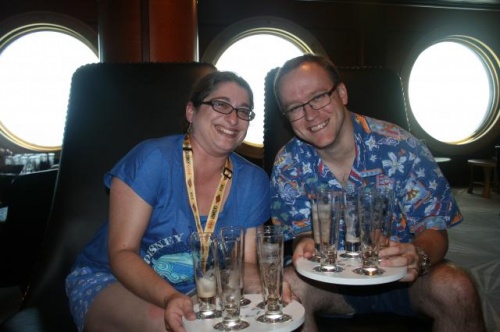 Longer cruises also tend to have a lot of extra events onboard. These range from extra dining opportunities like a royal princess tea or a character breakfast to extra evening activities like flamenco dancers in Spain and mariachi bands near Mexico. We have seen extra specialty acts onboard (Alfonso Ribeiro and Joey Fatone did a cabaret show one year) and participated in lecture series by Imagineers, Disney artists, historians and nature experts.  We also experienced a beer tasting session that we never would have found time to do on a shorter cruise with fewer sea days. Another benefit to a longer cruise is that many of the activities onboard will get repeated, so if you miss a dance party or a character meet and greet there are no worries- you can make sure to add it to your activity list the next time it is offered.
Conversely, longer cruises also give you more opportunities to relax rather than feeling like you need to squeeze in a new activity every minute. We treasure the time spent at the pool, riding the water slide over and over, or finding an empty window seat or deck chair where we can watch the ocean fly by.
I know what you may be thinking- Disney cruises are expensive and a longer Disney cruise is going to be even more expensive. However, there are also some financial incentives towards longer cruises. For one thing, the per diem rate on a Transatlantic or Panama Canal cruise is often a good deal lower than the per diem price on sailings from Port Canaveral (part of this reason is that these longer itineraries are offered on the "classic ships" rather than the newer Disney Dream or Disney Fantasy). This means that the long sailing may be more expensive overall than a shorter one, but if you average out the price per day, the longer itinerary is less expensive per day.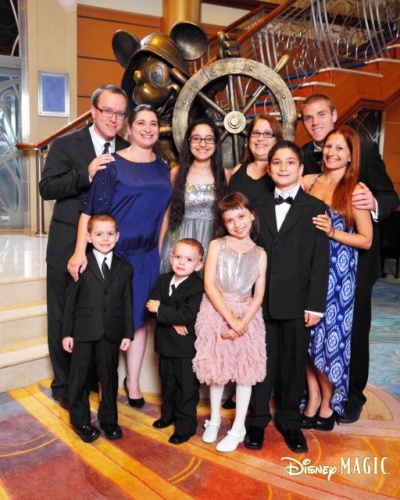 Additionally, while these itineraries are twice as long as a 7-night sailing, things like an unlimited photo package do not double in price. We have been able to take hundreds of pictures while on these longer itineraries, making the photo package an even better deal for us. Since we were onboard longer, it meant we were able to make good use of things like wine and beer packages as well. While the embarkation/debarkation ports may be more expensive to get to than a round trip cruise from Port Canaveral, by spacing out these cruises to every 2-3 years, our travel expenses become equalized.
The biggest downside to taking a long Disney Cruise itinerary is that it's hard to go back to the shorter cruises! In fact, many people who take one of these itineraries feel compelled to continue taking longer Disney cruises. On our last Transatlantic cruise (September 2014), the vast majority of people on board were not only Castaway members, but also people who had taken a prior Transatlantic cruise (including most of our sailing party).
Overall, I hope that this article has piqued your interest in some of Disney Cruise Line's longer itineraries, and maybe I can catch you onboard a future sailing.
Magically Speaking Featured Article
Library of Congress ISSN:1556-3863