This post may contains affiliate links for your convenience. If you make a purchase after clicking a link we may earn a small commission but it won't cost you a penny more! Read our full disclosure policy here.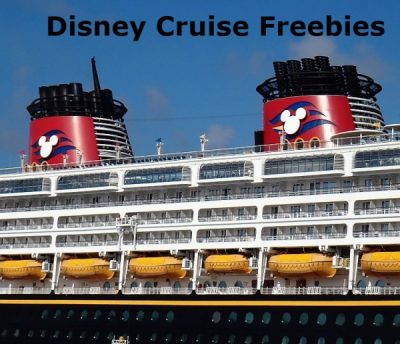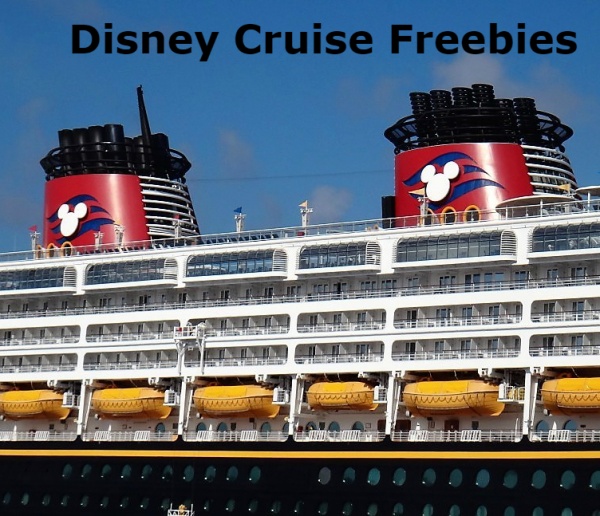 It is no secret that Disney cruises are expensive.  I'm a rather frugal person, and after spending all of that money I want to make sure I take advantage of everything that is included in the price of my cruise.  I dislike experiences where you pay one price, only to find that there are constantly more fees being added on to the adventure as you go.  One of the reasons I love Disney Cruise Line is that I can completely enjoy the experience without worrying about hidden or additional fees.  It truly is an all-inclusive experience.
This is my list of "free" items (items included in the booking price) that I make sure I take advantage of when I am cruising.
Before you depart:
While on board:
All You Can Eat Meals – The meals in the main dining rooms are all included in your trip, and you are welcome to order as much as you will eat.  Want 2 entrees?  3 appetizers?  4 desserts?  No problem.  Do the kids want to order from the adult menu?  Adults want to order from the kids menu?  Don't like the menu items and just want a steak?  No problem.  If it is on the ship, they will try to make it happen for you for no additional cost.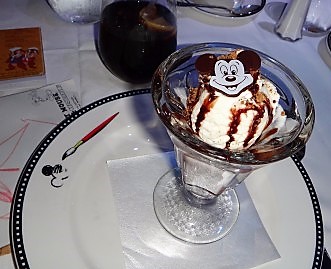 "Fast" Food – On the pool deck you will find a wide variety of food choices that are all included in your adventure.  From fruit and salads to burgers and fries, there is something available for everyone.  Hours are posted at each service station.
Chocolate – Each night your room attendant will leave chocolate treats on your pillow.
Fountain Drinks – There are self-serve drink stations on the pool deck.  These are open 24/7, and you are welcome to consume as much as you like.  Soda, iced tea, coffee, tea, hot chocolate, and milk are typically available.
New Release Movies – Any Disney films that are showing in theaters stateside are typically shown on board the ship as well.  If a new movie is being released while you are onboard, Disney Cruise Line will generally have a 12:01am showing the day it is released, so you can be first to see the new films for free.  For some of the more popular movies, you may need to get (free) tickets from guest services to reserve your seat.
Movie Treats – There is a shop outside of the movie theater that sells popcorn and soda.  Save your cash here by getting free sodas and snacks up on the pool deck and taking them to the movie with you.
Ice Cream – Some ships have ice cream shops that cost an extra fee, but all ships have self-serve ice cream machines on the pool deck that do not have an extra charge.  Flavors change daily.  My daughter's favorite treat is to get chocolate chip cookies from one of the deck restaurants and take them to the ice cream stand to make an ice cream sandwich.
Iron – Available in the laundry rooms throughout the ship.  (Okay, not the most fun freebie, but good to know!)
Bandanas – On pirate night, Pirate Mickey bandanas will magically appear in your cabin for each member of your party.
5K – If you are a runner (or a walker!), sign up onboard for the Castaway Cay 5K.  Unlike most 5K events, this one is free, and you receive a fun Mickey Medal for finishing.  Bonus:  The 5K runners are the first to leave the ship on Castaway Cay!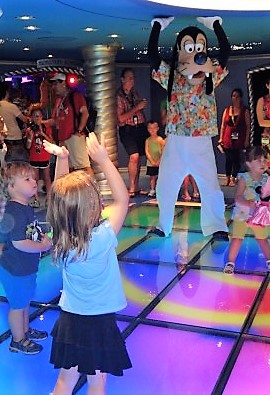 Kids Clubs – The kids clubs and all of the events that happen there are included.  Games, dance parties, crafts, cooking, and just really great fun.  There is a small fee to use the Nursery for anyone under 3 or who is not yet potty trained.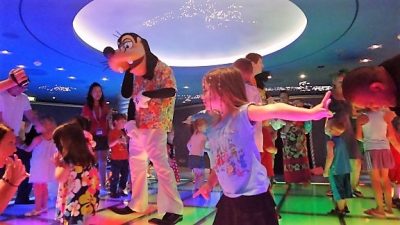 Maps of the Ship – These are available from guest services upon request, and make a great addition to a scrapbook once you get home.
Buttons for Celebrations – Celebrating a birthday?  Anniversary?  Did someone lose a tooth while you were onboard?  Check with guest services to see if they have a special button for your celebration.
Birthday Dessert – Let your dining team know if you are celebrating a birthday while on board.  The dining team will sing for you, and will also bring a special birthday treat.
Pixie Dust – If your ship has  Bibbidi Bobbidi Boutique, stop by any time the boutique is open to request some pixie dust.  The fairy godmothers in training are always happy to provide this free service.
Navigators – These guides are delivered daily to your stateroom, and are not only a great resource for what is happening around the ship, but also make great scrapbooking additions when you get home.
Pom-poms – On embarkation day, attend the Sail Away party on the pool deck.  Cast Members typically hand out pom-poms.
Cove Cafe Treats – There is a for-purchase specialty coffee shop on board called "Cove Cafe."  Although the coffee costs extra, you can pick up deluxe treats from there and enjoy them on the pool deck with your free coffee from the drink station.
Room Service – Room service is available 24/7.  There is a list of available items in the guidebook in your stateroom.  We love the All Hands on Deck cheese platter to tide us over before dinner, and every night we order a carafe of coffee and Mickey Ice Cream bars.  We enjoy the ice cream as a treat before bed, and the coffee stays hot until morning when we can enjoy it on the Verandah without leaving the room or waking the kids with a new room service delivery.  *Note:  Although room service is all included, please remember to tip the Cast Members who deliver the room service.
Cake of the Day – Room service offers a special sweet treat that changes daily throughout the cruise.  When you call room service, just ask for the "cake of the day."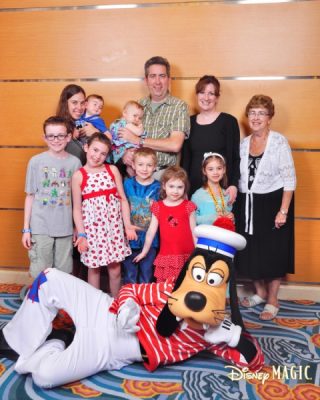 Character Meets – Characters are available for photos and autographs.  Bring your own camera, and the cast members are happy to take pictures for you.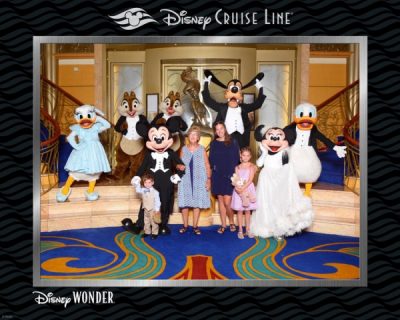 Tickets for Meet & Greets – You can obtain these online when you check in.  They are free, but there is a limited number issued.  These are typically for high-demand events like a Princess Gathering (3 or more princesses that you meet one at a time), or the Frozen characters (Anna, Elsa, and occasionally Olaf).
Pools & Slides – The specific water attractions available vary by ship, but they are all included.
Midship Detective Game – on the larger ships (Fantasy & Dream) there is a mystery game.  Start the game and get all of the details outside of the Enchanted Garden restaurant on Deck 2.
Broadway Caliber Shows – Don't miss the main entertainment each night in the Walt Disney Theater.  The shows are spectacular.  Bring your own drinks from the pool deck.
Spa Raffle – Various spa treatments and opportunities are raffled off on the first day of the cruise.  Check the navigator for times and details.
Internet Data Package – Create an account on embarkation day to receive 50 mb of data for free.  On non-working vacations that was more than enough to get me through the week.  Make sure you visit the internet service desk to ask them to turn off any unnecessary applications before you set up the package, or you will find that your 50 mb disappears immediately!
On Board Activities – Mickey 500 (potato races), Jack Jack's Incredible Diaper Dash (adorable baby races), game shows, crafts, dance parties… There is a never-ending lineup of activities.  Check your Navigator daily for details.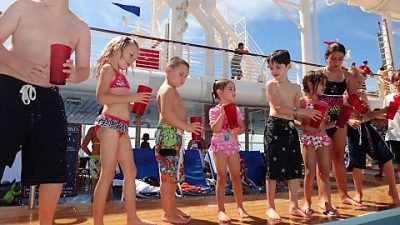 Autograph Souvenirs – Bring something from home with you, like a pillowcase, photo mat, quilt squares, etc.  Take it with you as you meet the various characters, and by the end of your journey you will have a priceless souvenir to take home.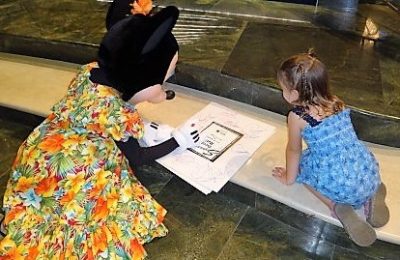 Miniature Golf
Drinks on Formal Night – If you are cruising for 7 nights or longer, you will have a "formal" night.  Watch for waiters wandering through the atrium area with trays of drinks.  They have alcoholic and non-alcoholic options available, and they are unlimited and free.
Dinner Drinks – In the main dining rooms you can request a non-alcoholic Shirley Temple (sprite with a cherry) or Roy Rogers (coke with a cherry) to enjoy with your meal at no additional cost.  Please note that the drink specials listed in the nightly menus do have an additional charge, as do all alcoholic drinks.
Character Breakfast – Many sailings of 7 nights or longer include a character breakfast at some point throughout the cruise.  Tickets are limited and can be obtained when you check in online, or at guest services once you board.
Holiday Exclusive Events – If you are sailing on a special holiday cruise, watch the Navigator for exclusive events like Trick or Treating (Halloween on the High Seas cruises) or Gingerbread House making (Merrytime Cruises).  These events may require tickets, which are free but must be obtained from guest services ahead of time.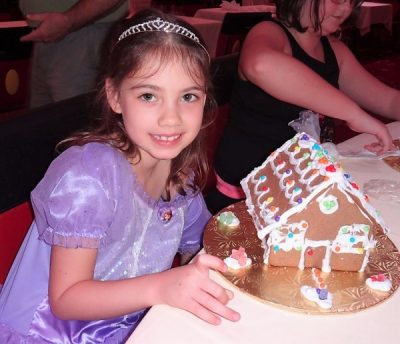 Pillowcase – Kids who attend Pluto's Pajama Party in the kids clubs receive a free pillowcase to take home.
Post Cards – Check the desk drawer in your stateroom for 2-3 free postcards you can send to family and friends.
Disney Vacation Club Swag – If you are willing to sit through the DVC presentation, you can pick up some free swag like notebooks, bags, etc.  The DVC representatives are usually passing out bracelets and/or tattoos to kids as they walk by the display on deck 5 as well.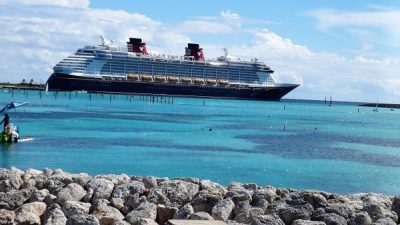 Castaway Cay Activities – Check your navigator for fun activities on Castaway Cay.  Hermit Crab races, waterslides, dance parties, a whale dig… there are tons of free fun events on the island.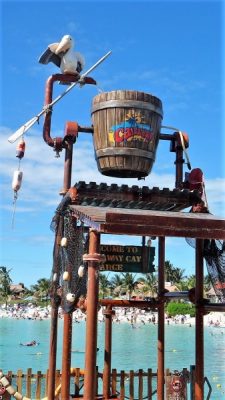 Cooking Demonstrations – Learn to cook yummy meals from the ship chefs in the "Anyone Can Cook" demonstrations, themed after the Disney hit Ratatouille.  The demonstration includes free samples of the cooked creation.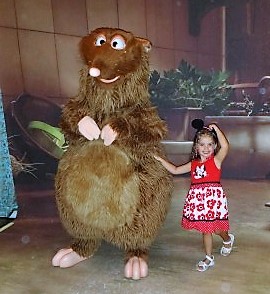 If you have previously sailed with DCL and are a returning Castaway Club member (anyone who has completed a cruise before), you can expect a little extra swag to come your way as well:
Lanyards
Castaway Club Gift – This changes periodically, but typically includes some type of DCL bag.
If you are traveling with a baby or toddler, you might wish to also take advantage of these free options:
Strollers – Strollers are available from guest services on a first come, first served basis.  They require a deposit to insure the return of the stroller, but it is yours to use for the duration of the cruise both on and off the ship, and the deposit is refunded when you return the stroller.  This was quite handy for us when the airline accidentally sent ours to the wrong city.
Bottle Warmers & Sterilizers – This is available at guest services when you board.
Diaper Genie – Have your travel agent request this ahead of time, and it will be in your room when you arrive.
Pack & Play – Have your travel agent request this ahead of time, and it will be in your room when you arrive.
Fresh baby food – You can let your dining room team know each night what you would like for your little to eat the following evening, and they will have it ready and waiting when you arrive at the dining room so your baby does not have to wait to eat.  They will happily puree any food items they have on board.
Wagons – On Castaway Cay, a limited number of wagons are available on a first come, first served basis.
Planning ahead:
Okay, this one actually costs money, but it will save you money in the long run.  If you think you would like to sail again on Disney Cruise Line (and trust me, you will!), make sure you book that adventure while you are on board by visiting the Future Cruise Sales Desk.  If you aren't sure of the exact date, you can book a placeholder, which you can then use for most cruises over the next 2 years.  It only costs a 10% deposit (instead of the typical 20%), you get 10% off of the cruise price, and you also get an onboard credit.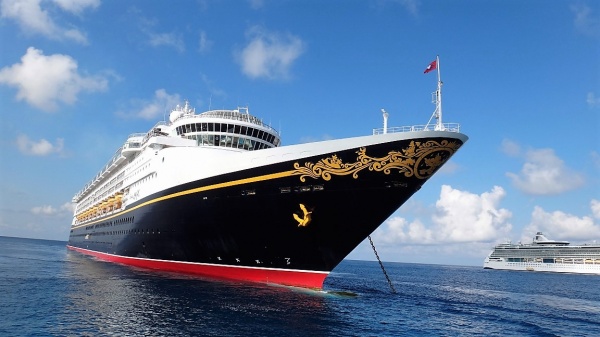 As you can see, a cruise on Disney Cruise Line is an all-inclusive experience.  You could easily have an amazing adventure without spending another dime after you pay the boarding price.
Have you found any Disney Cruise Line freebies that I have missed here?  Please let me know what I am missing out on!
Did you like this article? Make sure to share it with your friends! Check below for easy ways to share!
Incoming search terms:
https://www themouseforless com/blog_world/disney-cruise-line-freebies/
disney cruise freebees
free guft charm from disney cruise 
Walt Disney World Rats Characters
what are some of the cake of the day on disney fantasy cruise ship
what can I get for free on a disney cruise