This post may contains affiliate links for your convenience. If you make a purchase after clicking a link we may earn a small commission but it won't cost you a penny more! Read our full disclosure policy here.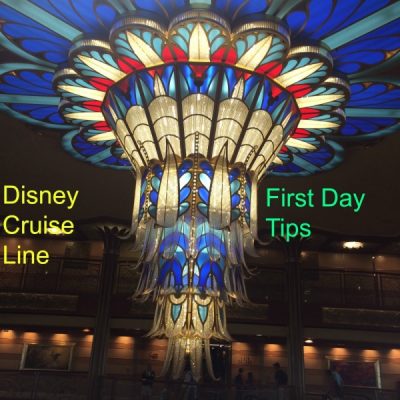 The Atrium of the Disney Dream
It's finally here, the moment you've been planning for! You're on the first day of your Disney Cruise Line vacation! Many people wouldn't consider this a real first day of their trip. After all, on day one, you basically board the boat and get settled in, right?
Well, it all depends on how you approach it. Me, I like to optimize every single moment of my Disney vacations. So I knew that when it came to our first Disney Cruise, I wanted to hit the ground running. Here are my tips on how to spend that precious first day.
WAKE UP IN PORT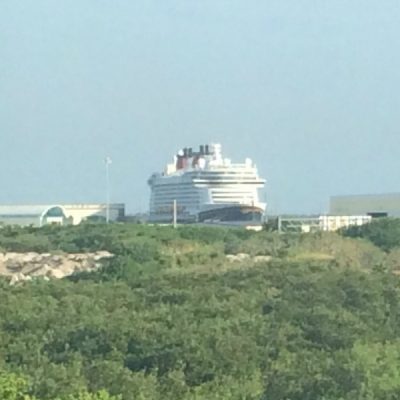 The view of the Disney Dream from our hotel room
We made the decision to fly into Orlando the night before our cruise began, rent a car, drive to Port Canaveral, and stay at a nearby hotel. This meant that on our Embarkation Day, we were able to wake up nice and early, return our rental car, take the rental company's free shuttle to the terminal, and get on the boat as soon as possible.
There's another plus to this strategy. It meant that even if something went wrong (like our flight being delayed, which it was!) we wouldn't be in danger of missing our cruise. Remember, when it's time for that cruise ship to leave, it has to leave, even if you are not on it because you had car trouble, a delayed flight, etc. Don't tempt fate. Stay overnight nearby!
MEET THE CHARACTERS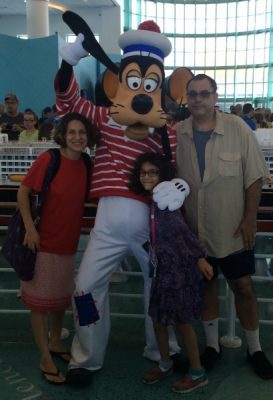 We met First Mate Goofy!
Chances to meet Disney characters begin as soon as you arrive in the terminal. We made sure to check in good and early so we had time to meet First Mate Goofy before our group was called to board the ship.
As soon as we boarded the ship, we noticed that Belle was hanging out by the grand staircase, with absolutely no one in line waiting to meet her! We made a beeline to her and took lots of photos.
ENJOY LUNCH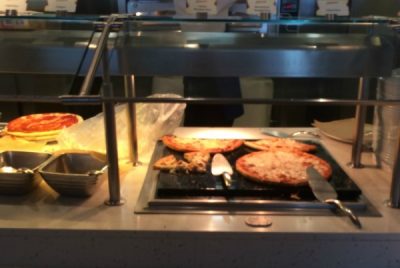 Cabanas lunch buffet pizza station
Remember, all your meals (except at the adults-only restaurants) are included in the price of your cruise. So don't waste your precious vacation dollars eating lunch before you board the ship! Get to one of the restaurants and start your vacation with a hearty, delicious lunch.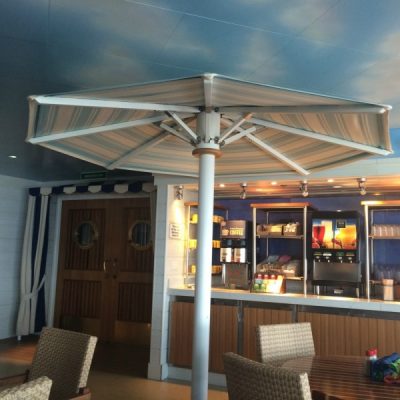 The beach theming at Cabanas on the Dream
We chose to eat at Cabanas for our first meal, but the Enchanted Garden was also an option. The Disney Cruise Line app and a printed handout will show you what your lunch options are for each day of your trip.
SETTLE INTO YOUR DISNEY CRUISE LINE STATEROOM
We received a text during lunch, letting us know that our stateroom was ready. (Editor's Note: Keep in mind that rooms onboard Disney Cruise Line are not available for Guests to visit until after 1:30 p.m. on embarkation day. You luggage, however, should arrive anywhere in between 1:30 p.m. and 5:00 p.m.) We headed to it to unpack and decorate our cabin door with magnets we brought from home.
We also got a visit from our steward for the trip, and it was great meeting him. We appreciated the fact that he wanted to make our trip the best it could be, and he reminded us of some of the features of the stateroom.
VISIT THE KIDS CLUB OPEN HOUSE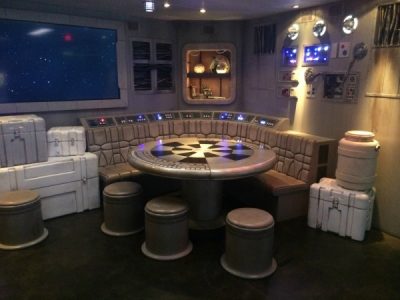 Welcome to the Millennium Falcon!
If you've got kids, you'll want to check out the Open House at the kids clubs Oceaneer Lab, Oceaneer Club, Edge, and Vibe) so the whole family can get acquainted with it. Parents who are nervous about leaving their kids here can check it out first hand, and kids will likely not want to leave once they see it for themselves.
Even if you don't have kids, you may want to check these places out. On the Disney Dream, you can explore the super cool Star Wars themed area. On the Disney Magic, Marvel lovers will want to check out the Avengers Academy.
TRY ON YOUR LIFE JACKETS
Look, in all likelihood, you will never have to actually use these during your cruise. But it's a darn good idea to figure out how to put them on, so that in the very unlikely case that there's an emergency, you won't be panicked.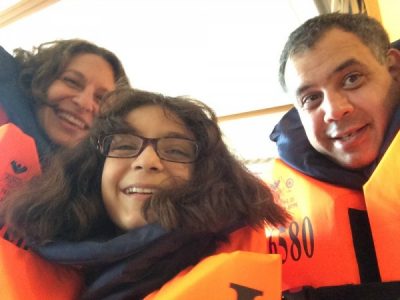 Plus, you can take some pretty hilarious selfies with them
ATTEND THE MUSTER
This is a must do! No, I'm serious, it's required. So make sure you learn what time it is and where you need to report. Although it's a serious drill, the Cast Members all try to make it as fun as possible.
ATTEND THE SAIL AWAY PARTY
It was super hot and humid, but we braved the soaring temperatures to be on deck for the Sail Away party. (If the weather is inclement, this party will still happen, but it will be moved indoors.) Of course, we helped ourselves to soft serve ice cream (included in the price of our cruise!) so that helped us cool down.
The kids all had a blast seeing the Disney characters and dancing as the boat pulled away from port. And I got misty eyed when I heard the strains of A Dream is a Wish Your Heart Makes play on the foghorn.
DON'T FORGET DINNER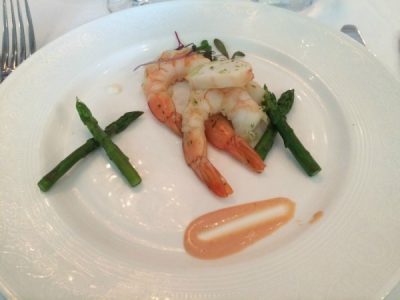 Shrimp and Scallop appetizer in the Royal Palace
On your first evening onbard Disney Cruise Line ships, you'll start the rotational dining service, in which you are assigned a restaurant at which to eat every night of your cruise. This is also the first time you'll meet your servers, who will rotate with you, which means they learn what your likes and dislikes are and can suggest menu items accordingly.
Depending on your seating time, you will get to see a live stage show either before or after you eat. Either way, don't miss it. Every night, a different large scale theatrical production is mounted, and it's a magical way to end your day.
As you can see, the first day of a Disney Cruise is NOT a throwaway day. There is a lot to do and with a little advanced planning, you can get a whole lot of Disney fun in on your very first day!
What is your favorite way to spend the first day onboard a Disney Cruise Line ship? Share in the comments.
Did you like this article? Make sure to share it with your friends! Check below for easy ways to share!
Incoming search terms:
https://www themouseforless com/blog_world/disney-cruise-line-first-day-tips/