This post may contains affiliate links for your convenience. If you make a purchase after clicking a link we may earn a small commission but it won't cost you a penny more! Read our full disclosure policy here.
Compiled By Carol Garcia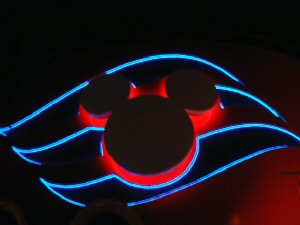 As gas prices soar and prices of transportation go up, many of us are taking a closer look at how to best spend our vacation dollars. Do we drive or fly? Do we stay local or go farther away? Do we go budget, or spend a little more to guarantee a certain level of quality?
For those of you contemplating a cruise vacation, there are many more choices. Not only do you have many different cruise lines to choose from, but among them can be ships of varying sizes and vastly different itineraries catering to a variety of people.
Although not the biggest cruise line (there are just two ships in service now with two more coming in the future), and not the cheapest, Disney Cruise Line (DCL) is still a favorite among cruisers. So, as you look at how to spend your cruise vacation, we've asked the travel agents at The Magic For Less travel agency to answer some questions about just why Disney Cruise Line is worthy of your business.
Q. Why is Disney Cruise Line sometimes more expensive than some other cruise lines?
A. Just as the onsite Disney resorts are generally more expensive than staying off-site, Disney can command a premium for its ships. You are paying for quality: the quality of the ships, the staff, and the entertainment. In return, you get a higher level of service as well as truly amazing shows, and of course, lots of character opportunities.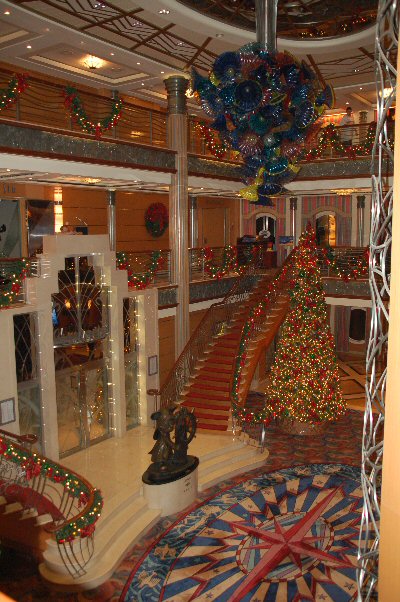 The grandeur of the ship is evident everywhere. Here it's enhanced by holiday decor.
DCL is more inclusive than other cruise lines. They do not charge guests for some of the little things that add up on other lines. Soda is included (except if you order from a bar, but if you go to the drink station or order with meals, no problem mon). If the kids' clubs are open, and they are open all day usually until midnight, it's included (other lines charge if you want your kids in there after dinner and you have to pick them up for meals). DCL has more activities available onboard both on at-sea days and in port days; other lines have some activities not available on port days. You are allowed to bring on beer, wine, and spirits to enjoy in your stateroom, this is a huge no-no on other cruise lines. Palo, the adults-only restaurant, has more options for dining (tea and brunch as well as dinner) and costs less per person than some of the other cruise lines' specialty restaurants.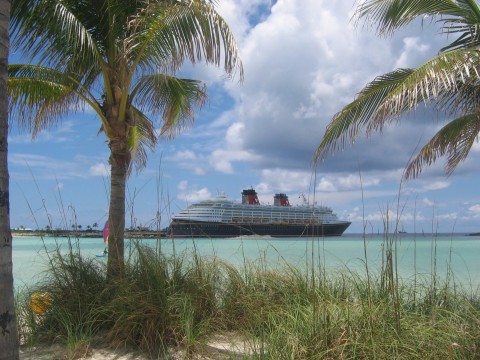 The ship docked at Castaway Cay.
Disney has only two ships, and both are in high demand, but are well maintained. Think of all the support that goes behind those two ships, a fun and stylish terminal that is used solely for them, all the support staff to run offices, and DCL reps in the lobby of every resort. But it's worth it for the quality of the product that guests receive.
Q. What does Disney Cruise Line offer that other cruise lines don't?
A. Characters, characters, and more characters. The Disney touch is seamlessly infused into the ship. The ships are classically beautiful from the atrium to the staterooms. You
can't say that for every cruise ship. This is the only place on the high seas to sail with Mickey.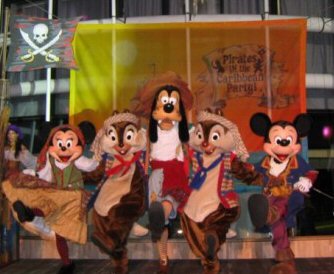 Characters perform on the ship, but they are also available for meet-and-greets throughout your trip.
Besides the obvious (the Disney characters), Disney Cruise Line has more to offer guests. The staterooms are larger than the rooms on other cruise lines. The split bathrooms are priceless for families! (There are two bathrooms in each stateroom – one with a shower and vanity and the other with a toilet and vanity.) There are adults-only areas that are actually enforced, a private island accessible without tendering, and all evening shows are included, so you do not have to worry about picking up tickets for any of them. The children's programming is excellent, and as parents know, if the kids are happy and having a great time, then the whole family will have a more relaxing trip.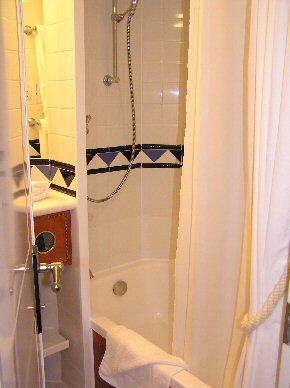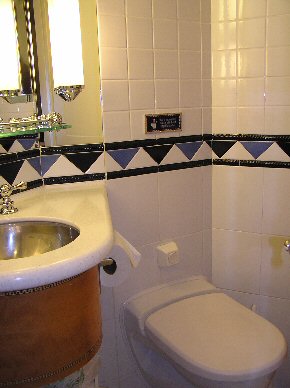 The split bathroom is unique and quite helpful for families.
Q. What is the best way to save money on a DCL cruise?
A. Simply put, book early. The price of a Disney Cruise (or any cruise) increases as the number of cabins sold increases. It might seem difficult to plan a year or more in advance, but the best prices are those that have just been released.
Of course the time of year will also be a factor. Peak times will cost more than off-peak. If you can sail during hurricane season or the winter, your prices might be lower. Don't worry too much about hurricanes. The cruise lines will alter their itinerary as needed, but aren't going to sail into a big storm.
A good way to get an additional onboard credit as well as some savings is to book your next cruise onboard. You can still have your favorite travel agent handle it and add in their onboard credit as well.
Finally, booking as part of a group cruise will offer some discounts and additional perks. You don't have to be sailing with a big group of your friends to take advantage of group bookings, either. Agencies like The Magic for Less Travel book groups and have the rates locked in.
Q. What is the one thing you wouldn't want to miss on a DCL cruise…
A. …for adults?
Take time to just hang out and relax. Don't get a table just for your family, as dinner is a great time to make some new (sometimes lifelong) friends.
The spa is a great place for some adult time. The Rasul treatment is great for couples. Or you can have a nice dinner at Palo without the kids. At least one person mentioned that she would be willing to eat there every night if she could. Yes, it's that good!

Palo
There are plenty of adult activities on a Disney cruise. The lounge chairs on deck four are a great example. Bring a book and be prepared to nap a bit as the ship movement lulls you to sleep. You can also spend some time in the adult pool or at the adult beach at Castaway Cay.
…for children?
Disney Cruise Line offers lots of children's activities both in the kids' clubs and out of the kids' clubs. The clubs, however, are a big draw, with almost an entire deck devoted to their programs. The slide in the Goofy pool is not available to adults, so the kids get their own place to play.
As you might imagine, finding child-oriented activities isn't too difficult. Don't miss the Till We Meet Again party on the last night, too.
…for families?
There are many opportunities to spend some family time. Some favorites are the shows and the family games in studio C and other lounge areas. Don't forget that Disney ships are the only ships that have fireworks, too.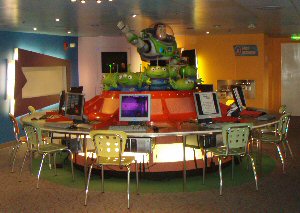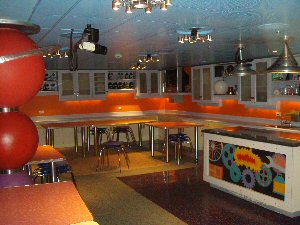 The kids' club offers plenty of space for activities.
Have a great vacation!
Thanks to Pam Forrester, Mike Corbo, Mic Anderson, Linda Norton and Barb Nefer-Lesniak from The Magic for Less Travel for their contributions to this article.