This post may contains affiliate links for your convenience. If you make a purchase after clicking a link we may earn a small commission but it won't cost you a penny more! Read our full disclosure policy here.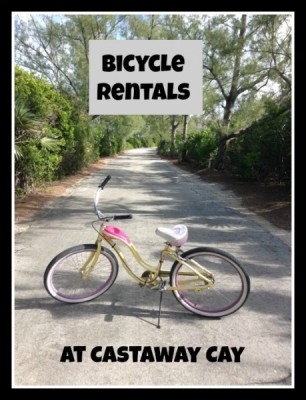 One of the fun activities available at Disney Cruise Line's Castaway Cay is renting a bicycle to see the island.  Riding a bike is a great way to get to the lookout tower, and also a good way to get a little exercise and burn a few calories you may have acquired on the ship.  Bikes are available for adults and children.  Child seats are available.
The bike rental location is easy to find. It's hard to miss this whimsical tire tower!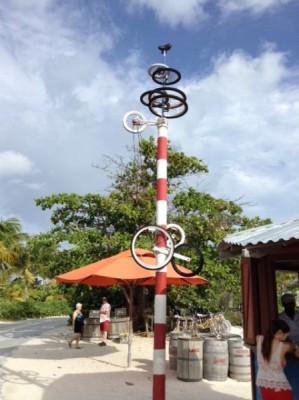 Bike rentals cost $10.75 per bike per hour, and the fee is easily charged to your stateroom account.  Once you pay for your rental, a cast member can assist with selecting a bike or you can select your own.  There are plenty of available bikes.  A one hour time frame is perfect for the bike trails with time to get off your bike now and then to admire a view and take a few photos.  The trails total about 1.5 miles.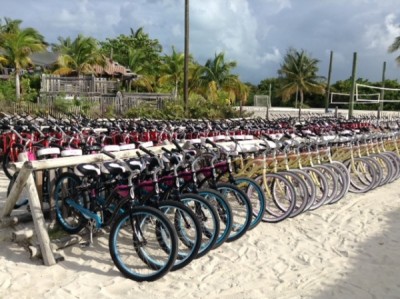 Helmets come in all sizes, and a cast member can help you select a helmet and adjust the straps for you if you need assistance.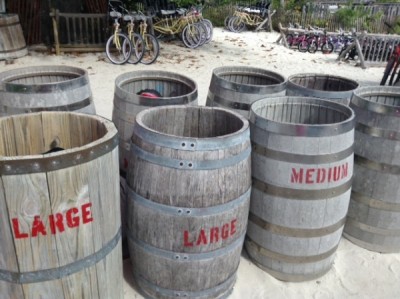 The bikes are single gear beach cruiser style with a rear hand break.  I found my bike to be easy to ride.  The Castaway Cay trails are flat, and I didn't miss having gears to use.  There are no baskets or other places to store items while riding, so you may want to place your phone or camera in a neck wallet if you plan to take photos along the trail.  If you're planning on renting a bike, shorts and comfortable shoes are good to bring as well as sunscreen.  Once your bike and helmet are selected, it's time for an adventure!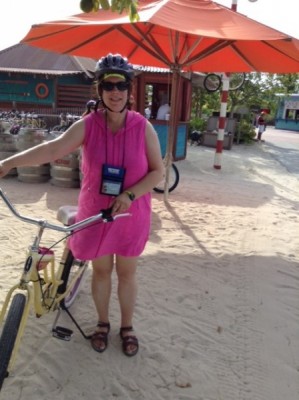 I rented a bike immediately after getting to Castaway Cay so I could ride while my daughter did the Castaway Cay 5K.  This turned out to be a perfect plan because I saw her a couple of times on the course and we finished with our activities roughly at the same time.  It was also good timing because that early in the morning I had almost the whole trail to myself!  When I returned my bike, I noticed that more families were starting to go on rides.  You can ride at any time on Castaway Cay, but be sure to allow yourself an hour or so for this activity.
The trails are well marked, and there are signs along the way to follow.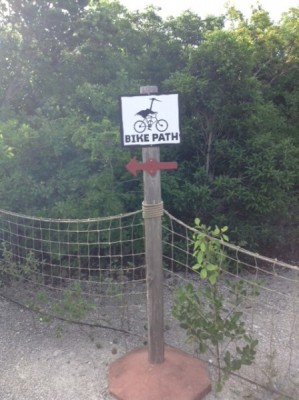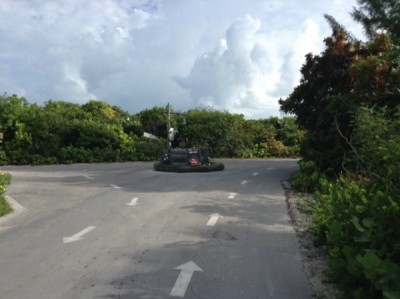 One of my favorite things about the trails are the water stations!  Water was ice cold, and with the tropical climate of Castaway Cay a stop at a water station was refreshing.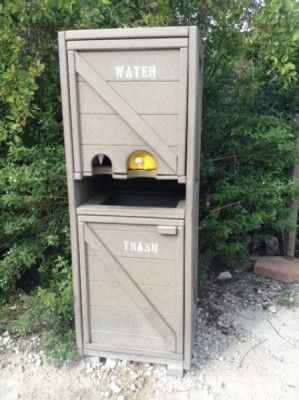 My absolute favorite thing about the trails was discovering the beauty of Castaway Cay, seeing views I would not have seen if I had stayed on the beach the whole day.  One of the paths leads to the Lookout Tower.  It's well worth parking your bike here and taking a few minutes to see a bird's eye view of Castaway Cay and to notice some of the themed details of this area.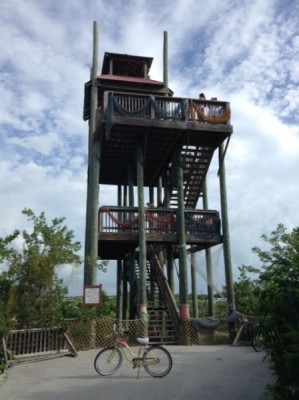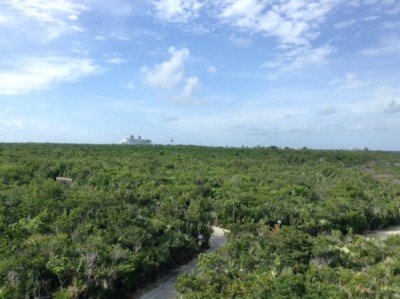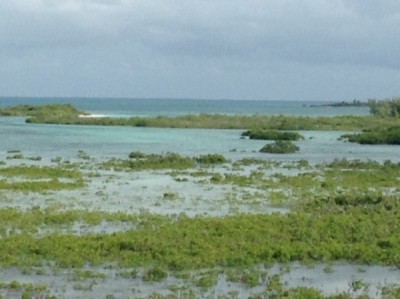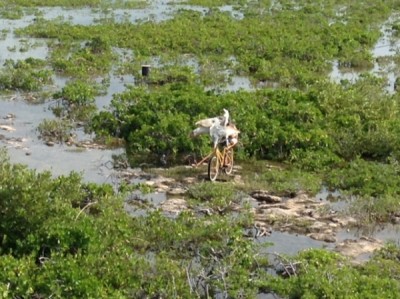 Other portions of the trails lead through areas that include a former landing strip and paths through lush vegetation.  Castaway Cay has just enough themed items to provide interesting discoveries as you ride, run, or walk through the trails without taking away from the natural beauty of the island.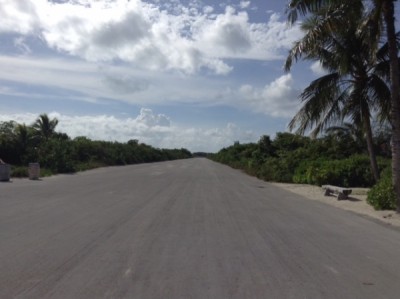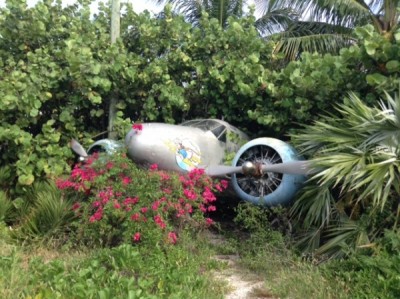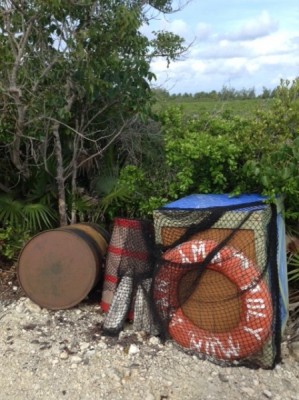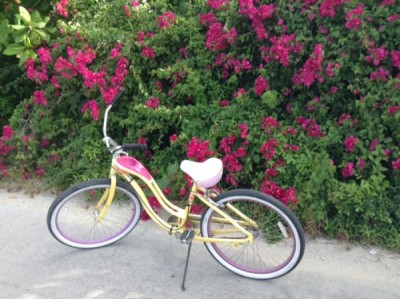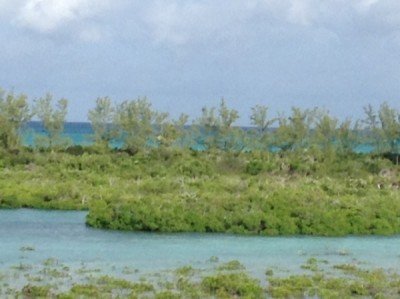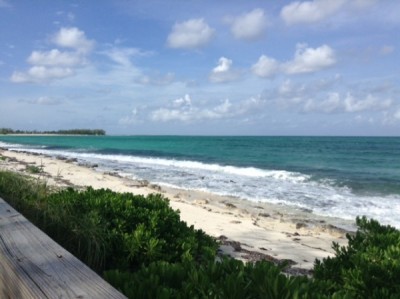 The hour I spent on a bike at Castaway Cay was a highlight of my Disney cruise, and I am looking forward to taking another spin around the island someday!
Have you rented a bike at Castaway Cay?  Share your experience in a comment below.  
Incoming search terms:
https://www themouseforless com/blog_world/disney-cruise-line-bike-rentals-castaway-cay/