This post may contains affiliate links for your convenience. If you make a purchase after clicking a link we may earn a small commission but it won't cost you a penny more! Read our full disclosure policy here.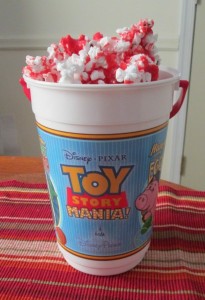 Since All Things Disney catch my eye, I stopped dead in my tracks when I saw a Disney Princess themed cookbook on display at the library!  The book that drew me like a moth to a flame is called The Disney Princess Cookbook.  The recipes are by Cynthia Littlefield and the photographs are by Joanne Schmaltz.  The book was published by Disney Press in 2013.
With an initial flip through the pages, I knew I was holding a winner!  What drew me right away to this particular cookbook is the fact that they use photos, rather than illustrations, for the recipes.  The book is bright, colorful, and engaging!  It includes fifty recipes.
My daughter is fifteen years old and experienced in the kitchen, so I looked at the book with a critical eye of it perhaps being too "young" for her to enjoy.  It wasn't.  This cookbook has a variety of recipes, and should appeal to all ages.  The difficulty of each recipe is rated with a "5 crown" system, with a 1 crown recipe being a very easy recipe and a 5 crown recipe being a bit more complicated for an accomplished cook or for a younger chef to need help from an adult.
For beginning cooks, there is a handy section in front of the book with safety rules and cooking tips.  The book does a nice job of making sure the chef has all ingredients on hand, explaining how to measure a variety of ingredients appropriately, reviewing safety tips regarding everything from knives to electrical appliances, and giving hints on preparing fruits and vegetables.  There is even a page that talks about the importance of cleaning up the kitchen when finished cooking!  These pages are nicely illustrated with Disney Princesses.
The chapters of the cookbook include breakfast, lunch, and dinner.  There are also chapters which include recipes for side dishes, snacks, sweets, and beverages.  The last chapter of the book is called "Magical Menus."  This chapter makes menus from various recipes from different sections of the book you can combine together for  a nicely themed meal!  The menus are themed to Disney Princesses, and your chef can easily pull together a fun event such as "Ariel's Seaside Picnic" to enjoy!
Each recipe in the book has the ingredient list clearly marked at the side of the page.  The photographs of the recipes are nicely done.  In addition to the photographs, each page has Disney illustrations of Princesses and Disney characters that match the theme of the recipe.  Cooking tips are added to each recipe, too.  Recipes are cleverly named to tie in with a Disney character or movie.  One of my favorite recipe names is "Mushu's Moo Shu!"
The first recipe we made from the cookbook was the Princess Pink Popcorn.  The directions were easy to follow, and the popcorn was fun to eat!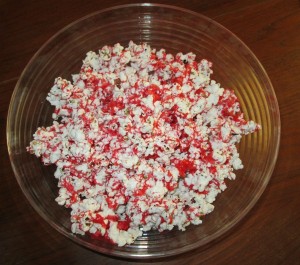 If you're looking to have some fun in the kitchen and would like to sprinkle a bit Disney to a meal, I recommend using this cookbook.  It includes a great variety of easy-to-follow recipes, is colorful and inviting, and is good for all ages.  Bon appétit!
Sponsored Ad:  Would you like to help support The Mouse For Less website in continuing their mission of being THE Disney vacation planning resource?  You can do so by purchasing The Disney Princess Cookbook from our affiliate link through Amazon.