This post may contains affiliate links for your convenience. If you make a purchase after clicking a link we may earn a small commission but it won't cost you a penny more! Read our full disclosure policy here.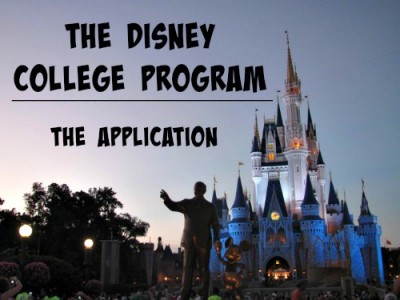 So if the Disney College Program sounds like it might be for you it's time to start looking into throwing your hat into the ring. There are three steps to the process: the application, the web based interview, and the phone interview. These are the first real challenges of the Disney College program but they are probably the easiest to overcome provided that you are a good match for the company and the program. The interview process helps Disney figure out if you are both of those things.
The Application: This is the most straightforward of the three parts to the process. For the most part it is just like your average job application: contact information, work history, references. The difference is that you don't exactly know what job you are applying for yet and so will get the chance to rank all the different roles available. The rankings run from High Interest to No Interest. Putting something at High Interest in no way guarantees you will be considered for that role but it does give Disney a better picture of the type of role you would enjoy and where you might work best. Ranking something at the No Interest level will not hurt your chances at being hired so don't be afraid to use it if you really wouldn't like a certain role. If you show even a slight interest in something you might be considered for that role! Make sure you have thoroughly investigated the different roles before starting your application so you can make the best decisions for you. The official Disney College Program website has job descriptions for all roles and many Disney College Program participants have written blogs or kept video diaries of their experiences.
The Web Based Interview: This is, to put it frankly, one giant personality test. Disney needs to know who you are beyond your work history and qualifications and puts you through a quite exhaustive test to get to know you. They are, of course, looking for individuals who will embrace the company values and be ready to make magic at any moment but also need people who aren't afraid of hard work and honestly crazy hours. Read each question carefully and answer 100% honestly. If you fib on this just to say what you think Disney wants to hear and eventually get accepted, you might find out too late that you aren't such a great match for the job. Before going into the Web Based Interview, make sure you know why you want to be a part of the Disney College Program. If you are just looking to do it because it looks like one long vacation then maybe you might like to reevaluate your reasons. This is a paid internship with real on the job experience within the powerhouse that is the Walt Disney Company. It will be fun, yes. It will change who you are, definitely. But an easy-peasy semester away from school it is most certainly not.
The Phone Interview: Easily the most terrifying part of the process but also the easiest. Once you pass the Web Based Interview you will schedule your phone interview for a time and date that works in your schedule. There will be basic questions about why you want to work for The Walt Disney Company and what you hope to get out of the program, etc. These are easy to prepare for as they are pretty standard practice for a job interview – plus you should have pondered these questions before the Web Based Interview. Then there are the questions that have to do with the different roles you might be placed in. How you would handle situation X, would you be comfortable doing Y – also easy to answer because you already thought about the roles and how you would like them for the application.
With these details by your side you should be pretty well prepared for the Disney College Program application. Remember to be yourself and be honest about what you want. It will not do anybody any good if you move in and go through training only to realize this isn't what you wanted. If you're ready to fill out your application, best of luck! Walt believes in you!
Have you applied to the Disney College Program before? How far did you get in the process and what are your opinions on it?
Incoming search terms:
disney college program application example
https://www themouseforless com/blog_world/disney-college-program-application/
disney college program application
disneyprogramblog com/about/disney-college-program/apply-now2