This post may contains affiliate links for your convenience. If you make a purchase after clicking a link we may earn a small commission but it won't cost you a penny more! Read our full disclosure policy here.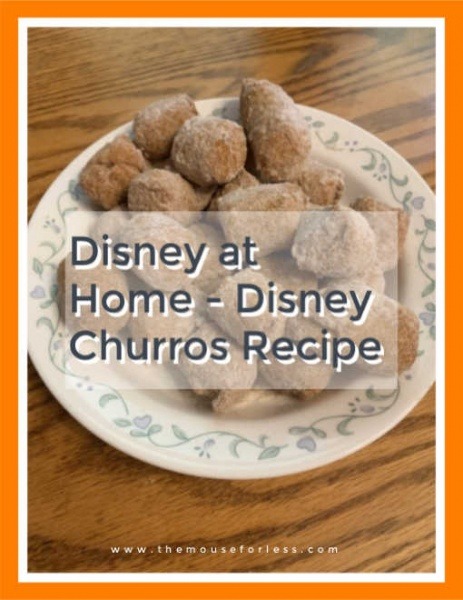 Missing the Disney Magic while sheltering at home? Make that magic at home courtesy of Disney-inspired churros that you can make and enjoy at home! I tried the recipe this weekend. These were a great way to celebrate Cinco de Mayo and we enjoys some Disney magic while social distancing. Honestly, these were a lot easier and took a lot less time than I had imagined they would!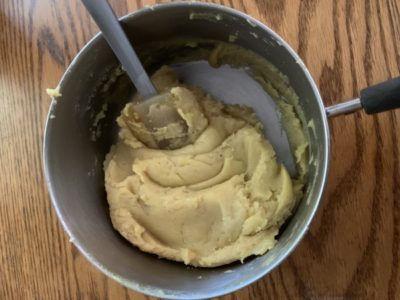 I followed the recipe exactly as written. It's simple. You definitely should use a pastry bag with a large star tip to obtain the crisp ridges on the outside like the park churros. I was down to my last pastry bag and it had an unfortunate accident and split down the side. Normally I would have just run out to our local craft stores and bought a new one, but the stores aren't open here, the dough was ready to go, and I couldn't wait long enough to get a new star tip by mail, so I proceeded with a ziploc bag with a corner cut off.
My first attempt resulted in what my kids called "churro tots". I will try these again with the pastry bag and star tip, but the "churro tots" weren't too bad and were pretty close to tasting like the park churros. Remember to let the dough "rest" or cool a bit before adding the eggs one at a time or you will risk cooking the eggs while mixing it in the warm dough and changing the way the churros look or taste.
Make sure you cook these in the hot oil to a DEEP golden brown. Darker is better to make sure the center cooks. I actually tested and put the first batch back in as it was golden on the outside but still doughy on the inside. I used a slotted spoon to move the churros around in the hot oil once or twice while cooking as if they stick together, you have a doughy light spot that doesn't crisp up well.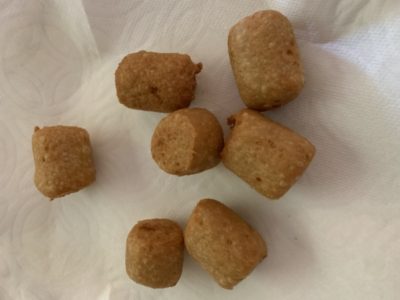 Instead of putting the cinnamon sugar in a bowl and "tossing" the churros in it, I put the cinnamon and sugar mix in a Ziploc bag and shook the churros around. It coated them a lot more evenly than the bowl method. Also, I used baker's sugar to mix with cinnamon to shake the churros in. Baker's sugar is granulated sugar, but it's much finer. It resulted in a different texture on the outside than churros in the parks, so when I do these churros again I will use regular granulated sugar.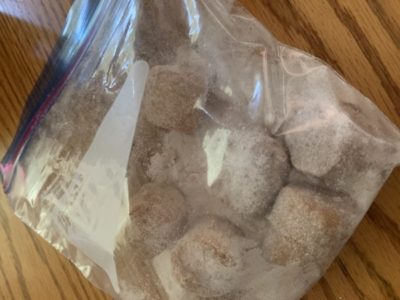 I didn't have the ingredients for the caramel sauce on hand, but will try that later. We made the chocolate sauce. It was very good, but I preferred the churros without the sauce. And I will do them again. These churros were gone in less time than it took to make them. My son is a picky churro connoisseur and he loved these, even in "tot" form. This recipe is definitely a keeper.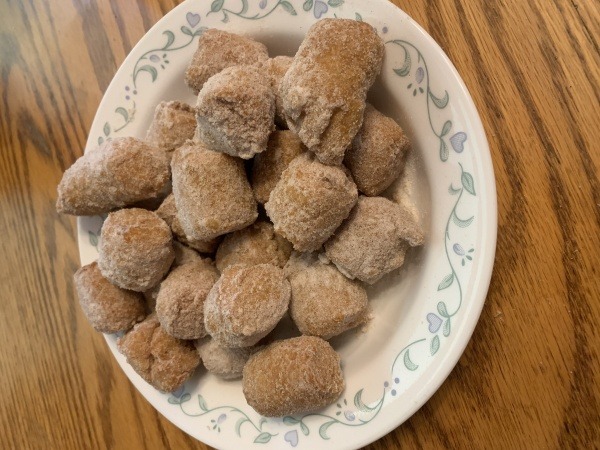 Disney Churro Bites Recipe
Ingredients:
• 1 cup water
• 8 tablespoons butter
• ¼ teaspoon salt
• ¾ teaspoon ground cinnamon, divided
• 1 ¼ cups all-purpose flour
• 3 eggs
• 1 ½ cups vegetable or canola oil
• ½ cup sugar
Instructions
1. Combine water, butter, salt, and ¼ teaspoon cinnamon in 1 ½-quart saucepan over medium heat. Bring pot to rolling boil.
2. Reduce heat to low.
3. Add flour and stir vigorously until mix forms a ball. Remove from heat and let rest for 5-7 min.
4. Add eggs, one at a time, and stir until combined. Set aside.
5. Heat oil in medium skillet or 1-quart saucepan over medium-high heat or until temperature reaches 350?.
6. Spoon dough into piping bag fitted with large star tip. Pipe 1-inch strip of dough over saucepan, cut with knife, and drop into hot oil. Repeat until churro bites fill saucepan with room to fry.
7. Fry churro bites until golden brown. Remove with slotted spoon or mesh spider strainer.
8. Drain churro bites on paper towel.
9. Mix sugar and ½ teaspoon cinnamon in medium bowl. Toss in churro bites until coated. Place on serving plate and serve with favorite dipping sauce.
Air Frying Healthier Alternative:
Requires 2 additional tablespoons of melted butter but no oil.
Complete steps 1-4.
5. Spoon the dough into a bag with a medium star tip. Chill 30 Minutes.
6. Pipe six 3-inch-long pieces into your air fryer basket Make sure they are in a single layer.
7. Cook at 380 °F until golden. Repeat until all dough is used.
8. Combine remaining sugar and cinnamon in a bowl. Brush each Churro with melted butter and roll in the cinnamon sugar mixture.
Chocolate Dipping Sauce
Ingredients:
1/2 cup semi-sweet chocolate chips
1/2 cup Heavy Cream
Pinch Salt
Instructions:
Place chocolate chips into small bowl. Heat 1/2 cup whipping cream in small saucepan over medium-low heat until bubbles form around edge and cream is steaming. Do not boil. Pour hot cream over chocolate chips; let stand 30 seconds. Gently stir until chocolate is melted and mixture is smooth. Serve with churros.
For a spicy kick stir in a ¼ to a ½ teaspoon cayenne pepper.
Caramel Dipping Sauce
Ingredients:
• 1 cup sugar
• 1/4 cup water
• 1/2 cup heavy cream
• 1 Tbsp bourbon (optional)
• 1 pinch salt (optional)
Instructions:
1. Simmer sugar and water on medium heat, swirling pan NOT stirring for about 15 minutes or until a deep amber color is reached. Watch closely as not to let it burn.
2. Turn off burner and remove from heat and slowly add cream while stirring.
3. Add pinch of salt and bourbon and place back on still-warm burner for another minute while stirring.
4. Transfer to a heat-safe dish or bottle and let cool. Store covered in the refrigerator and bring to room temp or heat in a warm water bath before serving. You can also just simply microwave the jar for 30 seconds before each use without affecting the texture or flavor.
Mango Lime Sauce
Ingredients
• 2 Mangoes
• 1 Lime
• 2 Tablespoons Sugar
• ½ Teaspoon Cumin (optional)
Instructions
1. Peel, chop and pit the mangoes
2. Zest and juice the Lime
3. Put the first three ingredients in a food processor or blender and puree.
4. Remove and add in the cumin to taste.
Getting Fancy; Playing with the coating Sugar
You might want to coat your churros in the Mexican Colors (Green, White and Red). You can do this with colored and uncolored sugar.
To make colored sugar place your sugar in a plastic bag and then drop in food coloring. Gently knead the bag to spread the color. Want a deeper color? Add more food coloring.
When your churros are cooked:
1. Arrange your three colored sugars in short cups.
2. Melt two tablespoons of butter and ½ teaspoon of cinnamon
3. Brush a churro with the melted butter
4. Sprinkle the white sugar over the center third of churro
5. Dip one end of the churro into the green sugar (up to the white sugar)
6. Repeat with the other end of the sugar into the red churro
You can enhance the flavor and color of your sugar by grinding freeze dried fruit and mixing it with your sugar.