This post may contains affiliate links for your convenience. If you make a purchase after clicking a link we may earn a small commission but it won't cost you a penny more! Read our full disclosure policy here.
From Our Magically Speaking Newsletter Archive – subscribe today!
By Jane Jones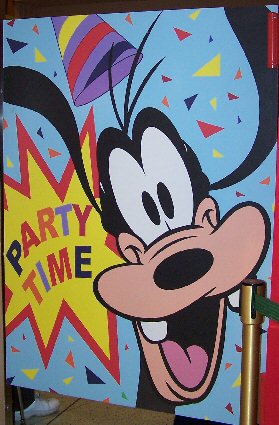 With the highly anticipated "What Will You Celebrate?" theme commencing on January 1, 2009, at Walt Disney World and the Disneyland Resort, you might have asked yourself, HOW can I celebrate once I decide WHAT to celebrate?
As I researched this question, I became overwhelmed (in a good way) and impressed with all of the new experiences Disney is offering as part of the "What Will You Celebrate?" promotion. Birthdays, anniversaries, engagements, weddings, honeymoons, quinceañeras, reunions, triumphs like graduations, and first visits … they've covered it all!
Being a mom, I decided to take a closer look at what special events Disney parks offer for children. Most of these kid-specific offerings are for ages 4-12, but the age range can differ depending on the activity, so be sure to check the age guidelines when booking your package. Also, some are for group booking, but most allow you to sign up for only one child. As with all things Disney World, call 407-W-DISNEY or 407-WDW-BDAY and they can answer your questions or connect you with a cast member trained in booking special events. For Disneyland questions, call (714) 781-7290.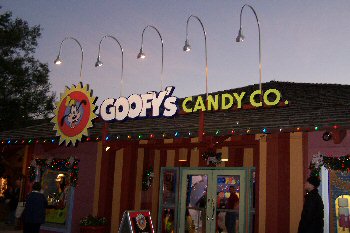 Goofy's Candy Co.
At Walt Disney World, the most exciting new event I discovered is the new birthday party at Goofy's Candy Company at Downtown Disney. The entire backside of the shop has been enclosed to form a party room. While the party is quite private from the shop, the outside wall (facing the lake) is partially transparent and you can glimpse the fun as you walk by. I was fortunate enough to see a party in action! The children were engaged while the adults seem to be enjoying themselves as much as the kids.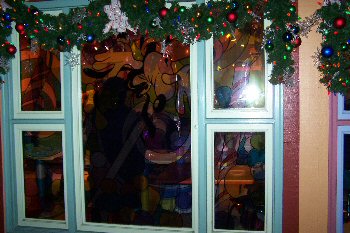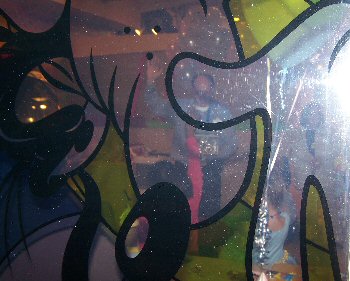 Transparent party window
There are two party themes to choose from at Goofy's. Both feature similar items including invitations and thank-you notes. The themes include:
Goofy's Scien-Terrific Birthday Bash
Treat of your choice to decorate (this is a modified version of the candy making in the shop)
Autographed picture of Goofy
Party balloon
Goofy Glacier build-a-cup of your choice
Goofy games to play
Special glow "science" glasses
The birthday child will receive a special Goofy gumball machine (cute!) and a balloon
Perfectly Princess Party
Treat of your choice to decorate (this is also a modified version of the candy making in the shop)
Autographed picture of Cinderella
Party balloon
Goofy Glacier build-a-cup of your choice
Perfectly Princess games to play
Special glow necklaces
The birthday girl will receive a crown, sash, a boxed glass slipper, and special balloon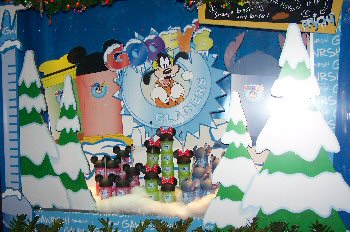 A display of Goofy Glacier build-a-cup options.
The cost for this inclusive party package is $367.38 for up to 12 guests, with an additional $25 per person charge for any additional guests (limit three). The best part is that this includes two-party hosts who will ensure that the party goes as planned! Your party will last an hour and a half, and guests must be three years or older.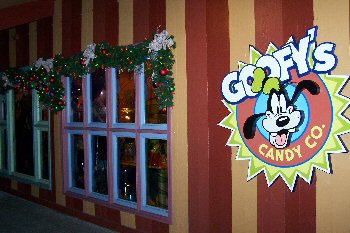 The decor is festive and fun.
I talked with a member of the management team at Goofy's about a month ago and he was quite enthusiastic about the parties. I asked a lot of questions and even stumped him — he said that over the months that they had been planning this they hadn't thought of some of the things I asked! As with all things Disney, if you have input, give it. They want to hear what WE want. (For example, I asked about having a non-birthday party, with Girl Scouts, because I am a local. They said they had never considered that option! We discussed booking issues/ideas as well as ways to handle the birthday child-specific details when there is no birthday child, such as possibly doing a drawing for the gumball machine as part of the non-birthday party.)
Goofy's Candy Company party room is currently holding "soft openings" with cast member families but will open to the public in December. Call now to book your Goofy party. If nothing else, stop by to take a quick peek at the festivities. I think you'll be impressed — I'm already hoping to take my Girl Scout troop there in May. What a way to celebrate!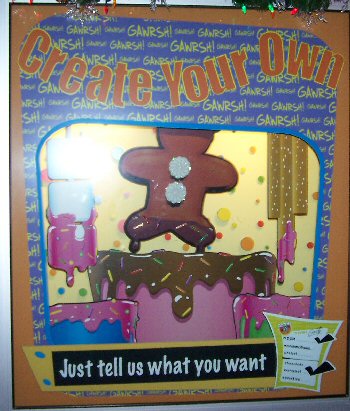 Next month: celebrating at a Disney resort.
Magically Speaking Featured Article
Library of Congress ISSN:1556-3863