This post may contains affiliate links for your convenience. If you make a purchase after clicking a link we may earn a small commission but it won't cost you a penny more! Read our full disclosure policy here.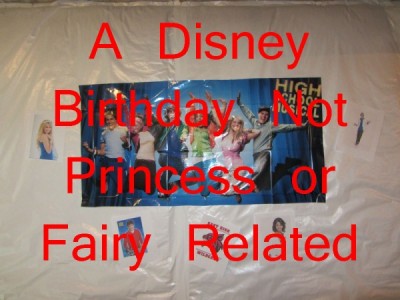 Birthdays are a big deal in our family mostly because I make them a big deal.  Ever since our daughter celebrated her first birthday, I have spent the months ahead of time planning and preparing.  As our kids have gotten older the parties have changed, but one thing stays a constant they are all Disney related.  From Cinderella, Tangled, and Frozen for our daughter to Planes, Cars and "Jake and the Neverland Pirates" for our son, our parties always seem to have a Disney focus.  Again this is mostly because of my personal Disney obsession.
This year as the planning was began I was surprised when my daughter asked for a High School Musical-themed party.  Our local high school put on an unforgettable production of this movie which she quickly fell in love with, but I was still surprised that fairies or Ever After High didn't come out on top.  I wasn't overly thrilled about throwing my eight year old to be a High School Musical party, but in the end it was a huge hit and I had fun with all the unique ideas regarding everything from invites to food.  Here is what we did to have a Wildcat birthday party.
As we were short on time, the invites were simple ones made in word but there were tons of pre-made ones or unique ones online that if I would have had more time I would have used.  The variety that this theme offered throughout the planning process is something I found a lot different than previous parties.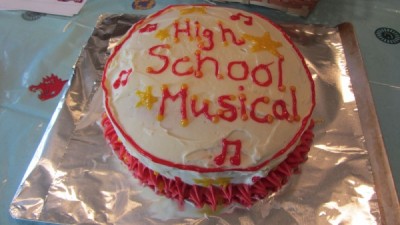 Birthday cake
For food choices I once again had a variety of options.   I could choose from the three major scenes in the movie which are a basketball game, theater, or school.  No matter which area we focused on, they allowed for easy food options such as hot dogs, walking tacos, cut up fruit and veggies, chips and popcorn.    Although there were fancy cake options, my daughter wanted a simple cake this year which was fine by me.  She had fun choosing different finger foods for her and her friends.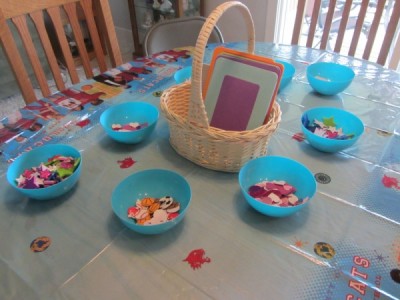 Frames and Decorations
Finally I had to figure out how to entertain her friends for two hours.  This is where I was pleasantly surprised with all that High School Musical had to offer.   When her friends started to show up we had them start making picture frames from the foam stickers and letters we found at Walmart.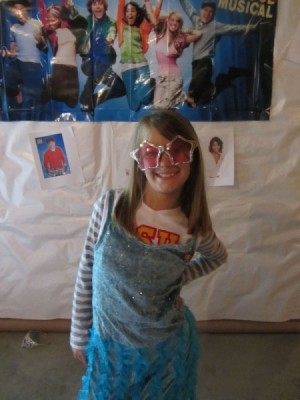 Daughter Dressed as Sharpay
Once everyone had arrived, we headed down to the "photo booth" ( an area that I just hung a High school Musical backdrop).  The kids then could pick different costumes and accessories to dress up in all based on the movie.  We had cheerleading uniforms, warm-ups, hats, sunglasses, and even a Sharpay dress.  I was shocked by how excited they all were for this.  We took tons of pictures as everyone switched outfits multiple times.
After they were done,  we opened presents where they had to answer questions about the movie and my daughter to have her open their gift.  This was a way to slow down present opening and it worked like a charm.   As the kids did this, I printed off pictures for them to put in their frames from earlier.  A quick thank you as well as fun goody-bag item.
Following cake and ice cream,  we played High school Musical Bingo.  This was super easy to make as I just used pictures from online to make my own boards.   The kids loved it!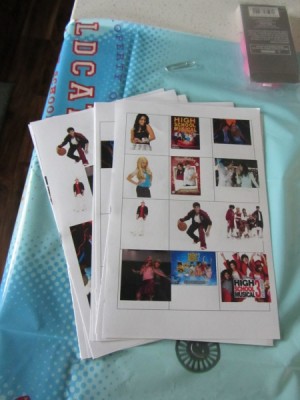 Bingo Game
Next came a dance party and musical chairs all using the CDs from the three movies.  Again I never knew kids could dance around for so long together.   A friendly game of hoops came next followed by Wii Sing the High School Musical edition.   As you can tell, we had tons of options when it came to entertainment for her party.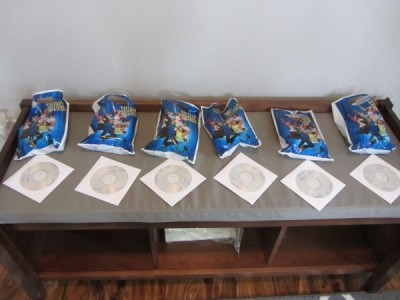 Fun favors
I will admit although I love these movies, I was hesitant to have it be the theme to my daughter's birthday, but it turned out fabulous.   I have learned that even though it might not be a mainstream Disney movie or character if it is still Disney related it will still be magical.
Have you thrown a High School Musical birthday party? What fun themed out of the box birthday party ideas do you have? Let us know in the comments!