This post may contains affiliate links for your convenience. If you make a purchase after clicking a link we may earn a small commission but it won't cost you a penny more! Read our full disclosure policy here.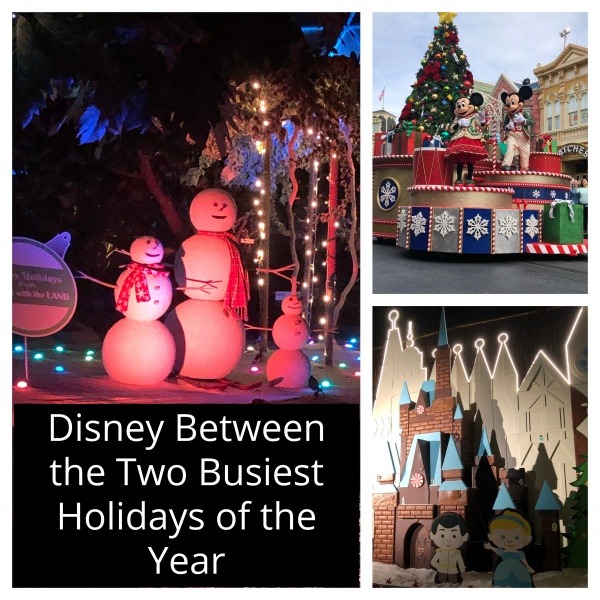 Disney at Christmas time has been on my list of bucket list Disney experiences.  And this year I made it happen- arriving on December 26 and leaving on December 30.  While I didn't experience either Christmas or New Year's, I did experience as much Christmas as I could.
December 26
We started off our trip with an early morning flight, arriving at 8AM.  The Magical Express area was busier than normal- partly due to the fact that there were no buses parked outside.  It took us over 90 minutes to reach our resort as we made four stops before reaching Pop Century.   But that wasn't going to spoil the start of our trip!  We ate breakfast at Boma, which was the busiest we had ever seen it- a constant theme of this trip.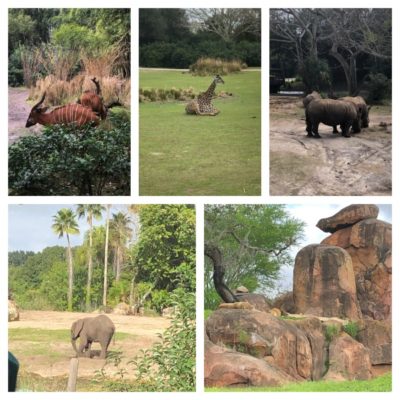 Afterwards, we went to Animal Kingdom.  We enjoyed the holiday puppets on both our entrance and exit from the park.  Unfortunately, Navi River Journey was down so, so we received a multi-experience Fastpass to make up for this. We chose to use it to do Kilimanjaro Safari a second time in a row- and as they say, no 2 safaris are the same!  Lions and elephants were much better on the second ride while giraffes were plentiful on both rides.
We also got lucky on our Kali River Rapids ride and didn't get soaked- though we did get wet! Pro tip for any water attraction: if you don't love being wet, plan a Fastpass do this right before you'll be heading back to your resort for a mid-afternoon break. That way if you do end up soaked, you can change clothes.
Later in the evening we took the Disney Skyliner to EPCOT. We snacked our way around World Showcase's Festival of the Holidays where our favorite dish was the Cheese Fondue served in a bread bowl. Even the vegetables were good! We furthered our Christmas experience on Living with the Land- where lights had been added to give the greenhouse a festive appearance- but note that you can only experience this once the sun has gone down.
December 27
We awoke super early (before 5am for a 6am Park opening) with the plan of getting a boarding group for Rise of the Resistance. We were in line for a bus before 5:20 (the Skyliner wasn't running) and despite a little bit of bus chaos, we walked through the tap point at 6am and were able to get boarding group 66.
The nice part of the early arrival was the shorter lines for rides- which are the only thing open. Shows and character greetings don't begin until after 8am.  We were able to ride Tower of Terror and Midway Mania with less than a 15 minute wait.  We left the park and took a boat to go to Disney's Boardwalk for their Seaside Sprint Fun Run.
After the 1.5 mile run, we returned to Hollywood Studios.  We saw the Frozen show and rode Smugglers Run.  Then, I had the best two hours of my trip.  I went to Savi's Workshop and built a lightsaber.  I then followed this up with my boarding group being called to experience Rise of Resistance.  Without a doubt, the lightsaber experience and the newest attraction lived up to all of the hype.  Even my mom who isn't a Star Wars fan said that it was the best ride she had ever experienced- likening it to being in a movie.
Later that evening, we saw Minnie's Wonderful Christmastime Fireworks from under the tables and umbrellas outside of the Plaza Ice Cream Parlor.  Considering it was lightly misting, I traded a better view for a drier, seated view- and I would happily do it again.  In comparison to Happily Ever After, I found the show to be good, but am excited for when Happily Ever After returns to Magic Kingdom.
December 28
The day started off rainy, so we changed up our plans.  We made a last minute reservations for breakfast at the Grand Floridian Cafe. Their combination of breakfast and lunch options fulfills the cravings of everyone.  The biscuits that we started off the meal with were the perfect appetizer.  Our waitress even willingly changed my mom's steak and eggs into a steak omelet.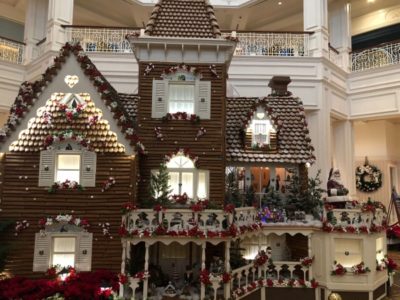 And because we were in the Grand Floridian, we took the opportunity to see the Gingerbread House.  It is truly a work of culinary art.
Rain cleared as we headed into Magic Kingdom.  We saw the noon Mickey's Once Upon A Christmastime Parade from Main Street.  In my opinion it is the best of the daytime Disney parades.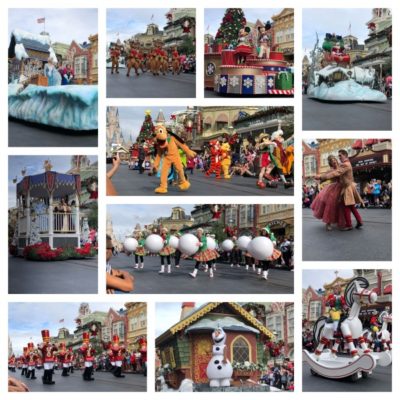 We spent the evening at Hollywood Studios for Jingle Bell, Jingle Bam and the Sunset Seasons Greetings projection show.   Both were good shows, and ones that I am glad that I've seen, but won't be on my must do again list if I ever return around the holidays.
December 29
I got up early again to get a boarding group for Rise of Resistance.  Despite the pouring rain, there was no lack of crowds in Hollywood Studios.  Even so, I was able to secure boarding group 29.  I left after getting my boarding group to return to the resort and go back to sleep.  At 6:45am, I received a notification that my boarding group was called.  I utilized the Skyliner for my return to Hollywood Studios and my trip to EPCOT after the ride.
There was a twenty minute stoppage on the Skyliner EPCOT line during my trip.  While no one in our car seemed particularly bothered by the stoppage, I later saw that other cars ended up stuck for a longer period of time.
Thankfully a great breakfast at Garden Grill for the Candlelight Processional Dining Package took our minds off the experience.  The cost of the meal is more expensive but, not having to wait in line for the show made it worth it.
Seeing the Candlelight Processional checked off my last Christmas trip to-do.  The 50-piece orchestra, Voices of Liberty, and large choir is an experience that everyone should have at least one time in their Christmas trip.
December 30
Morning rain on our last day forced us to choose to start our day a little later- or be wet.  We chose the option of staying dry, so we once more moved our FastPasses to later in the day.  When we entered Magic Kingdom it was by far the most crowded I've ever seen it.  This is probably due to the fact that Magic Kingdom does their New Year's Eve Fireworks Show on both December 30th and December 31st.  If I had my trip to do over again, I would have planned to go to any other park except Magic Kingdom on this day.
Overall, this trip allowed me to do so many of my bucket list Christmas experiences.  While I didn't get to experience Christmas Day or New Year's Eve, I'm glad that I'll have something left on my Disney bucket list for another year.
Have you visited the Walt Disney World Resort during this busy holiday time of the year? Let us know your tricks and tips in the comments or on Facebook or Twitter!
Did you like this article? Make sure to share it with your friends! Check below for easy ways to share!
Want to visit Walt Disney World? Contact The Magic for Less Travel for more information and a free, no-obligation quote.