This post may contains affiliate links for your convenience. If you make a purchase after clicking a link we may earn a small commission but it won't cost you a penny more! Read our full disclosure policy here.

Deciding on accommodations for your trip to Walt Disney World giving you a headache?  It is easy to see why with so many options.  Today, let's discuss why the Disney's Art of Animation Family Suites are a great option for everyone.
Upon entering the suite, you will find a small sitting area with a table and four chairs.  What a great landing spot for all your park bags, maps, and MagicBands!  When not in use, the table area converts to a Murphy bed.  This will easily accommodate two small children or one small adult.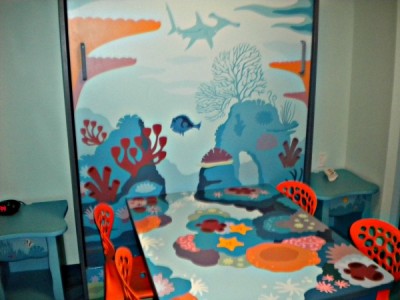 Table in the main living area that converts to a bed
Next, you will see a small kitchen area with a sink, microwave, coffee maker, and dorm size refrigerator.  There is plenty of storage for your snack and small meal essentials.  Many families utilize a grocery delivery service to stock up on food items.  This can save some money and time when getting around in the morning.  It is nice to have quick items on hand that can be eaten on the go, particularly when headed out on Disney transportation.  The resort gift shop will also have some basic food and snacks as well should you need it.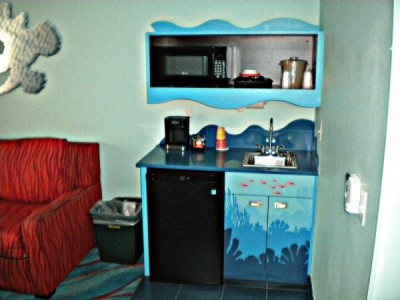 Sink, fridge, coffee maker, and microwave with plenty of storage
The main area of the suite holds a sofa, coffee table, and a couple of sitting chairs as well as a dresser which functions as a TV stand.  The flat screen TV is perfect for winding down after a busy day in the parks.  The sofa converts to a full size bed, comfortably sleeping two adults.  There are plenty of outlets in the main area to charge devices without needing to bring additional cords and outlet expanders.  There is overhead lighting and table lamps as well.  The suite does get dark when all the lights are off, so consider bringing a nightlight from home if this is something that may bother your family.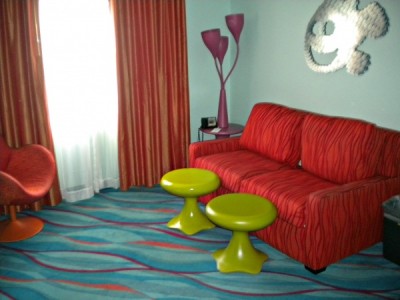 Main living area. Sofa converts to a bed.
Finally, the main living area of the suite holds its own bathroom, equipped with a toilet, sink, full bathtub, and shower.  Again, this is a huge time saver when trying to get ready for a day or night in the parks.  The bathtub and shower have a door separating it from the toilet and sink. There is a large vanity mirror with outlets for bathroom appliances.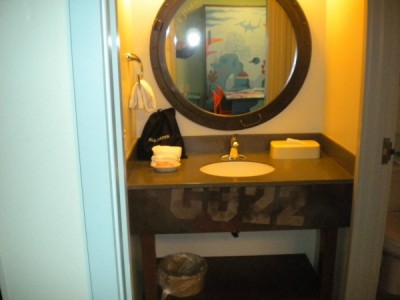 Bathroom off the main living area.
Next, we move on to the bedroom area of the suite.  This is equipped with a queen size bed, comfortably sleeping two adults, with two end tables, a flat screen TV, dresser, and hanging rack.  It has a door separating it from the main living area.  For families, this is a wonderful thing.  It allows for kids to have their own space to unwind and head to bed early while the adults can watch TV or talk without interrupting them.  There is also and en suite with a sink, toilet, large vanity area, and walk-in shower.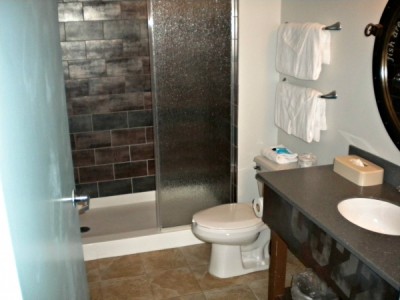 Master bathroom.
We have stayed at Art of Animation in the family suites twice; once in the Cars section and once in the Finding Nemo section.  Both were great locations with amazing attention to detail and theme.  We have a third stay booked for later this year.  If you love the idea of space to move and privacy, the Art of Animation family suites will not disappoint!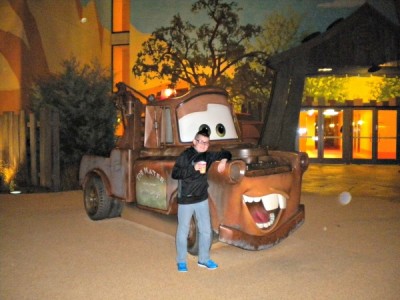 Wandering through the Cars section.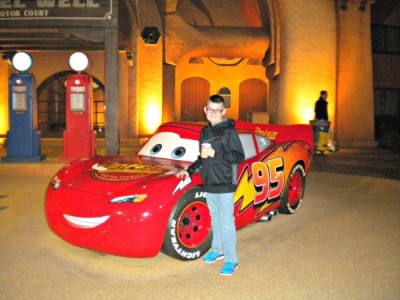 Wandering through the Cars section.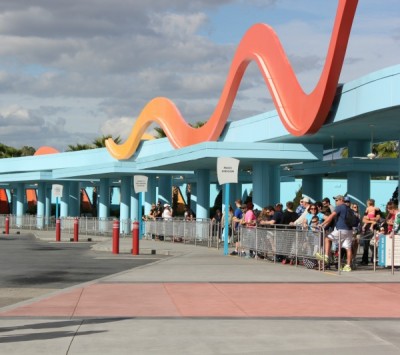 Bus stops are individualized for each park, creating organization and easy access to cues.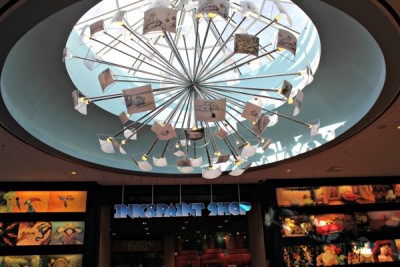 Lighting in the main lobby.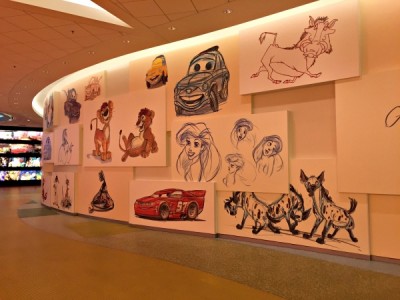 Lobby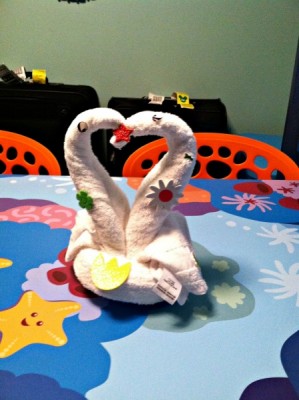 Sweet swans were a nice treat to come home to after a day in the parks.
Have you stayed at Disney's Art of Animation Resort? What are your thoughts?
Incoming search terms:
https://www themouseforless com/blog_world/disney-art-animation-resort-family-suites-perfect-everyone/