This post may contains affiliate links for your convenience. If you make a purchase after clicking a link we may earn a small commission but it won't cost you a penny more! Read our full disclosure policy here.
Have you ever wanted to explore the Magic Kingdom without any crowds? Walt Disney World created an event called "Disney After Hours" in the spring of 2016 that allowed guests to enjoy the Magic Kingdom with a limited amount of people in attendance. As with many things at Disney, there was an extra charge to attend. So, was it really worth the price?
On select nights in January, February, and March of 2017, the Magic Kingdom closed its gates for the Disney After Hours event. My mom and I had a trip planned during one of the days, so we decided to check out the event. A ticket for this event was $119 plus tax for ages 3-adult. I am an annual passholder, so my ticket cost $89 plus tax. Walt Disney World did put a limit on the amount of tickets that were sold for each night.
My mom and I arrived at 7:00 p.m. to the Magic Kingdom on Thursday, March 9, 2017. My mom did not have a theme park ticket for the evening, so we were not able to enter the Magic Kingdom until 7:00 p.m. There was a designated area to check in for the Disney After Hours event. We received our credentials and headed into the park.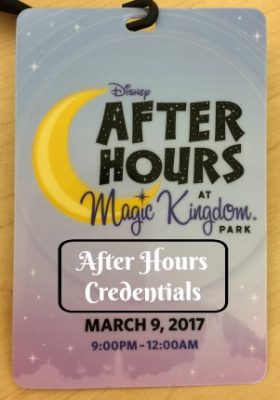 The operating hours for Magic Kingdom were until 9:00 p.m. that evening, so it was still relatively crowded. We headed for Tomorrowland and started with the Monsters, Inc. laugh floor. While in Tomorrowland, we also rode The Carousel of Progress and the Tomorrowland Transit Authority PeopleMover. By this time, it was around 8:30 p.m. and the crowds were starting to dwindle as Wishes had just ended. Mom and I headed over to Under the Sea: The Voyage of the Little Mermaid and walked onto the ride. By this time, it was 9:00 p.m. We headed over to Mickey's Philharmagic and noticed the party in front of us was turned away due to not having credentials for the event.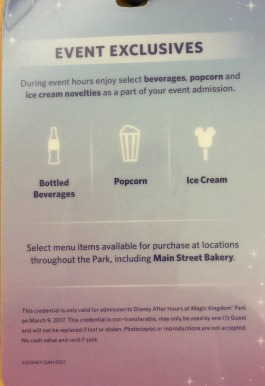 After exiting Mickey's Philharmagic, the park seemed very empty. Seven Dwarfs Mine Train was still a 30 minute wait, so we headed over to the Haunted Mansion. We walked onto that ride also. Mom and I were hungry after, so she went over to get some popcorn from one of the carts and I went and got a Mickey Bar right next to a cart at the Haunted Mansion. We sat in Liberty Square and enjoyed our snacks. It was eerily quiet with very few guests walking around.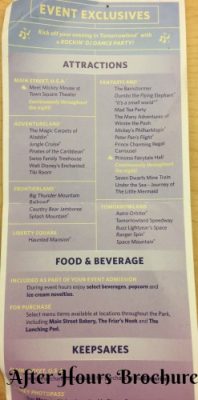 Next, we headed over to Big Thunder Mountain Railroad and rode with no wait. We next rode Pirates of the Caribbean and Jungle Cruise with no wait. One of the neatest experiences of the event was getting our own private showing of The Enchanted Tiki Room. The Cast Members here were happy to have us as guests as no one was around in the area. We finally made our way over to the Seven Dwarfs Mine Coaster and only had a 5 minute wait!
By this time, it was 11:30 p.m. and Mom and I were getting tired, so we decided to call it a night. As we were walking through the castle (with no one in sight), I took in the moment. It was quiet, peaceful, and I was at my happy place. There was a PhotoPass photographer right by the castle, so we got our picture taken. There are no guests in the background of our photo!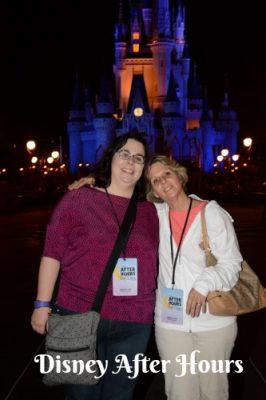 So the question still remains: Is it worth the cost? Absolutely! In just 4.5 hours, my mom and I were able to go on all of the rides I would normally do in a whole day at the Magic Kingdom! The free snacks were nice. Having no crowds to bump into and short wait times were great! And getting to spend an evening with my mom was priceless! I hope Disney decides to bring back this event because I will buy another ticket to attend.
Did you participate in the Disney After Hours event? What did you think? Share your thoughts in the comments.
Did you like this article? Make sure to share it with your friends! Check below for easy ways to share!