This post may contains affiliate links for your convenience. If you make a purchase after clicking a link we may earn a small commission but it won't cost you a penny more! Read our full disclosure policy here.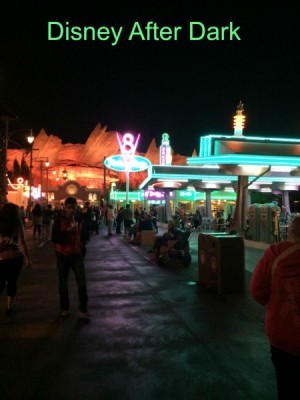 Carsland at night, in Disney California Adventure
The Disney parks take on a very special ambiance once the sun goes down. Lights go on, the temperature gets cooler, and parents tote their exhausted toddlers back to the hotel.
Even people who plan out their Disney days minute by minute often forget to look into what to do at night. Here, I'll share my favorite activities in each park once the stars come out.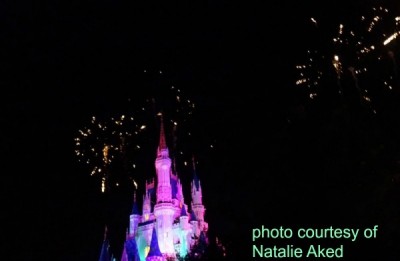 Wishes at the Magic Kingdom
THE MAGIC KINGDOM
On our most recent trip to Walt Disney World, we were arriving about dinner time. After checking in to our hotel, we took a motor launch to the Magic Kingdom to enjoy the park just as the sun was beginning to set. Our first stop was to the FastPass+ location for the Main Street Electrical Parade. This magical parade, full of floats absolutely covered in twinkling lights, first debuted in Disneyland. It made its way to Walt Disney World and has been delighting audiences there ever since. Visitors young and old will be enchanted by the dazzling floats and the strains of its original music, Baroque Hoedown.
Afterwards, we got into position to watch Celebrate the Magic, which is a show that is projected onto Cinderella Castle. The projections show classic scenes from Disney films.
By this time we had made our way into the FastPass+ viewing area for Wishes, the Magic Kingdom's fireworks spectacular. Tinker Bell begins the festivities by flying from the Castle. Disney fireworks are truly magnificent, and this show, narrated by Jiminy Cricket, is all about the power of wishes.
And of course, the Castle all aglow in lights and Main Street, U.S.A. with tiny twinkling lights lining the buildings are beautiful.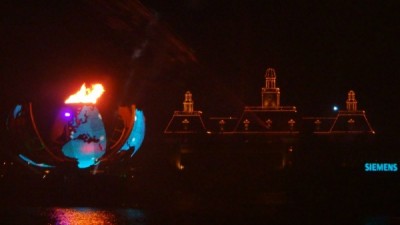 IllumiNations at Epcot – photo courtesy of Natalie Aked
EPCOT
The big draw here is IllumiNations, a nighttime extravaganza combining laser effects, fireworks, and a truly moving musical score. The show was inspired by the story of the creation of Earth, from a lifeless ball into the beautiful home to the diverse cultures all around the world. On our last trip, we scheduled a FastPass+ reservation to watch this show. Even so, we found that when we arrived, most of the spots closest to the wrought iron railing were taken, meaning that our 9 year old would not be able to see very well. We asked some grown ups if they minded if she stood in front of them, and they kindly obliged.
Spaceship Earth looks magnificent at night, when it reflects colored lights that are projected on its silver sphere.
HOLLYWOOD STUDIOS
Hollywood Studios is certainly getting a lot of attention nowadays, with familiar attractions closing and entirely new lands promised in the future. But one thing has been a constant for a very long time: Fantasmic! Fantasmic! is held in the Hollywood Hills amphitheater. The show is not identical to its Disneyland counterpart, but shares many of the same effects. Projections on screens of water, pyrotechnics, and live actors add to make this story of Mickey's dream into a not to be missed show. FastPass+ is available here, and you can also book a dining package which includes dinner at a Hollywood Studios table service restaurant and passes to a reserved viewing section. We decided to dine at Mama Melrose's Ristorante Italiano with the Fantasmic! Dinner Package. Unfortunately, that evening a particularly strong thunderstorm rolled in, and Fantasmic! was canceled.
When you leave the park, be sure to notice the "Hollywood that never was and always will be" lit up in neon.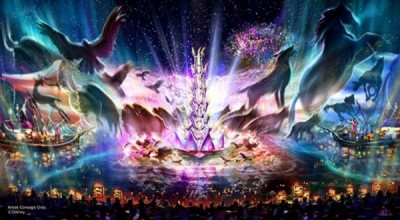 Rivers of Light concept art – copyright Disney
ANIMAL KINGDOM
Up until this point, my advice would be to take a bus to the nearby Animal Kingdom Lodge and enjoy dinner at Boma, one of my favorite restaurants. That's because, as of right now, Animal Kingdom closes at dusk. There have not been any fireworks shows because it was determined this would seriously stress out the animals. However, it has been announced that an upcoming nighttime show, Rivers of Light, will be coming to the park. The show will use water, mist screens, and floating lanterns, but, in order to safeguard the welfare of the animals, will not include pyrotechnics. It is expected to arrive in the park in the Spring of 2016.
During a special event held in the park to celebrate The Lion King's anniversary called Harambe Nights, the Tree of Lights was lit up, and it has been speculated that this will happen again once the park is open late.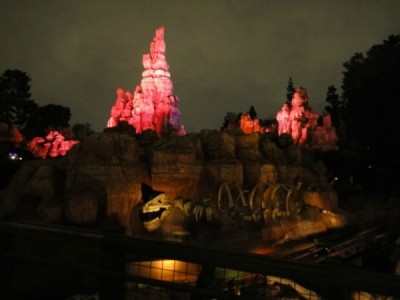 Disneyland Park – photo courtesy of Natalie Aked
DISNEYLAND PARK
Over on the West Coast, big things are happening in Disney's original park at night! To celebrate the 60th anniversary of the Happiest Place on Earth, Disney debuted not one, but two new nighttime events. The first is the Paint the Night parade. This parade debuted at Hong Kong Disneyland to great acclaim, and a version of it was added to Disneyland this summer. Many people consider it a natural successor to the Main Street Electrical parade. The parade features over a million and a half LED lights. Currently, the parade is insanely popular. It has been reported that some people stake a claim to a curb on Main Street, U.S.A. for the last showing of the daytime Soundsational Parade and then stay there for hours in order to see Paint the Night. So if you want to see this, get there early!  (Another fun option – if you time it right, you can manage to see part of the parade from your vantage point on the Alice in Wonderland ride.)
Also new to the after dark lineup is Disneyland Forever, a fireworks and projection show celebrating the park's history. In order to relieve congestion that often occurs in front of Sleeping Beauty Castle during fireworks shows, Disneyland Forever features projections not only on the Castle, but on the buildings on Main Street, on it's a small world, and on the mist screens used for Fantasmic! The legendary Richard Sherman wrote a song that plays after the fireworks called A Kiss Goodnight, which references Walt's feelings about the fireworks in the park: it was his kiss goodnight to all the guests to came to this happy place.
Fantasmic! is still going strong in this park. There are now a variety of ways to get a space to watch this nighttime spectacular. (None of them involve seats – you should be prepared to stand or sit on the concrete.) You can snag a FastPass. You can also reserve the Fantasmic! Dining Package which includes dinner at select Disneyland restaurants along with reserved viewing of the show. Disneyland's version of Fantasmic! is not a carbon copy of the show at Hollywood Studios, but many aspects are similar.
As in the Magic Kingdom, Disneyland's Main Street also looks like a magical land when all the tiny lights that line its buildings are turned on at night.  And riding Big Thunder Mountain Railroad at night gives you a completely different perspective!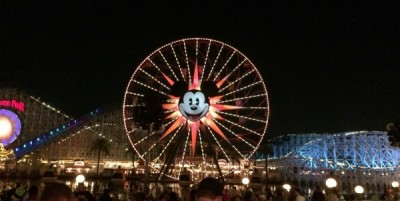 Mickey's Fun Wheel at California Adventure
CALIFORNIA ADVENTURE
Across the entrance plaza, there's plenty of nighttime fun at California Adventure. Paradise Pier glows in colored lights. The neon lights turn on in Carsland. And World of Color: Celebrate! The Wonderful World of Walt Disney (whew, what a mouthful!) was added to the lineup to celebrate Disneyland's 60th anniversary. If you thought the original World of Color was something special, prepare to be dazzled. Neil Patrick Harris narrates the story of Walt Disney, from his humble beginnings to the creation of Disneyland and beyond, and all of it is told with water jets, mist screens, lights, flames, and a stirring musical score. There are even projection effects on Mickey's Fun Wheel.
FastPasses are available for this show, or you can enjoy a World of Color Dining Package at select restaurants in California Adventure. It's still advisable to get to your viewing area early. While you're there, you can use your smart phone to play a game involving the color patterns on Mickey's Fun Wheel. (If you can get Disneyland's notoriously bad WiFi to work, that is. We couldn't.)
I hope this gives you an idea of all the fun things to do in each of Disney's theme parks once the lights go down. Of course, perhaps the most fun to do is to stroll the parks, maybe while nibbling on a Mickey Bar, enjoying all the pixie dust.
Which is your favorite nighttime entertainment? Share with us in the comments.