This post may contains affiliate links for your convenience. If you make a purchase after clicking a link we may earn a small commission but it won't cost you a penny more! Read our full disclosure policy here.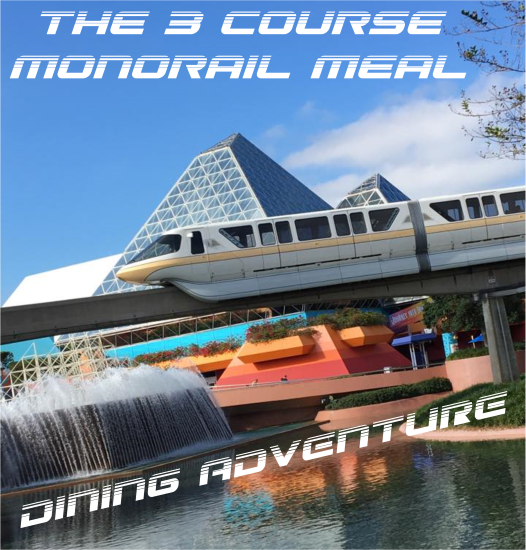 Every Disney World vacation involves food and I am a big fan of unique and adventurous dining experiences. So, as I was planning for our time in the World over marathon week an interesting dining idea popped into my head which I called the "3 Course Monorail Meal". This would be a progressive dinner type meal featuring an appetizer, a main course and a dessert with one course at each of the monorail resorts (The Grand Floridian, The Polynesian, and The Contemporary).  The only condition that I set was that each course must be from a non-table service restaurant for the sake of time. The challengers were myself, my wife, our 6 week old son, and my parents.
Course #1 – The Appetizer
We were staying at The Polynesian and decided to make our first stop at the Grand Floridian for our appetizer.  Upon arriving at the resort we had the good fortune of getting to hear the "Grand Floridian Society Orchestra" who plays live in the lobby balcony every evening.  We actually did a bit of ballroom dancing up on the balcony lobby and really enjoyed the beautiful atmosphere.  I would recommend that everyone take a chance to hear them play if you haven't already.  They are phenomenal.  Here's a little taste…
We then headed out the back doors toward the Gasparilla Island Grill which proved to be a little to tricky to find if it's your first time there, but after asking a cast member we found it.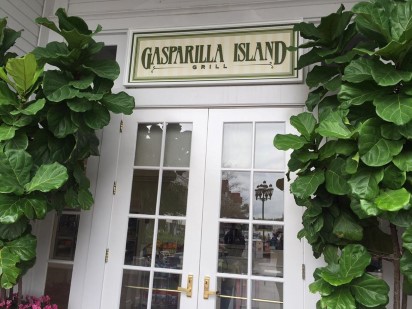 The un-assuming entrance of The Gasparilla Island Grill
I was super excited for this first course because I had heard about their crazy hot dogs and I was not disappointed (they feature a different hot dog every day of the week).  My wife and I shared an "Idaho Dog" which was a large all beef hot dog with a baked potato for the bun.  It was topped with sour cream, bacon, cheddar cheese, and chives.  Wow…goodbye bread, hello baked potato…this was an awesome combination.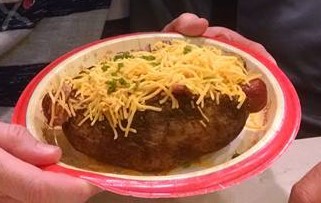 The Idaho Dog
Half of the dog was plenty for an appetizer because it was really filling.  My dad also had an Idaho Dog and my mom had the "Stuffed Ciabatta Margherita Pizza" which literally melted in your mouth.  It was a small loaf of ciabatta stuffed with gooey mozzarella, fresh tomatoes and basil.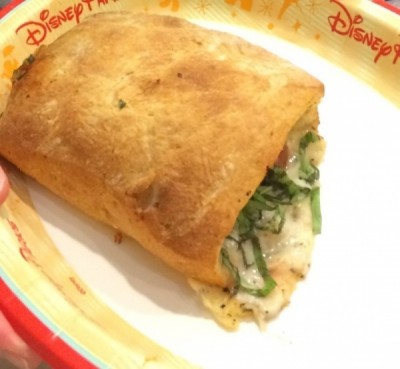 The Stuffed Ciabatta Margherita Pizza
At the time we ordered it was a brand new item that wasn't even on the menu yet…hopefully they keep it.  One quick tip about the appetizer course…the quick service restaurants really are not set up to offer traditional type appetizers so sharing something is probably your best bet.
Course #2 – The Main Course
Next it was back to the monorail and on to The Contemporary Resort for our main course at the Contempo Cafe.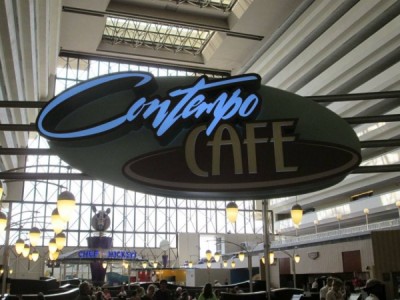 My wife and I shared the chicken alfredo which was pretty good and I appreciated the opportunity to choose whole wheat pasta as an option.  The best part of our main course by far was the parmesan crusted bread stick that came with it.  If anyone is going to attempt this and you are at the Contempo for your appetizer see if they will do a basket of those with some marinara sauce for you, because it was arguably the best breadstick I've ever eaten.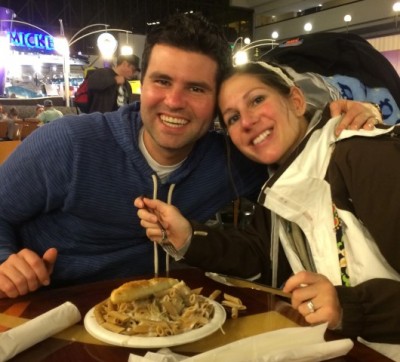 My dad got the pasta with meatballs (which he could not finish because he already ate an entire Idaho Dog).  I tried part of a meatball and it was pretty good.  My mom had the Steakhouse Salad which was lettuce with Marinated Beef, Red Onions, Goat Cheese, Tomatoes, and Mustard Vinaigrette with a warm Pita Wedge.  The beef was cooked really nicely and the dressing was delicious.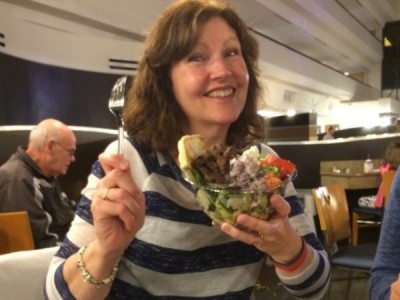 The Steakhouse Salad
After dinner the ladies did a bit of shopping while my dad and I played a couple games of pinball in the arcade.  As a brief aside, I love the fact that every Disney arcade has pinball machines.  Pinball is just awesome!
Course #3 – Dessert
Lastly, it was back to The Polynesian for dessert.  When we arrived at Captain Cooks we were disappointed to see that most of the desserts were already gone (it was close to 9:00pm by that point).  But…thankfully the Polynesian had one of the best fall back options in history…the on sight Dole Whip stand called Pineapple Lanai.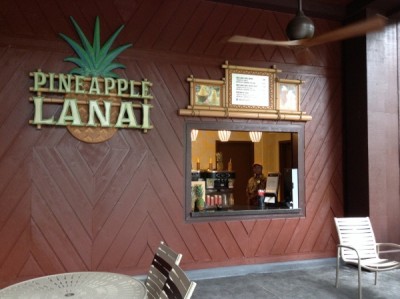 There was no sharing this time and each of us enjoyed our own delicious frozen pineapple dream in a cup while catching the end of the Magic Kingdom fireworks.  It was a pretty great way to end our adventure.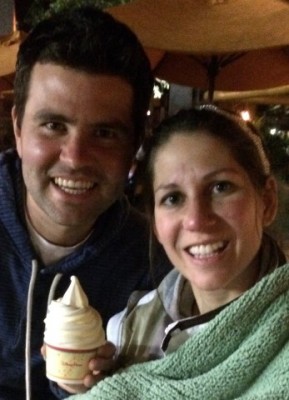 You can't beat a night that ends with Dole Whip
Overall, I could not recommend a "3 Course Monorail Meal" more.  We took our time (probably about 2-2.5 hours) and enjoyed each resort thoroughly.  And…the great part about this is that there are six different possible options depending on what order you do each resort.  That means 5 more dining adventures await my family on vacations to come.  Hopefully this inspires you to take on this challenge on a future trip to the world.  Here's to you enjoying your very own Disney 3 Course Monorail Meal!
Have you ever done a 3 Course Monorail meal? Which restaurant order would you choose for appetizer, entree, and dinner what would you order?
Incoming search terms:
https://www themouseforless com/blog_world/disney-3-course-monorail-meal-dining-adventure/