This post may contains affiliate links for your convenience. If you make a purchase after clicking a link we may earn a small commission but it won't cost you a penny more! Read our full disclosure policy here.
Fiona Shaw, the Irish actress most famously known for her role as Petunia Dursley in the Harry Potter films once said, "Even when they have nothing, the Irish emit a kind of happiness, a joy." That happiness and joy was clearly present at the annual Mighty St. Patrick's Day Festival at Downtown Disney and everyone was welcome to join the festivities.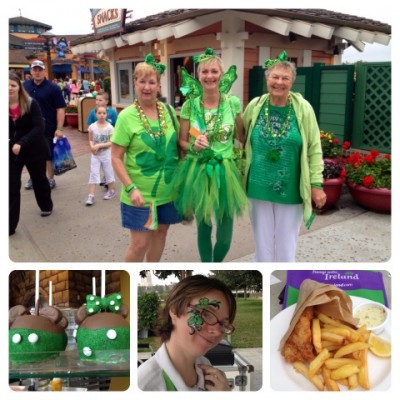 Downtown Disney visitors know that Raglan Road Irish Pub & Restaurant is the headquarters for all thing Irish but did you know that the restaurant's interior of aged walnut and mahogany woods from old Irish bars and churches was built in Ireland and shipped to Orlando?
The Festival, held annually the week off and the week preceding St. Patrick's Day features authentic cuisine by Irish celebrity chef Kevin Dundon and a lineup of musical talents showcasing their Irish roots through lively music and dance. Festivities at Raglan Road Pub and in surrounding Downtown Disney areas included face painting, stilt walkers, children's activities and plenty of St. Patrick's Day memorabilia.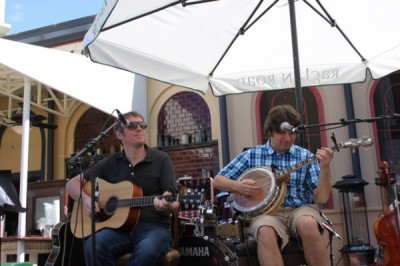 Having put "my green on" I decided to succumb for an entire long weekend to the temptations of the Mighty St. Patrick's Day Festival. I arrived in time to savor a hearty meal of fish and chips while enjoying the music of The Brayzen Heads on the Raglan Road Patio.  I talked with David Gilmore (guitar & lead vocals) and Shane Farrell (banjo & violin) and asked them what it meant to play during this, their second St. Patrick's Day festival at Downtown Disney.
David who calls Dublin home and Shane born in Manchester to Irish parents, have been performing together for quite some years.  After a seven-year gig in Spain, they packed up their gear and brought their vibrant tunes to Florida.  They love interacting with their audience during their daily, year-round performances at Raglan Road Pub and they convey their love for Ireland through their music and chats in between sets.  "Everybody comes out on St. Patrick's Day, no matter if they are Irish or not" said Shane and David confided "I don't mind working on St. Patrick's Day, I enjoy the unique atmosphere."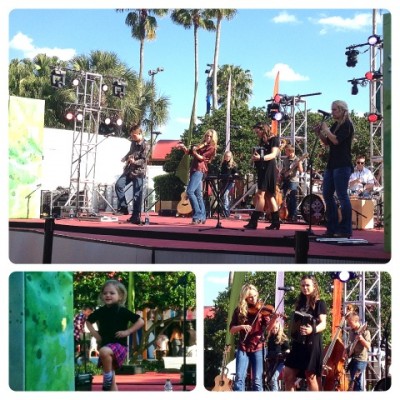 An absolute must see is the multi-talented Willis Clan, a family of musicians who merge their Irish roots with other genres. Jada, at age three is the youngest of this energetic group and a joy to watch. The family, mom, dad and 12 children, hails from Tennessee and they are simply amazing!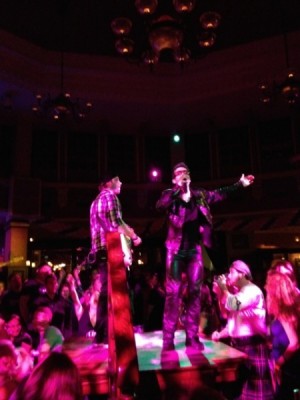 The lineup for the festival was exquisite and diverse. We Banjo Three, a quartet from Galway, Ireland, known for combining Irish music with old-time American and Bluegrass, played on the Raglan Road Pub stage and so did the popular U2 tribute band Elevation.
Even the rain on St. Patrick's Day could not stop the fun. The bands played on and hundreds of Irish, whether by birth or by spirit  – braved the elements turning Downtown Disney into a sea of green-bedecked, fun seeking revelers.
Renowned Irish dancer and choreographer Ronan McCormack of the original Riverdance cast presented the Irish Dance Workshop "From Roots to Riverdance". In no time kids and grownups took to the stage. While I had my moment in the sun I quickly realized that I am not yet material to join the Raglan Road Dancers. Talking about the famous seven full-time champion dancers, it goes without saying that their performances throughout the festival were as always, flawless.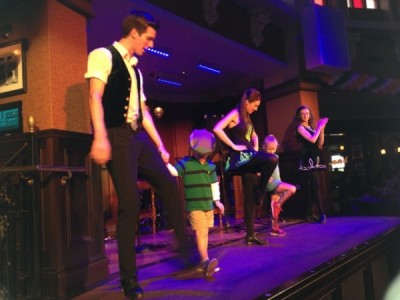 The evenings were filled with the tunes of Creel, the Ragland Road house band and Goitse a band who delighting the crowd with their fast paced traditional Irish music.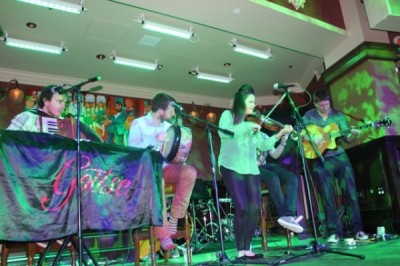 Another band that stood out was the Three Dollar Band who combines both Irish and Appalachian music with the odd French or Bulgarian rhythm.  They reminded me somewhat of Gogol Bordello, the gypsy punk band from the Lower East Side of Manhattan. Nova Celtic was a crowd pleaser at the Ring of Kerry Stage and The West Coast Trio, a band from Connemara transported the crowd with a mixture of old and modern Irish songs.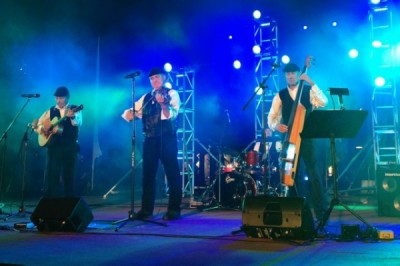 You must be wondering how did she do all that? Well, I love music and great food, so any excuse for a delicious meal with fabulous music while quaffing a flight of Irish ales is a no brainer. Shepherd's pie, the traditional Irish dish that Chef Dundon serves with a modern twist and a double portion of Scallop Forest with citrus lime dipping sauce & sweet chili jam got me through the long weekend.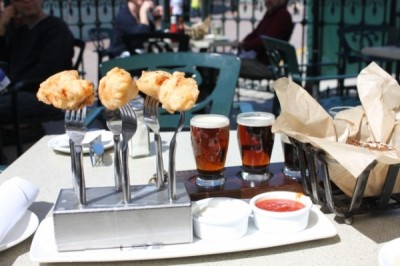 Talking about food, Chef Kevin Dundon shared with me a recipe from the latest Raglan Road Cookbook "I'd Ate the Backdoor Buttered Ma!" and I sure hope you are going to give this a try next Sunday. So here it goes for Glazed Loin of Bacon with Colcannon Mash:
Ingredients:

Glazed Loin of Bacon
900g/2lb loin of bacon
2 tbsp Irish Mist whiskey liqueur
4 tbsp honey
100ml / 3½fl oz/scant ½ cup cider
Colcannon Mash
8 small Savoy cabbage leaves, trimmed down to form cups
5-6 large potatoes, peeled
55g/2oz/¼ cup butter
60ml/2fl oz/generous ¾ cup buttermilk
100g/3½ oz Savoy cabbage, shredded salt and pepper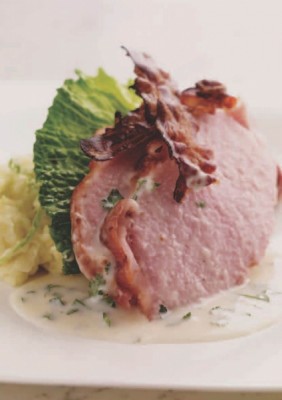 How to: Place the loin of  bacon in a large pan and cover with cold water. Bring to the boil, then reduce the heat and simmer for 1  hour until completely tender. Preheat the oven to 180'C/150F/ Gas Mark 4.  Place the Irish Mist in a pan with the honey and cider, then heat gently until dissolved. Remove the loin of bacon from the water and leave until cool enough to handle, then trim away the rind and excess fat.
Place the loin of bacon in a small roasting tin and brush all over with the glaze, pouring any remainder around the loin. Bake for 15-20 minutes until completely heated through and well  glazed,  basting occasionally. Remove the bacon from the oven and leave in a warm place for at least 10 minutes. Blanch the cabbage cups in a pan of boiling salted water until just tender but still holding their shape. Drain well and toss in the remaining knob of butter. Season to taste.
Meanwhile bring the potatoes to the boil, then simmer for 15-20 minutes or until completely tender. Drain in a colander and return to the saucepan. Add the butter and buttermilk, then mash using a potato masher. Add the shredded cabbage and season well with salt and pepper. Slice the bacon and place on a bed of colcannon mash, and the Savoy cabbage cups and drizzle with pan reduction. Serve immediately or sooner.
About Raglan Road Irish Pub & Restaurant: Owned and operated by Irish partners Paul Nolan, John Cooke and celebrity chef Kevin Dundon – famous for his five-star hotel and cookery school in Ireland – Raglan Road features traditional Irish dishes and new creations with a Celtic twist.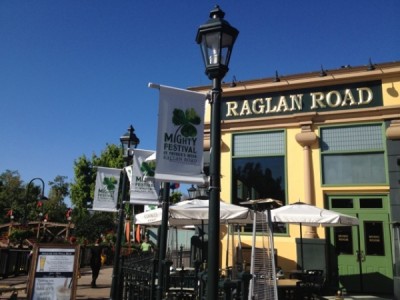 All year long guests can enjoy live Irish bands and performances by The Raglan Road Dancers nightly and during the Rollicking Raglan Sunday Brunch.  Live music is also scheduled nightly on the pub patio.  Lunch is served 11 a.m. to 3 p.m.; Dinner 3 to 11 p.m.; Sunday Brunch 11 a.m. to 4 p.m.  Raglan Road Irish Pub & Restaurant is located at Downtown Disney in the Walt Disney World Resort, 1640 E. Buena Vista Dr., Lake Buena Vista, Fla.  Visit www.raglanroad.com or call 407/938-0300.