This post may contains affiliate links for your convenience. If you make a purchase after clicking a link we may earn a small commission but it won't cost you a penny more! Read our full disclosure policy here.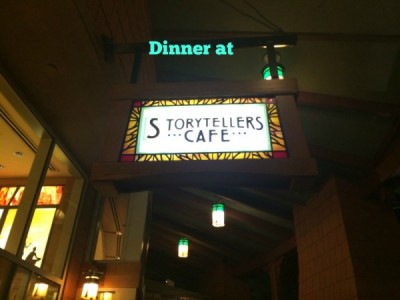 The Storytellers Cafe at the Grand Californian Hotel
It's no secret that I adore the Grand Californian Hotel. We haven't been able to stay at this beautiful place in years, but that doesn't stop us from enjoying it's beauty and atmosphere.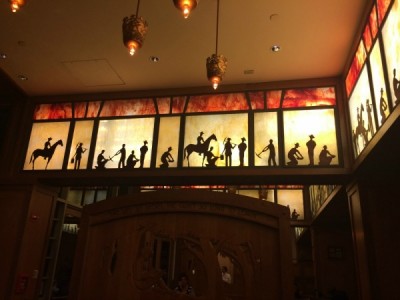 Design detail in the Storytellers Cafe
I recently had dinner at the Storytellers Café, the hotel's casual restaurant. We had a 6:00 p.m. dinner reservation and were seated immediately. Even though it was a Friday night, we passed many empty tables.
This restaurant offers a buffet or a la carte options. Of our party, only my Dad chose the buffet. He was very pleased with the options available. However, at $32.00 per adult, the rest of us felt we wouldn't get our money's worth by going for the buffet, and opted to order a la carte.
We started with a nice bottle of Malbec. Our server brought the bottle to the table and allowed my Dad to sample it before pouring it for everyone. It was dry, and delicious!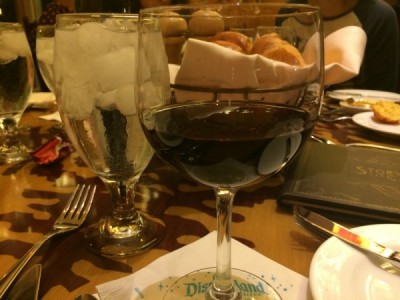 A good way to start the meal.
My husband ordered a Long Island Iced Tea, which he enjoyed. As we perused our menus, the bread basket arrived. The miniature corn muffins were a huge hit.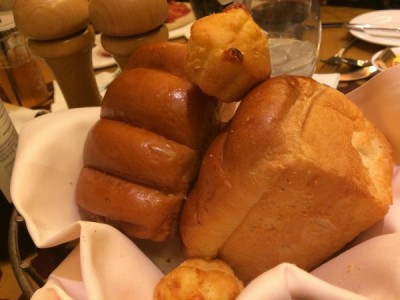 Bread basket – the miniature corn muffins were delicious!
I ordered the Grilled Lobster Salad. The lobster was cooked to perfection, and the vegetables were crisp and fresh. I do wish the greens had not been left whole. I don't like using a knife to eat my salad. The dressing was light and tasty.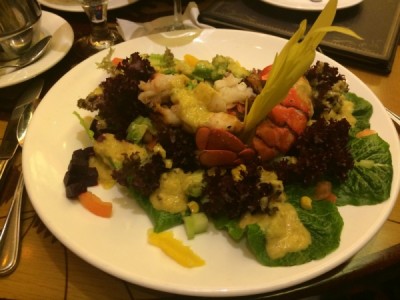 Grilled Lobster Salad
My husband ordered the pork chop, which he enjoyed very much.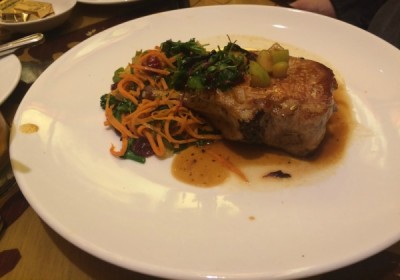 Pork Chop
My daughter ordered the kids' cheese pizza. They asked her if she'd like to make it herself, which she did. Our server brought out the dough, a bowl of sauce and a small bowl of cheese so she could assemble her pizza herself. Then he whisked it off to the oven to be baked. I stole a taste and the crust was very nice. If only Disney quick service pizza tasted this good!
My sister and my Mom both ordered the catch of the day which was Chilean Sea Bass. My mother ordered hers plain with no spice at all. My sister ordered hers with no modifications. Both of them enjoyed their entrees.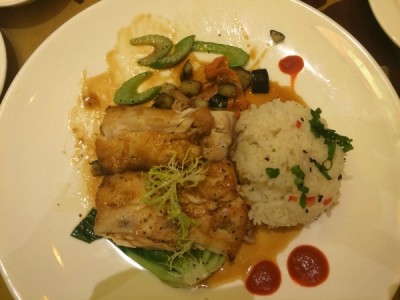 Chilean Sea Bass
For dessert, my daughter received a Mickey cupcake, while the rest of us shared a Dessert Trio. There was a miniature crème brulee, chocolate mousse, and apple gallette. I honestly cannot tell you which was my favorite; they were all delicious.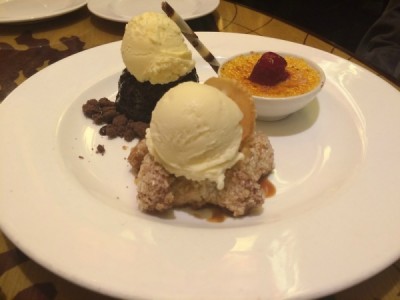 Trio of Desserts
We split the check, but my husband, my daughter and my order came to $78.53. (Somehow my Dad got stuck paying for the entire bottle of wine. Thanks, Dad!)
The Storytellers Café is a delightful place to enjoy dinner if you want to escape from the crowds in the parks. It is a very easy walk from the Grizzly River exit from California Adventure. It's also not very far from Disneyland Park or Downtown Disney.
Have you enjoyed a meal at Storytellers Cafe? What are your thoughts?