This post may contains affiliate links for your convenience. If you make a purchase after clicking a link we may earn a small commission but it won't cost you a penny more! Read our full disclosure policy here.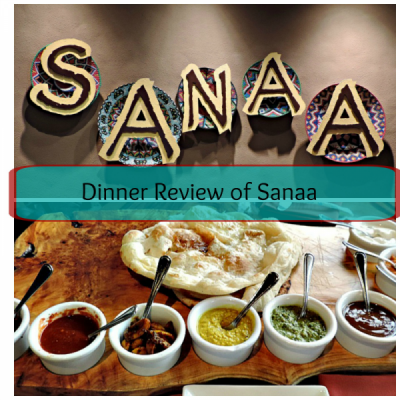 Sanaa is a unique restaurant found in the Kidani Village section at Disney's Animal Kingdom Lodge.  Menu offerings are typically African-inspired dishes with Indian flavors.  Given the location, as you dine, you can also view a variety of animals while overlooking the savannah right outside the floor to ceiling windows.  Gazelles, zebras, giraffes, kudu, ostriches, and cranes are just a few of the animals you might see roaming about.
I have wanted to dine at Sanaa for some time after hearing extremely positive reviews.  While the menu might seem a little more exotic than most Disney restaurants, the flavors are milder than you might think and blend together perfectly.
I had an ADR for 5:00 and arrived 15 minutes early requesting a table by the window if possible.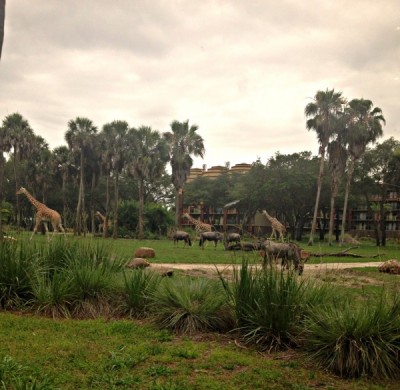 Shortly after being seated this little guy came over to the window and stayed during our entire dinner…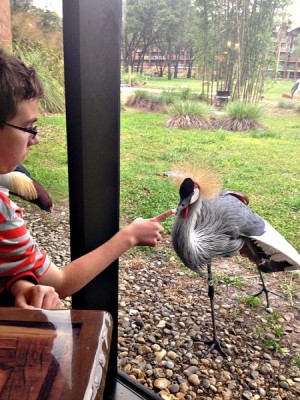 Sanaa's drink menu offers specialty cocktails, beer, sangria, many types of wine or wine flights.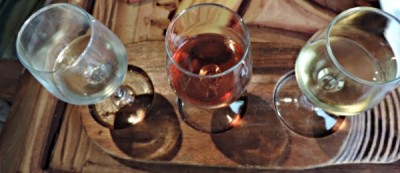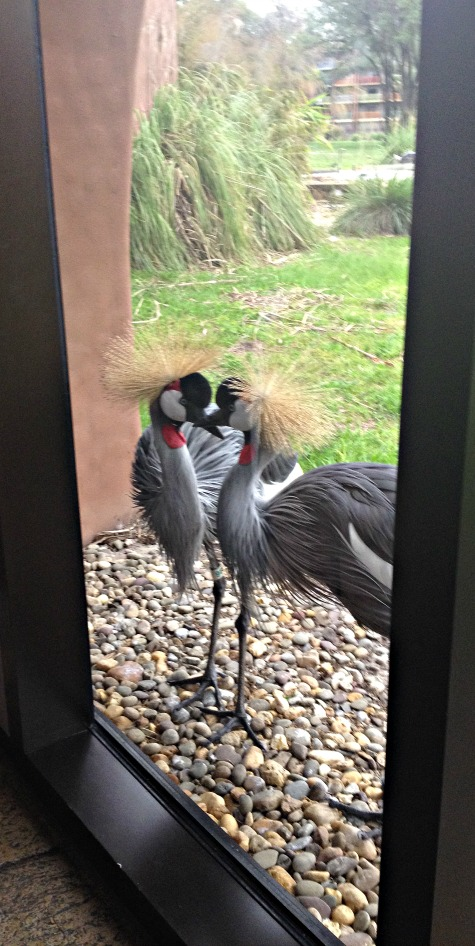 The most popular item at Sanaa is the Indian-style Bread Service.  This perhaps alone might warrant a visit here.  You can choose 3 different breads and 3 different sauces.  Choice of breads include Traditional Naan, Garlic Ginger Naan, Spiced Naan, Onion Kulcha, and Pappadum.  Accompaniment choices are: Red Chile Sambal, Cucumber Raita, Corriander Chutney, Mango Chutney, Coconut Chutney, Garlic Pickle, Spicy Jalapeno – Lime Pickle, Roasted Red Bell Pepper Hummus, and Tamarind Chutney.  You can also order the full bread service which includes all 9 accompaniments, which is what I would recommend.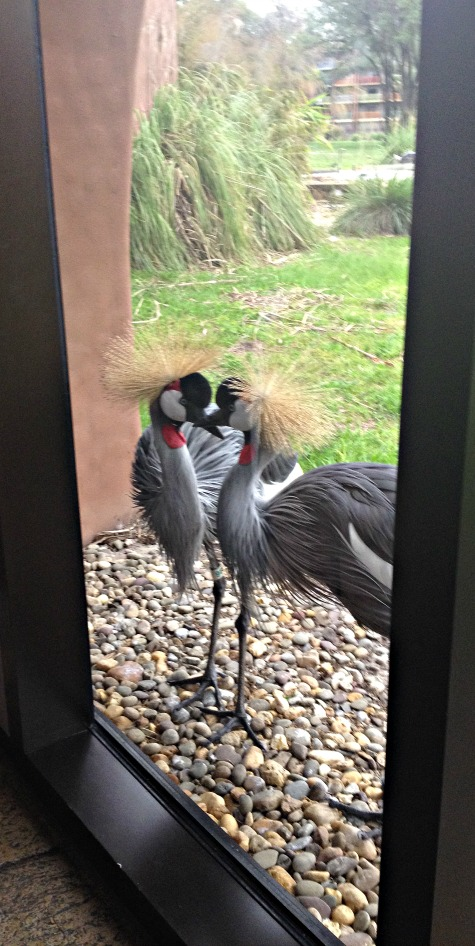 The sauces are arranged from mild to spicy and every single one of them was delicious.  Part of the fun is to mix and match the flavors.  My son who is an extremely picky eater loved doing this.
Also on the menu is the Salad Sampler.  Your get your choice of 3 of the following: Chickpeas with Cucumber and Tomato; Watermelon, Cucumber, and Fennel; Seasonal Fruit; Bhel Puri (puffed rice, vegetables, and tamarind sauce);and Kachumbari (tomato and onion salad).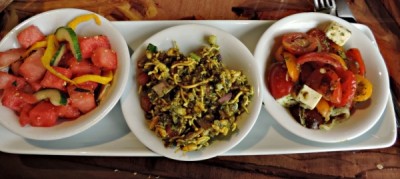 All 3 of these salads were tasty but watermelon was the favorite; light, refreshing and perfect for summer.  The Bhel Puri was sweet and tangy with a little crunch.  The Kachumbari was a little more jazzed up than your typical marinated salad with a little hint of spices.
We also ordered from the slow cooked portion of the menu.  Guests get the choice of two of the following served with Basmati Rice or Five Grain Pilaf: Butter Chicken, Beef Short Ribs, Spicy Durban Shrimp, Chicken Vindaloo, and Goan Seafood Curry.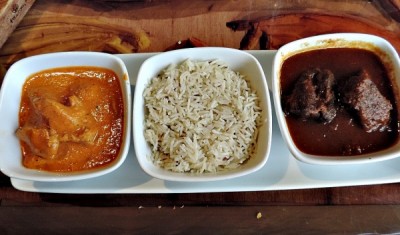 The Butter Chicken was the favorite.  It seemed to just melt in your mouth..  The Beef Short Ribs were fork tender, moist and not fatty.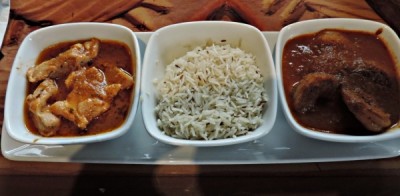 The Vindaloo Chicken was very tender and a little sweeter and spicier than the Butter Chicken.  The Spicy Durban Shrimp had some heat to it but not so much where you're reaching for your water glass.
While the food is absolutely delicious at Sanaa, I found it hard to concentrate on what I was eating when there was so much to look at all around you.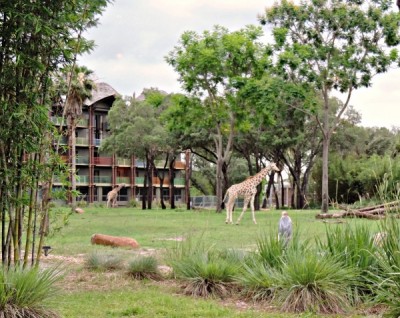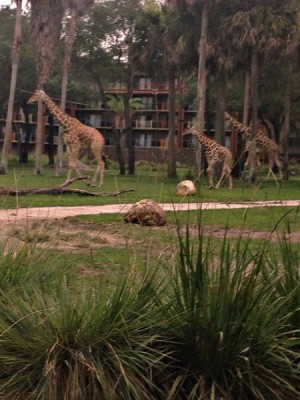 Periodically a feeding truck will come out to entice the animals to come in closer.  The servers are also very knowledgeable about all the animals on the savannah.  If you have any questions, be sure to ask.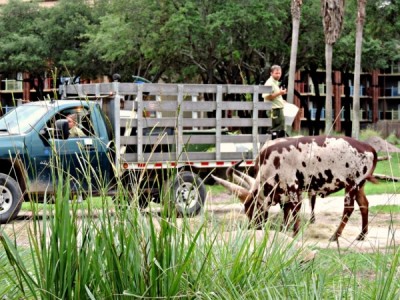 Unfortunately we were too full to sample dessert this trip, but next time I'll be sure to save room for the banana cheesecake with pistachio and chocolate sauce.  Yum!
Sanaa  is definitely one of the stand-out restaurants that Walt Disney World has to offer. The beautiful atmosphere and setting makes it a great spot for that special occasion and the restaurant really appeals to families and couples alike.  Sanaa also has a wide variety of choices for vegetarians as well as many gluten free and dairy free options.
Sanaa is open for lunch from 11:30 a.m. – 3:00 p.m. and serves dinner 5:00 p.m. – 9:00 p.m.  Advanced Dining Reservations are recommended and make sure to take into consideration the daylight hours during your trip so you can take full advantage of the beautiful views. During fall and winter the sun can go down by 6:00 p.m.
I hope you enjoy your dining experience at Sanaa and don't forget to order the full bread service!