This post may contains affiliate links for your convenience. If you make a purchase after clicking a link we may earn a small commission but it won't cost you a penny more! Read our full disclosure policy here.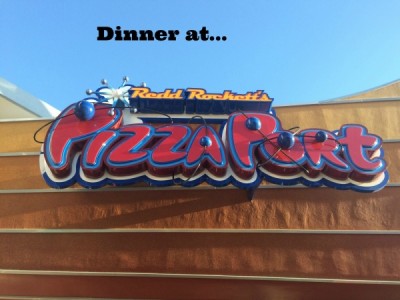 Redd Rockett's Pizza Port, in Disneyland's Tomorrowland
Today we're going to Disneyland Park's Tomorrowland to visit Redd Rockett's Pizza Port for dinner. This quick service restaurant, with both shaded outdoor and blissfully air conditioned interior seating, is located close to Space Mountain.
As you can probably guess, pizza is the star attraction here. However, there are other options to choose from. Once you enter, grab your tray and visit the various sections to choose your entrée. One section has salads, another pastas, and the last one, pizzas with various toppings. Vegetarians will find one meatless salad and a few meatless pizza offerings.
You'll also find a self serve beverage station. This is the place where you are welcome (and in our case, encouraged) to fill up on water free of charge. Near the cash registers you'll find grab and go dessert options. (Alas, the Avengers desserts that premiered here when Age of Ultron was released were no longer available when we visited in September.) There is a also a cooler where you can find more desserts and bottled beverages.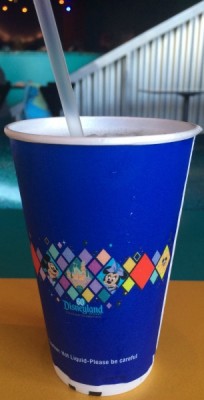 I love the Diamond Anniversary design on the cups!
The theming here is simple and charming. You feel as if you've visited a restaurant the Jetsons might have frequented. Colorful lights and bright patterns on the tables give the place a retro space age feel, almost like the Tomorrowland of Disneyland's opening day.
I ordered the Asian Chicken Salad. The greens were surprisingly crisp, and mandarin oranges gave a nice, light touch of sweetness. The salad was lightly dressed.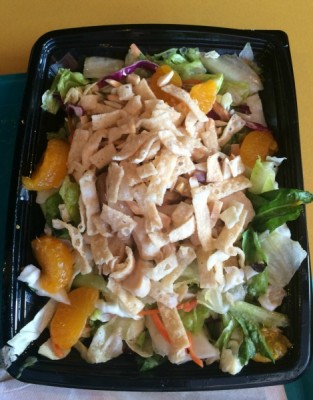 Asian Chicken Salad
My husband ordered the Countdown Chicken Fusilli, which he loved. The grilled chicken pieces looked pretty much identical to what was in my salad. It was topped with a generous helping of grated Parmesan cheese.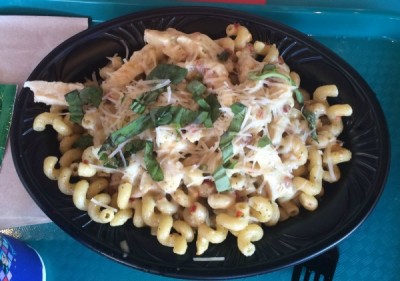 Countdown Chicken Fusilli
My daughter ordered a slice of plain pizza, which was huge. Although I was impressed with the serving, I tried a bite and it was doughy and rather bland tasting. I think it is slightly better than the slabs of dough with sauce thrown on that passes for pizza at Animal Kingdom's Pizzafari, but not by much. Still, my almost 10 year old was quite pleased.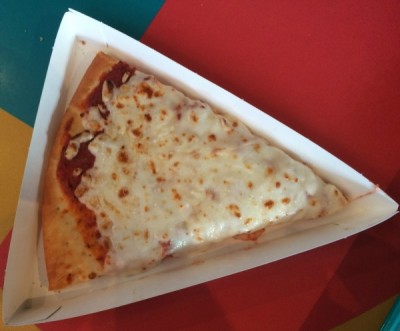 Slice of Plain Pizza
Bottom line? We came for the air conditioning, and were all quite pleased with what we ordered. No one is reinventing the culinary wheel here, but it's a nice change of pace from your typical burgers and fries. If we're in Tomorrowland during meal time, I'd come here again.
Have you tried Redd Rockett's Pizza Port? What are your thoughts of this counter service location?