This post may contains affiliate links for your convenience. If you make a purchase after clicking a link we may earn a small commission but it won't cost you a penny more! Read our full disclosure policy here.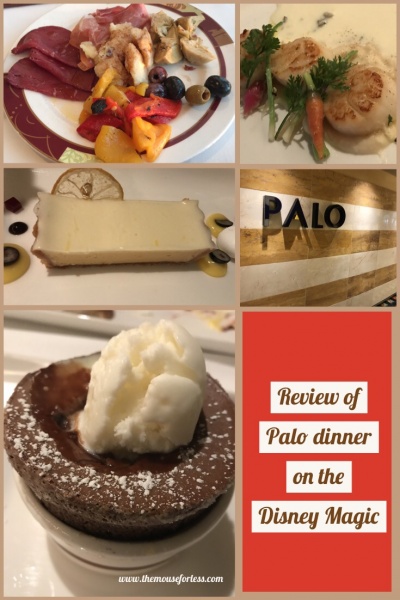 For me, it isn't a cruise without at least one meal in Palo. Palo, for those who don't know, is the adults only dining option that can be found onboard all the Disney Cruise Line ships. Having experienced the restaurant on both the Dream and the Fantasy for dinner, I was excited to finally be able to try the Italian-inspired restaurant on the original ship, the Disney Magic.
For those who don't know, Palo is a restaurant that carries an upcharge. It's $35 per person, but let me tell you…it is 100% worth it. My husband and I have never left the restaurant disappointed and this time, the meal was even more of a delight! Spoiler alert, but this, hands down, was the best dinner I've ever had a Palo.
On the Disney Magic, Palo is located in the back of the ship, much like the other Palos. This was most enjoyable, especially when dining at sunset.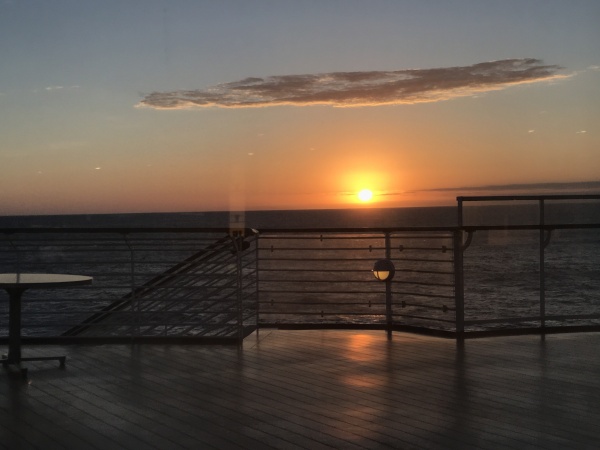 While I enjoy them all, I think that this is my favorite set up. First, there is a nice small lounge for Guests waiting. (For those on the Dream and the Fantasy waiting, you are able to do so in Meridian, the bar next door.) I also felt like this version of Palo was much more open and appreciated the warmer color palette better. I particularly liked the use of the masks for decoration! They were quite beautiful.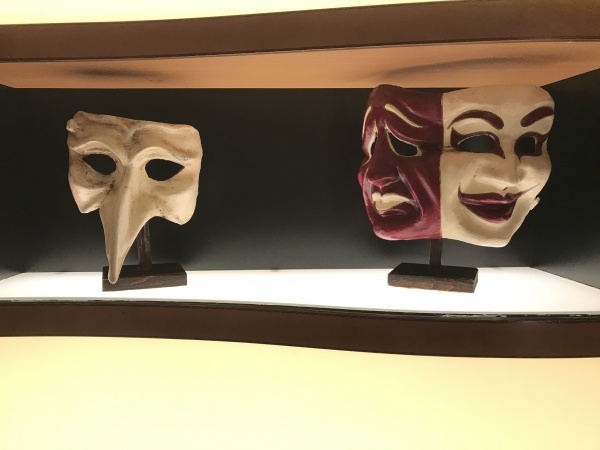 Also, unique for both the Magic and the Wonder is that these two ships are the only ones that features an open kitchen! (I believe our waiter said that there was some law enacted that made it so that ships were no longer allowed to have open kitchens, so that makes Palo even more unique.) The nice part about the open kitchen is that the smells wafted out so wonderfully!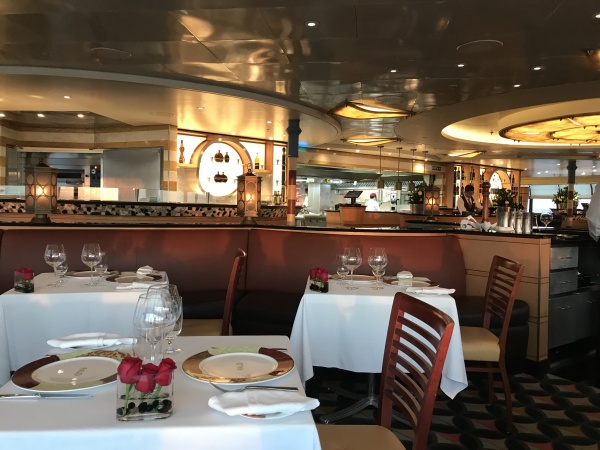 Let's get to the meal…first, is my honestly one of my favorite courses anywhere. The antipasti course! Delicious meat, Parmesan cheese, peppers, artichokes, and olives are delivered, drizzled in olive oil. I've honestly made meals out of these items at home sometimes, that's how much I love them.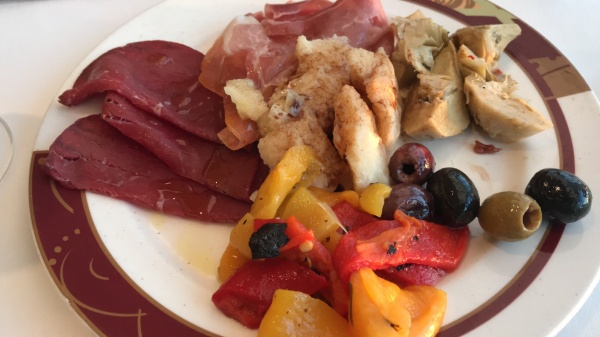 Taking a look at the menu, it's so hard to choose. Guests are allowed to choose as many items as they want to, but trust me, you will leave stuffed, no matter what you choose.
There's antipastis, salads, soups, pasta, seafood, meat, and even vegetarian options. There really is something for everyone. There is also a pre-priced option that includes wines, however, I wanted to choose my own dining choices.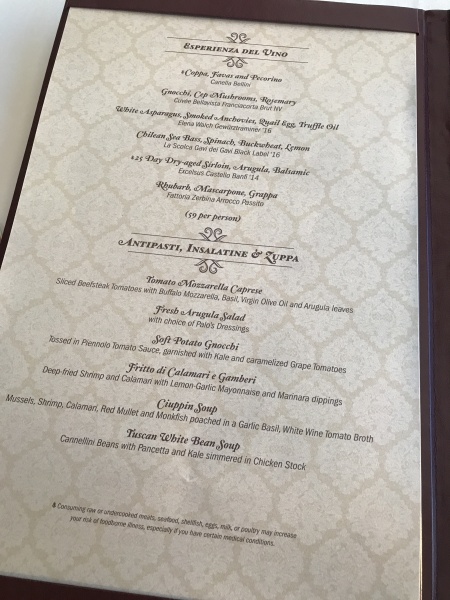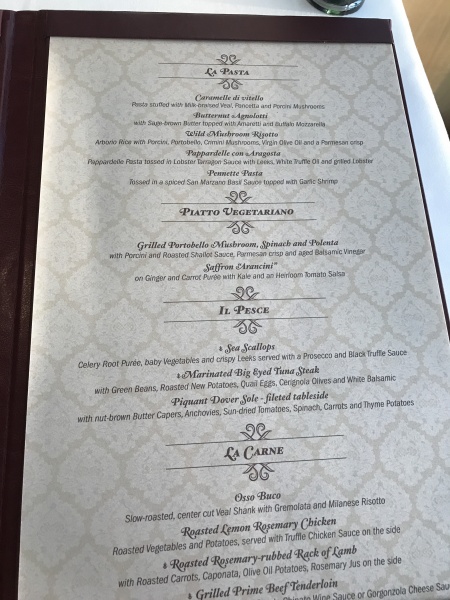 My first course was the Tomato Mozzarella Caprese. These are beefsteak tomatoes, buffalo mozzarella, basil, drizzled in olive oil and served with a bed of arugula.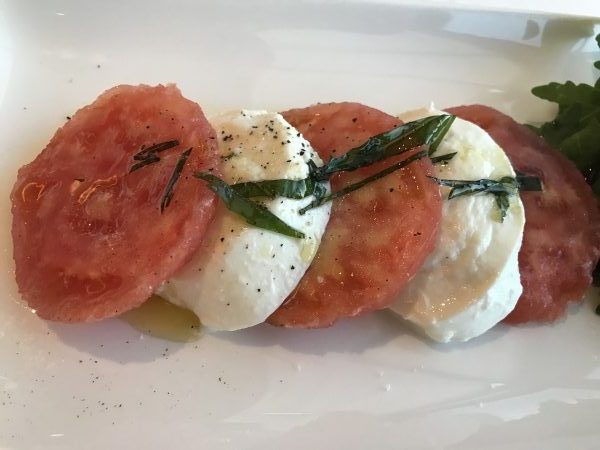 This was light, refreshing, and a great start to my fantastic meal. Again, I get caprese salads a lot, and even try to make them at home for lunch sometimes.
The next course was a palette clenser of lemon sorbet and a blueberry. This is given to every Guest to prepare them for the meal that will soon be served to them.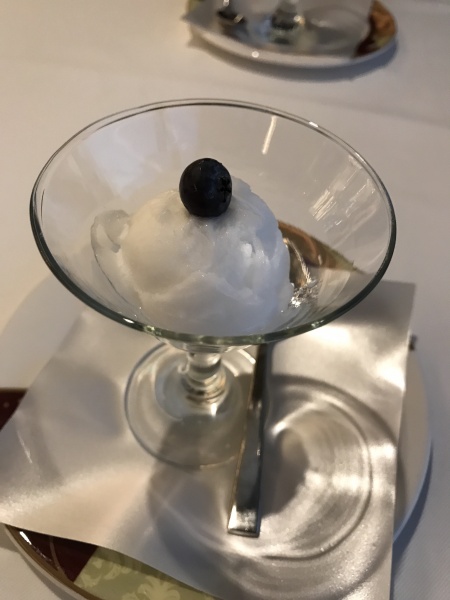 As for my main course, I chose to get the Sea Scallops served with a celery root puree, baby vegetables, and a prosecco and black truffle sauce.
At first I was concerned that there were only three scallops here. They were large, but still…I had some concerns. I need not have any. This was incredibly filling and this is, the best dish I've ever had a Palo. The scallops were cooked to perfection, the sauce was fantastic, and the celery root was creamy.
My husband had the Pappardelle con Aragosta, which is Pappardelle pasta in a lobster terragon sauce, with white truffle oil and grilled lobster.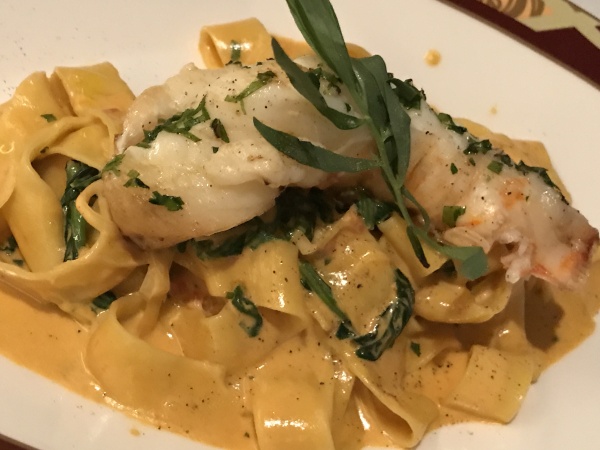 He thought this was fantastic. I've had this dish before as well and thought it was very good. The sauce coats the noodles well, the lobster is delicious, and again, it's very filling. Personally though, even though he very much enjoyed it, I liked the sea scallops the best.
For dessert, my husband got the limoncello tart. This reminded us a little of key lime pie and he devoured this.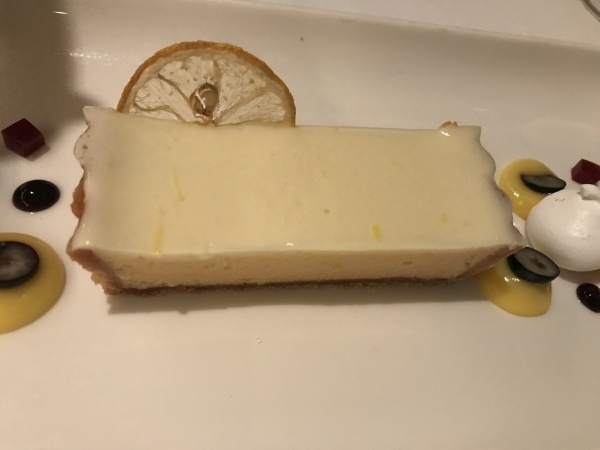 As for me, is it really a trip to Palo without the chocolate souffle?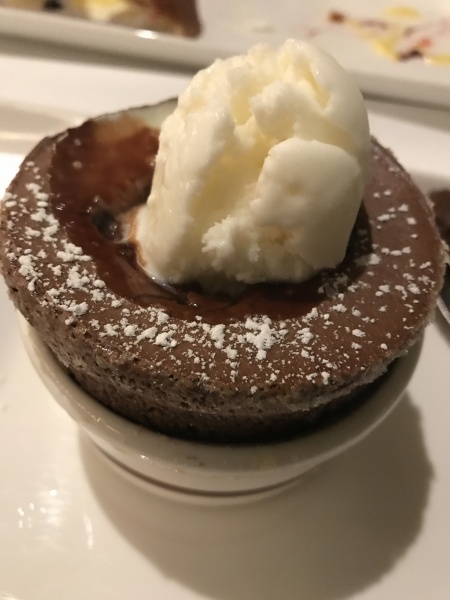 Look at the chocolaty deliciousness! It's served warm, with the chocolate and vanilla sauce that comes on the side poured in and then served with scoop of ice cream that I promptly plopped on top. It's seriously so so good. Rich, velvety, incredible.
We left Palo extremely full, but also extremely satisfied.
Have you dined at Palo before? What were your thoughts? And if you've been at Palo on the classic ships and on the Dream class ships, let me know which version you like better!  Share in a comment below or on Facebook or Twitter.
Did you like this article? Make sure to share it with your friends! Check below for easy ways to share!
Want to sail on Disney Cruise Line? Contact The Magic for Less Travel for more information and a free, no-obligation quote.

Incoming search terms:
https://www themouseforless com/blog_world/dinner-palo-disney-magic/