This post may contains affiliate links for your convenience. If you make a purchase after clicking a link we may earn a small commission but it won't cost you a penny more! Read our full disclosure policy here.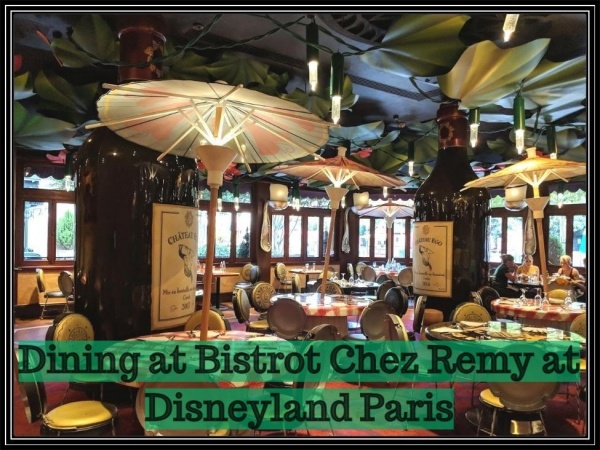 On the day we arrived in Paris, we jumped right into visiting The Walt Disney Studios Park. We had a dinner reservation at Bistrot Chez Remy and I was really looking forward to it. Since we would be dining in Remy's restaurant, it seemed only fitting that we should check out his ride first!
Ratatouille: The Adventure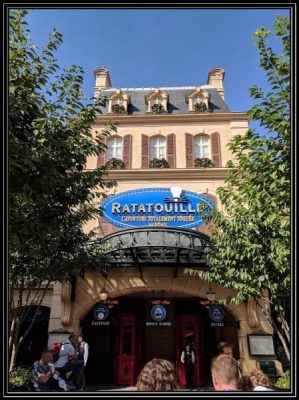 We were fortunate that the line for Ratatouille: The Adventure was short and the FastPass return time wasn't too far off. We grabbed a FastPass and then hopped in the stand by line. Since we had the time, why not ride twice?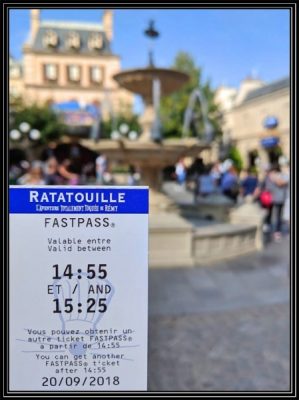 The ride was very cute. I enjoyed the trackless, 3D format and it was fun to shrink down to the size of a rat and take a spin with Remy through the kitchen. Of course, Remy got into a little mischief along the way, but that was to be expected.
You may have heard that a Ratatoullie ride will soon be coming to Epcot. As a frequent visitor to Walt Disney World, I loved having the opportunity to get a preview of what that attraction maybe like the one we are getting. I think it will be a fun addition to the France pavilion, especially for kids.
Bistrot Chez Remy
All that racing around and chasing Remy made us work up quite an appetite. By the time we finished our second ride, it was just about time for our dinner reservation. We made the very short walk across the courtyard to Chez Remy to check in. The hostess greeted us and I responded with a "Bonjour". My French greeting must have been pretty good because I received a French menu instead of English! If you don't speak French though, fear not, they also have menus in English.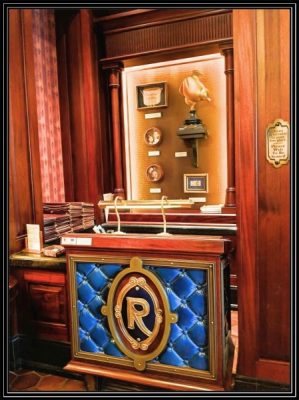 This restaurant is adorable! As soon as you walk in, you really get the feeling that you have been shrunk down to the size of a rat. Giant plates, utensils, and plants surround you. It's an immersive experience and the theming is perfect.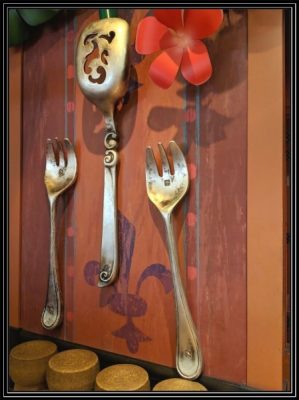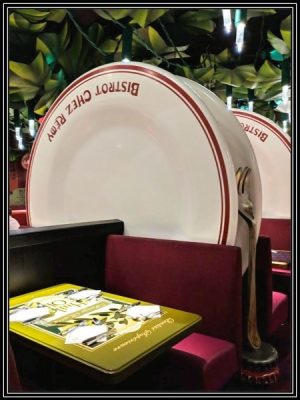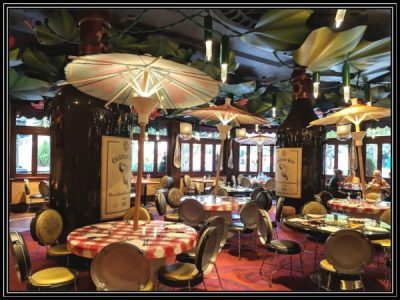 Our reservation was late in the day and the park was closing at 6:00 p.m., so the dining room was starting to clear out when we arrived. We sat toward the back of the restaurant, not far from the window that overlooks the Ratatouille ride.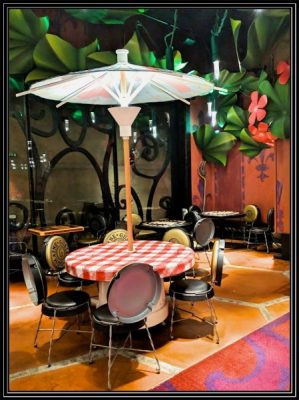 Drinks and Appetizers
When we booked our travel package, we received a free half board plus meal plan. This meant that we could choose our meal from the "Emile Menu", a prix fixe menu which included an appetizer, entrée, dessert, and a drink. This made ordering and paying for our meal easy. If we had paid out of pocket, this meal would have cost about 40 Euro.
There were two appetizer options: a salad or soup. The soup that day was a cold tomato soup. I have never had tomato soup served this way, so I was intrigued. For my entrée, I chose the grilled steak. This dish was served with French fries, and of course, ratatouille. Additionally, I got to choose a sauce for my steak. I usually don't eat steak with any kind of sauce, but the brie sauce sounded good, so I went with that. Dessert is always a tough choice and there were quite a few options. I finally settled on the chocolate mousse.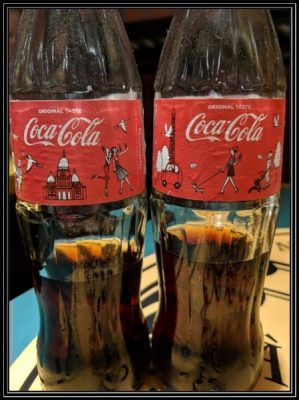 I also ordered a Coke with my meal and should point out that drinks are generally served in a bottle. You will not find refills readily available like they are in the US. Just something to be aware of when you order.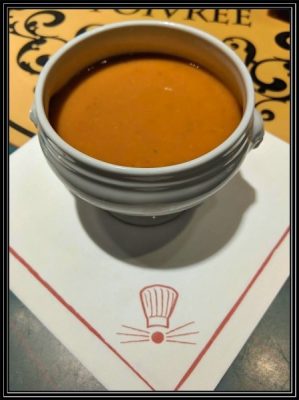 My tomato soup arrived quickly and I was immediately glad that I chose this as my appetizer. It was delicious!  It took a lot of willpower not to eat every single bite, but I had a lot more food coming and wanted to pace myself.
Dinner Time!
My steak arrived next. I had requested medium well, but this was not an option. Medium was the closest choice, so I chose that. Our server said he would talk with the chef and deliver my request to have the steak cooked just a little more than medium. I appreciated this and was happy with my steak. It was cooked almost exactly as I had requested.
Of course, I also had to try the brie sauce. This sauce was fabulous! I not only put it on my steak, but also dipped my fries in it. The steak was good on its own, but the sauce was my favorite part. Sadly, the most unexciting part of the meal was the ratatouille. I had never had it before and didn't think it was bad by any means, but it was pretty bland. (Sorry, Remy!)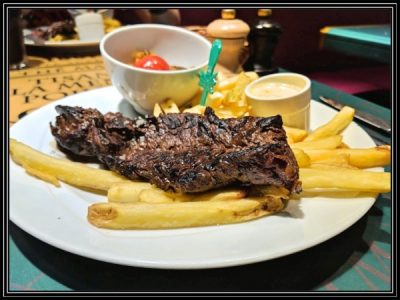 Last up was the chocolate mousse. It was cool, creamy, and topped with a cute Mickey wafer. Nothing fancy, but a nice end to a very good meal.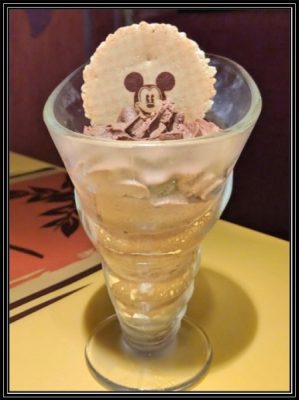 The restaurant was nearly empty and the park was closed by the time we finished our dessert. We waited at the front of the restaurant as a few other guests finished their meals before a Cast Member escorted us to the front of the park. I enjoyed seeing the park so peaceful and empty.
As I was planning to travel to Disneyland Paris, experienced guests all told me that the food in the parks is terrible. This was definitely not the case with my meal at Chez Remy. I really enjoyed my meal and loved the theming of the restaurant.  I would recommend it to anyone planning a visit!
Have you tried Bistrot Chez Remy? What did you think? Share in a comment below or on Facebook or Twitter.
Did you like this article? Make sure to share it with your friends! Check below for easy ways to share!
Want to visit Disneyland Paris? Contact The Magic for Less Travel for more information and a free, no-obligation quote.

Incoming search terms:
bistrot chez remy brie sauce
https://www themouseforless com/blog_world/dinner-bistrot-chez-remy-disneyland-paris/
menu che remey disney paris