This post may contains affiliate links for your convenience. If you make a purchase after clicking a link we may earn a small commission but it won't cost you a penny more! Read our full disclosure policy here.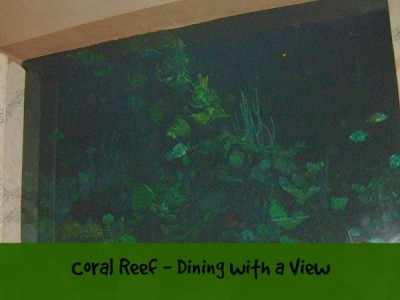 When you think of a Disney vacation, you think of being active. It seems like you are always running from one attraction to the next. There are children running everywhere. Adults running after them. It's hard sometimes just to stop and take it all in. But, if you can slow down, you may be amazed at what you see.
We were in EPCOT at lunchtime. We decided to eat at the Mexican pavilion. With nachos and churros in hand, we sat outside overlooking the water. It was a beautiful, sunny day and for me, it was a calming experience. It was the first time that I let myself relax. I didn't feel like I was in a theme park anymore. I was looking at the Eiffel Tower in France, a pub in England and a pagoda in Japan. I could see Canada, Italy and Germany. I loved it. I told my daughter, "check out the view. You don't get to see something like this every day."
Later in the day, we had dinner at the Corral Reef. Our table was right up against the glass of the Seas with Nemo and Friends aquarium. While eating we had sharks, stingrays, turtles and other fish swim by our table. Some humans swam by in scuba gear as they were taking part in there own backstage tour. My daughter got a kick out of waving to the scuba divers. As we watched a shark swim by our table for the third time, my daughter said, "you were wrong about the view at lunch. This view is better."
The next day we were at Animal Kingdom. We had booked the Wild Africa Trek backstage tour. About halfway through the tour, you get to stop for an African inspired snack on a pavilion-like structure in the middle of the Harambe Wildlife Reserve. As we ate beef, salmon, shrimp and hummus, we could see the animals all across the savannah (giraffes, antelope and elephants). When we were finished eating, we walked around the back of the pavilion area and saw a rhino fairly close to the pavilion. We also got to see a rare sight. All three lions were playing (they sleep 20 hours a day). As I was watching the lions play, I heard my daughter say "umm … dad, I think we were both wrong." I knew what see meant.
In two days, we ate overlooking the countries of the world, under the sea, and on Disney's Wildlife Reserve. We don't get views like that at home. So, the next time you are running from ride to ride or chasing down the child who is running away from Mickey after you spent an hour in line to see him, just remember to stop every now and again and be inspired by what is happening around you.