This post may contains affiliate links for your convenience. If you make a purchase after clicking a link we may earn a small commission but it won't cost you a penny more! Read our full disclosure policy here.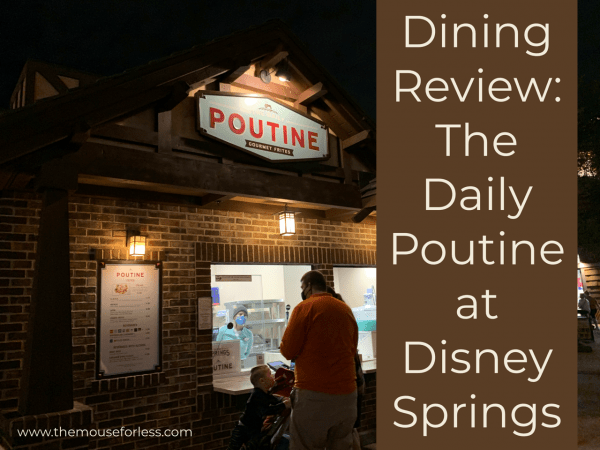 One of the quick service restaurants/snack spot at Disney Springs that I've been wanting to try for a while is The Daily Poutine. The problem….anytime I am at Disney Springs, it is the middle of the afternoon and it is usually HOT. Oh and The Daily Poutine has all outdoor seating; not the ideal dining situation. However, last night, it was a perfect cool night, so I decided to sit down and finally try this spot.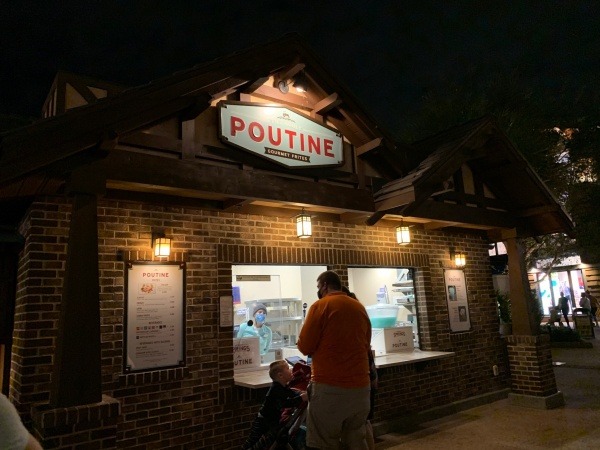 Located in The Town Center section, near Uniqlo and World of Disney, The Daily Poutine offers up thick-cut gourmet French fries with a variety of toppings. They range from traditional poutine (which is beef gravy,  cheddar cheese curds, and fries) to more unique options like the Italian poutine, which includes mozzarella and Bolognese sauce. There's even a Latin version, which is fried Yucca, black beans, pulled pork and queso fresco.
In addition to finally having the perfect weather conditions, there was another reason I wanted to try The Daily Poutine on this trip. That is because right now, for a limited time, the restaurant is offering a New Dehli version of poutine. (For those who like Sanaa, it's a butter chicken version of poutine and I'm a sucker for butter chicken!) This version includes French fries, chicken, tomato curry sauce and paneer cheese!
Let me tell you….it was delicious! The flavoring of the sauce was flavorful and the cheese was great. The fries themselves were good for sopping up all the yumminess. If I were going to make it better….I would maybe make the chicken a little more chunky. It was chopped pretty fine.
In addition, and I know this a just a gripe for me….but I really really wish restaurants would tell you when they include cilantro on something. This had cilantro sprinkled on top and nowhere was it in the description. It wasn't on the sign they had up outside the restaurant, nor on the My Disney Experience app.  (Yes, I'm one of those who has the aversion to cilantro.)
Despite those little issues, I would totally get this again and hope that Disney decides to add this option on the menu permanently!
Now, because I was dining at The Daily Poutine for the first time, I also had to try the original version, right?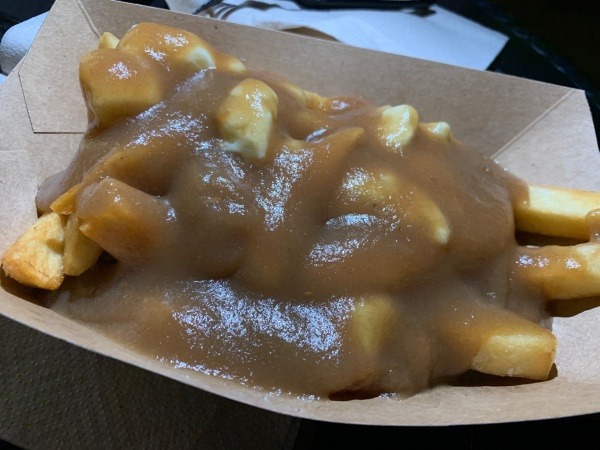 As a reminder, the classic version comes with French fries, Beef Poutine Gravy, and Cheddar Curds. Again….this was so good! It was the kind of comfort food you're expecting.
If you've never had poutine before, I suggest starting with this. If you have had poutine before, then I would definitely venture out and try one of the other versions! I mean how can you go wrong with fries loaded with toppings?
Have you tried The Daily Poutine before? Share with us your thoughts in the comments or on Facebook or Twitter!
Did you like this article? Make sure to share it with your friends! Check below for easy ways to share!  
Want to visit a Disney Destination? Contact The Magic for Less Travel for more information and a free, no-obligation quote.

Incoming search terms:
https://www themouseforless com/blog_world/dining-review-the-daily-poutine-disney-springs/