This post may contains affiliate links for your convenience. If you make a purchase after clicking a link we may earn a small commission but it won't cost you a penny more! Read our full disclosure policy here.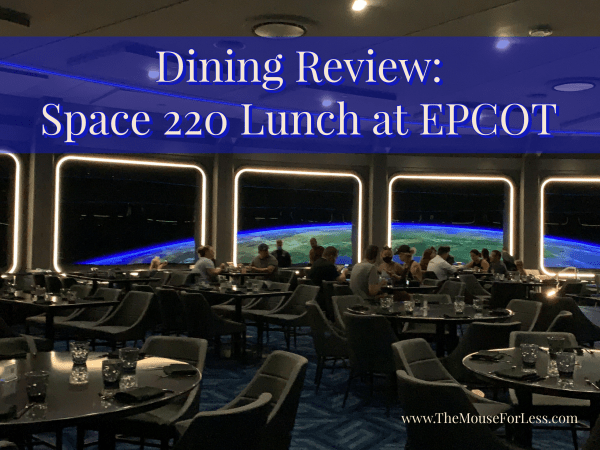 If you have been following along with me for any amount of time, you know that I've been anxiously awaiting the opening of Space 220 in EPCOT. The restaurant, which was delayed for at least two year due to various issues has finally opened and I was among the very first people to officially dine here!
When I found out that the restaurant would be opening on the last day of my quick trip down to Walt Disney World, I decided that I MUST see what I could do to experience Space 220.
For those who are unaware, Space 220 is located next to EPCOT's Mission: SPACE and transports Guests to the the Centauri Space Station that's tethered to Florida 220 miles above the Earth. Guests who dine here are offered one of the most immersive dining experiences.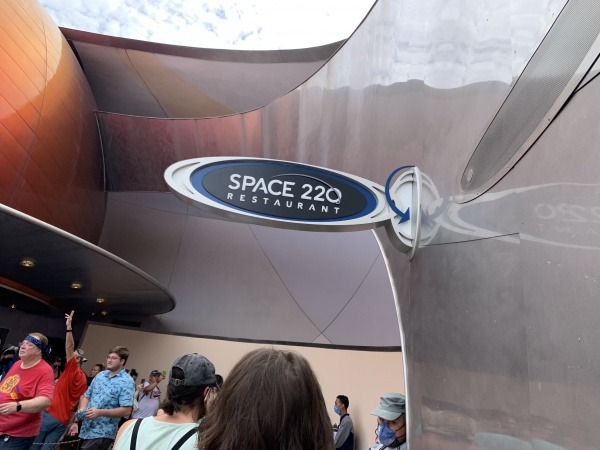 So, I got up and made it to the park at around 10:20 a.m. for an 11:00 a.m. park opening. There was already a press celebration going on as I walked up, which means that there was a very large group that had already formed. As the clock ticked down to opening, we were all unaware as to how the restaurant would accept Guests. We soon, very quickly found out that it would be a free-for-all. I was standing on the right hand side, closest to the restaurant entrance. I made my way through and found my way into the initial queue for the restaurant. Only about 30 people ended up behind me and then the line was cut off. Ok…..so it's clear I was getting in.
Due to a delay in having the media dine, the restaurant wouldn't open to Guests until 12:15, so we had to wait. Finally, we were able to be seated.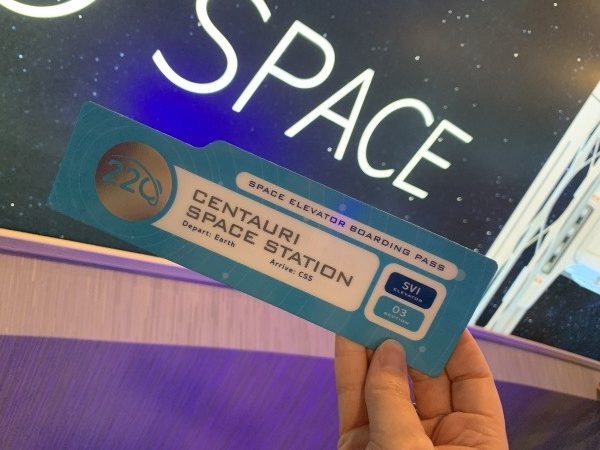 After Guests check in, they walk to the main entrance of the restaurant. Here, Guests are handed a boarding pass prior to entering the space elevator that will transport you to the space station.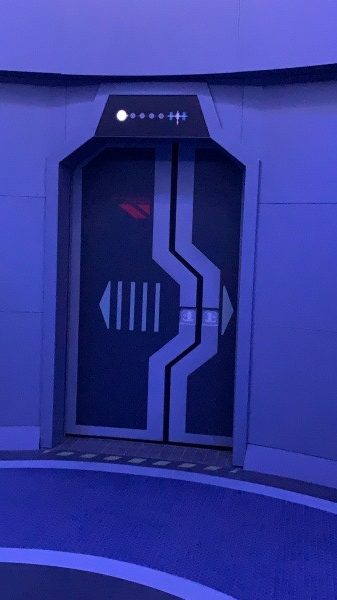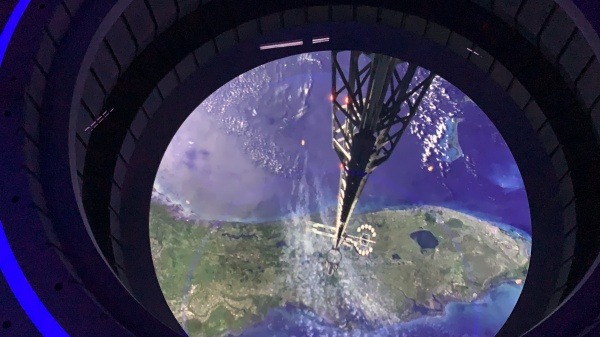 Let me tell you, the trip to the restaurant is INCREDIBLE. It is very reminiscent of the former hydrolators from The Living Seas. As you begin your ascent, you'll look down through a viewport to see EPCOT shrink away and you'll see the space station come into view.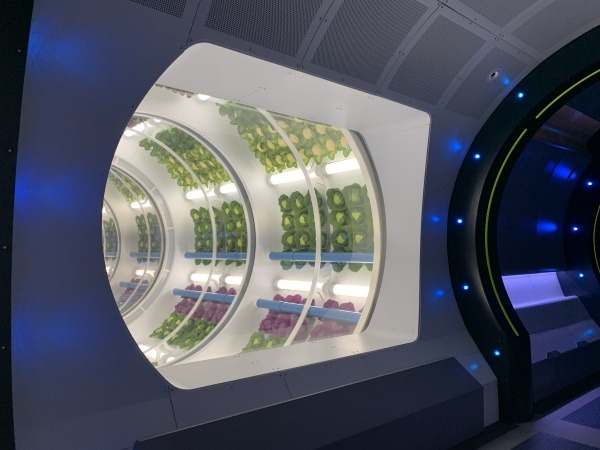 As you walk in, you are welcomed by a fantastic space garden.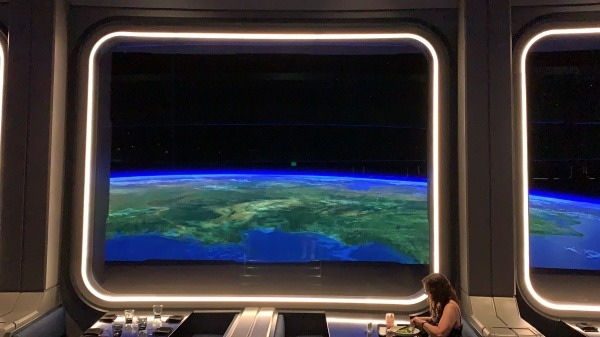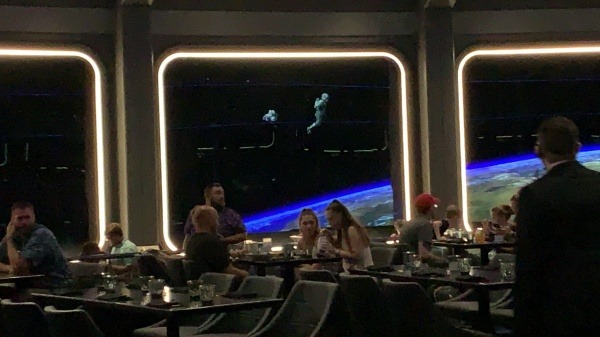 Then, as you move to the seating area, the first thing you see are the HUGE windows that showcase an incredible view into space. (Which by the way, the view does change. There are space individuals floating around, space capsules from Mission: SPACE, and when the sun sets, you'll even see that.) It is an absolutely gorgeous view.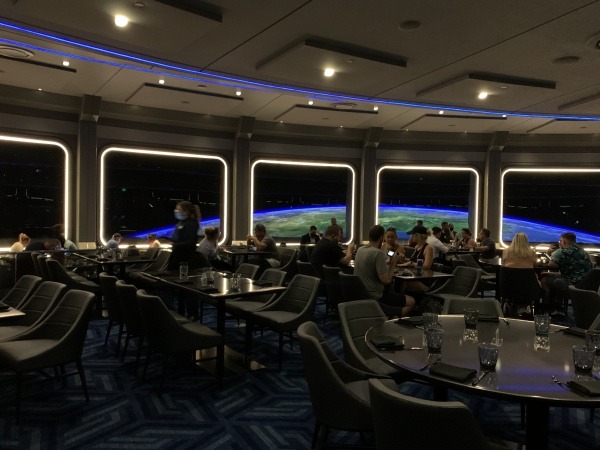 Speaking of gorgeous….the seating area is stunning. It is extremely upscale in feel.
There is also a lounge that eventually will be available on a walk-up basis. Here, you'll be able to order menu items a la carte, as well as some unique beverages.
Ok…so let's talk about the food, shall we? The restaurant is a fine dining experience. As far as immersion, it compares to something like Coral Reef or Sci-Fi Dine-In, but the food is so much more upscale at Space 220. Lunch is a two-course prix fixe menu (appetizer and entrée) for $55 and there is a three-course prix fixe menu (appetizer, entrée, and dessert) for dinner, which is $79. One of the biggest conversations I've seen online prior to the restaurant officially opening is the cost. Yes….this restaurant is expensive, but after trying Space 220, I can tell you with absolute certainty, it is well worth it. This is some of the best food I've had at Walt Disney World.
During my meal, I was able to try a number of appetizers, entrees, desserts, and beverages.
Let's start with drinks.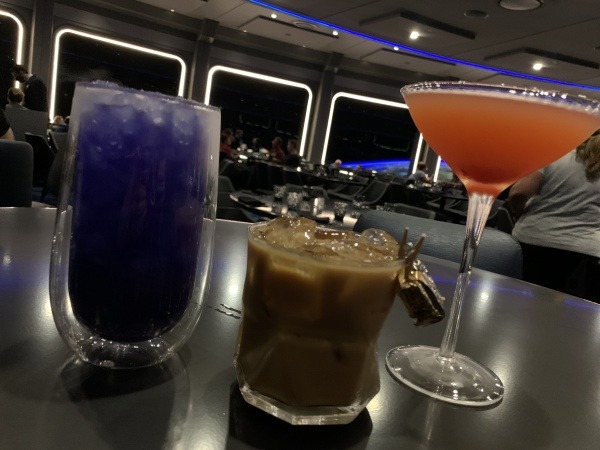 The Planetary Punch which includes Bacardi Silver, Malibu, Blue Curacao, Guava, Coconut. (And yes….it actually bubbles!)
There was also the Atmospritz which includes New Amsterdam, Aperol, Blood Orange, Orange Juice, Prosecco, Cotton Candy Cloud.
The Milky Way is a non-alcoholic offering and it's served with Chilled Espresso, Spiced Brown Sugar Syrup, Caramel, Cream. It even comes with a Milky Way!
Let's move on to appetizers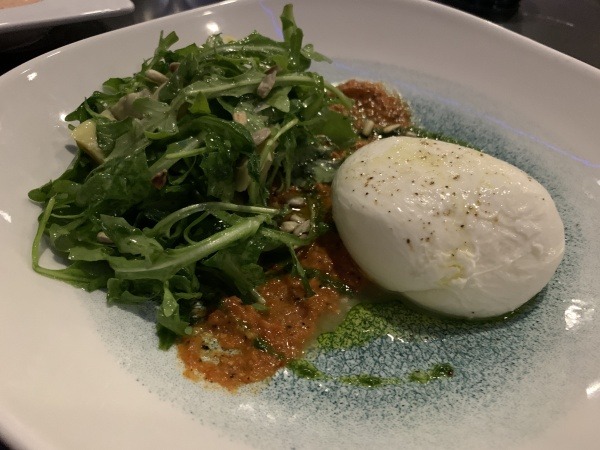 First was the Big Bang Burrata which is Burrata di Mozzarella, Grilled Artichoke Hearts, Arugula, Sunflower Seed Romesco. This was so yummy. The cheese was very soft and mild.
Next was the Starry Calamari which is Fried Calamari, Italian Cherry Peppers which is served with Spicy Marinara and a Roasted Pepper Citrus Aioli. The marinara is definitely spicy. It caught me off guard and lingered. The aioli was delicious and paired fantastically with the crispy and not rubbery calamari.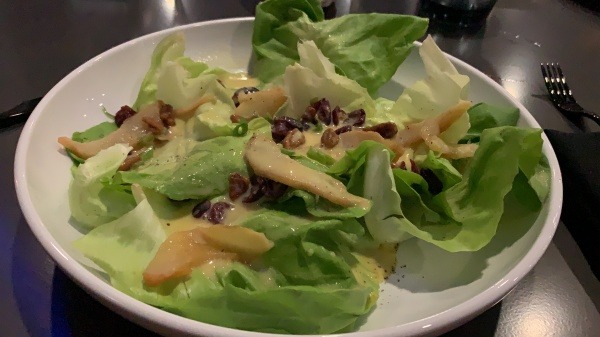 I'm not the biggest salad person, but I tried the Space Greens which is Bibb Lettuce, Dried Cranberries, Roasted Pears, Spiced Pecans, Apple Cider Dressing. Honestly, this was a really good salad. Very solid, if you're looking for a salad choice.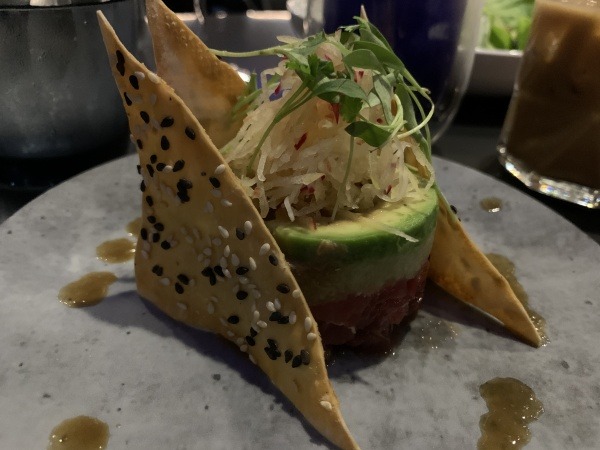 The last thing I tried was the Neptune Tartare which is Yellowfin Tuna, Yuzu Ginger Miso, Soy, Avocado, Raddish, Apple, Sesame Crackers. This was honestly my least favorite appetizer, but I think that's just because it wasn't my thing. The flavors were very fresh.
Now, let's discuss entrees.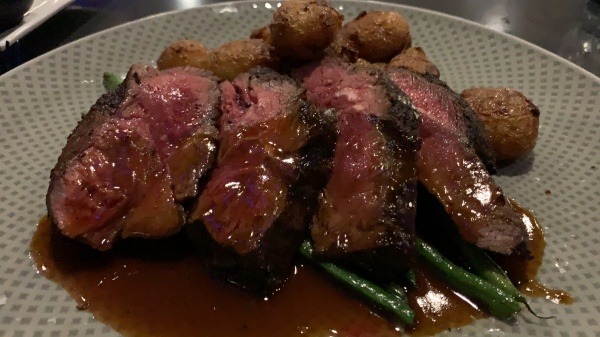 My favorite, hands down, was the Flat Iron Steak.  This was prepared perfectly medium rare and has a Coffee Space Rub, with Smashed Fingerling Potatoes, Cabernet Butter, Haricot Vert. Honestly, if I could have this dish tonight, I would. It was so tender and flavorful.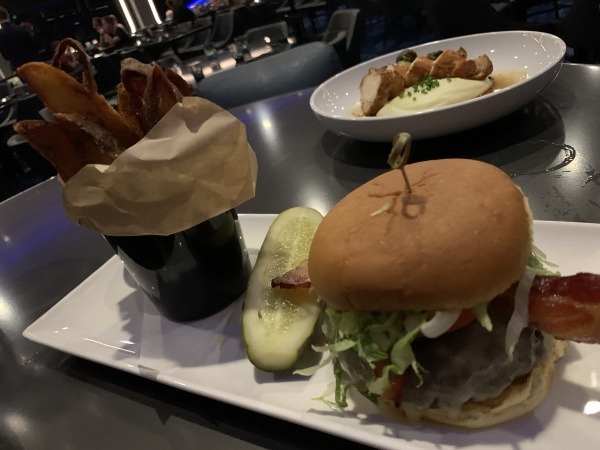 Next was the Centauri Burger. It was made of a Signature Beef Blend, with White Cheddar Cheese, Bacon, Shredded Lettuce, Tomatoes, Fried Potato Wedges, Sriracha Aioli. The aioli gave it a nice zip, but this was definitely just a burger. A high end burger, but a burger. There are plenty of other options that I think are worth it, but if this is what you want, it's a good choice. The Potato Wedges are great though. They are thick slices that are crunchy on the outside, but puffy on the inside.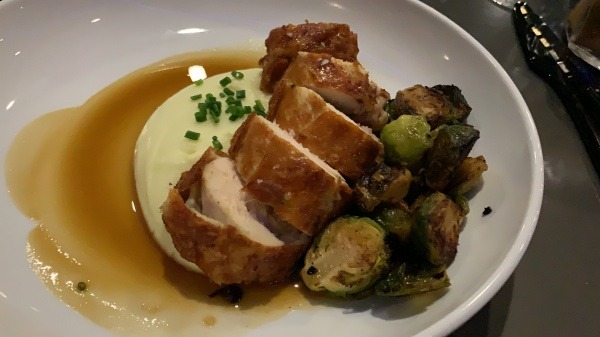 The biggest surprise to me…the Roasted Free-range Chicken which is Chicken Roulade served with Mashed Potatoes, Brussels Sprouts, Roasted Garlic Thyme Jus. Honestly, this is the best chicken dish I've had in a long time. The chicken was tender and juicy. And the potatoes were to die for.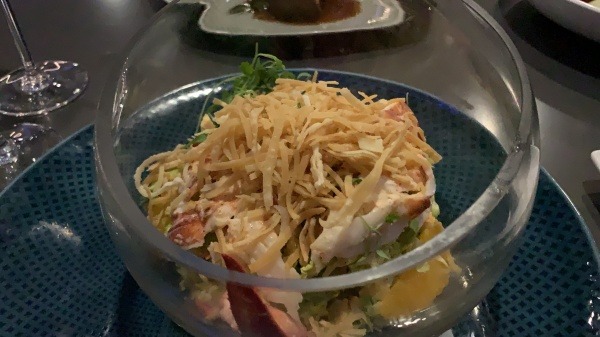 The last dish I tried was the Galactic Lobster Globe. This is a Maine Lobster Salad, Quinoa, Bulgur Wheat, Avocado, Lettuce, Mango, Citrus Dressing, Crispy Wonton. This does have an extra cost, but when you see how much lobster is in this dish, you realize it's totally worth it! There is SO much lobster!
Let's move on to dessert.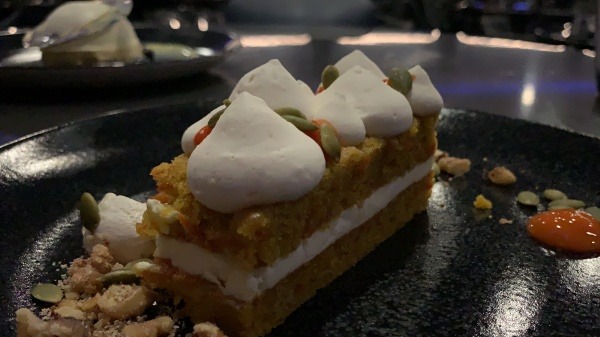 Carrot Cake is a Plant-Based Carrot Cake with Plant-Based Cream Cheese, Candied Walnuts, Toasted Pepitas. I felt that this was solid, but not my favorite.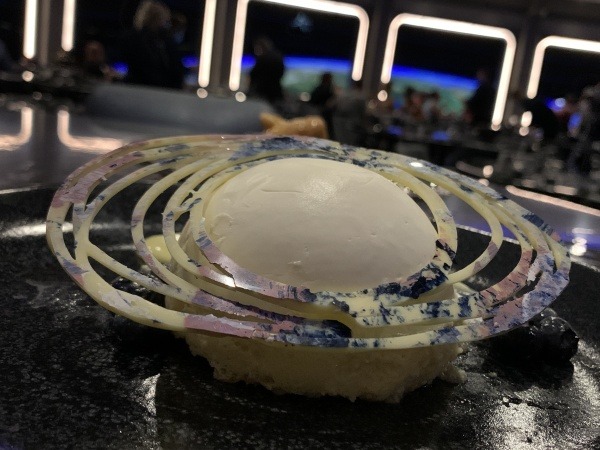 I did not try the Lemon Mousse which is a Lemon Mousse Sphere adorned with White Chocolate Rings, Lemon Custard, Marinated Blueberries, Lemon Curd, but heard it was EXTREMELY tart.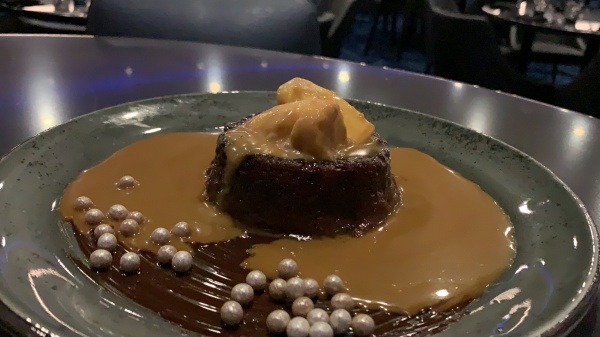 My favorite dessert, by far, was the Sticky Toffee Pudding Cake. This is served with Dark Chocolate Sauce, Caramel Crunchy Pearls, Salted Toffee Drizzle. I was so full by the time all was said and done, but I managed to somehow eat every single bite of this.
Overall, dining at Space 220 is out of this world good. And that's not just me waxing poetic. I would go here again in a heartbeat, for either lunch or dinner. So, if you can manage to score a reservation here, I suggest you do it!
Are you excited to try Space 220? Let us know your thoughts in the comments or on Facebook or Twitter!
Did you like this article? Make sure to share it with your friends! Check below for easy ways to share!  
Want to visit a Disney Destination? Contact The Magic for Less Travel for more information and a free, no-obligation quote.

Incoming search terms:
space 220 food review
space 220 reviews