This post may contains affiliate links for your convenience. If you make a purchase after clicking a link we may earn a small commission but it won't cost you a penny more! Read our full disclosure policy here.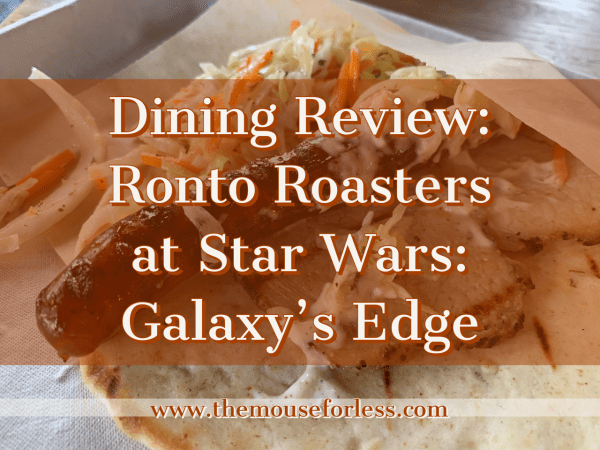 Star Wars: Galaxy's Edge is known for a lot of things. Incredible landscapes, thrilling attractions, and yes, even unusual food. Dining in Star Wars: Galaxy's Edge takes a lot of familiar flavors and tweaks them. Overall, I haven't been super thrilled with the food and beverage I've tried in this land. Things just don't land right for me, for some reason. So, I thought I would try the much talked about Ronoto Wrap from Ronto Roasters.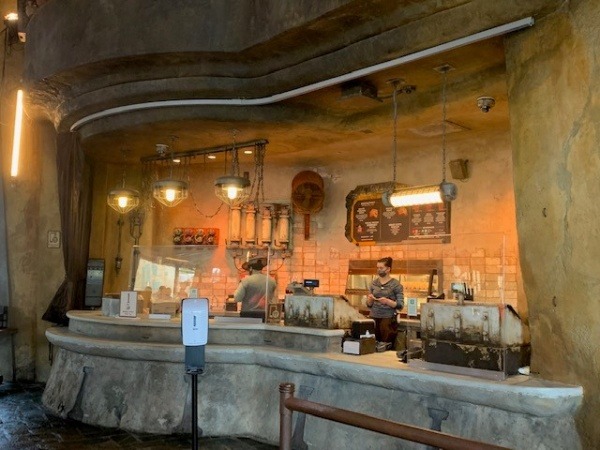 What is Ronto Roasters? Well, as you wander the market, you'll know you've found the right place because of the smell of grilled meat wafting through the air. The story goes that Ronto Roasters is a favorite stop for crews prepping for their next mission. Inside, you'll see a hanging podracer engine heating up a spit of meats. A pitmaster droid turns the spit, grilling a large side of ronto. Wait….what is ronto? It's a massive beast native to the planet Tatooine.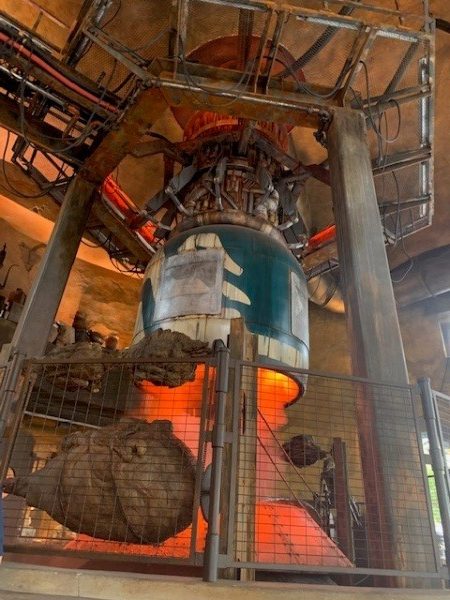 Seating for Ronto Roasters is open air, but covered. There aren't a lot seats, as it's likely a place where you would grab a wrap or snack and go. (Of course, pre-COVID.)
Ronto Roasters doesn't have the widest of menu selections. Really, there are only two options that are available all day, besides beverages. The first is the Ronto Wrap, which is Roasted Pork, Grilled Pork Sausage, Peppercorn Sauce, and Tangy Slaw wrapped in Pita Bread. The second is the Galma Snack Sampler which is Plantains, Veggie Chips, Pork Rinds, and a Rice Cracker. There are a few breakfast options, as well, if you are in the area early enough.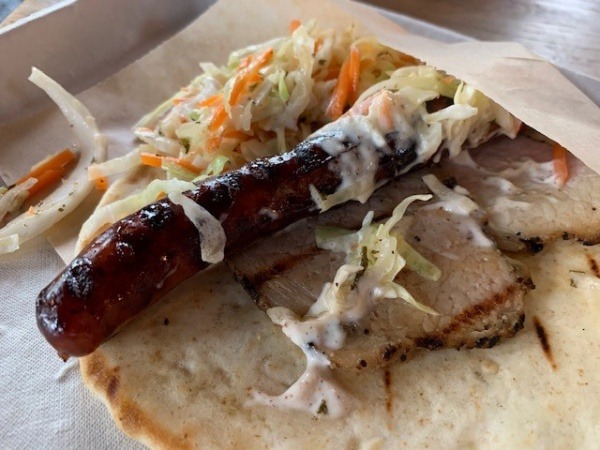 Since I was there for lunch, I opted for the Ronto Wrap. This is served as advertised. It's just the wrap. You don't get any sides. And for fans of the Ronto Wrap, I have to say, I am sorry. I don't get the appeal. I found the wrap to be very dry (It could have used WAY more peppercorn sauce). The roasted pork was overcooked and the slaw was ok. The best parts were the pork sausage and the pita bread. Maybe, maybe if it had more sauce, it would have been better.
I thought about also getting the Galma Snack Sampler as a side, but for the price (which was almost $8.00), I figured I would rather save my money.
Honestly, I think I would pay a few extra dollars for the Ronto Wrap, with a side of the Galma Snack Sampler so that I could have a full meal. The way things are, this is really a meal/snack.
Once again, I was disappointed by the dining options found in Star Wars: Galaxy's Edge. Which makes me sad because I WANT to like dining here. But after trying beverages from the Milk Stand, as well as meals from Docking Bay 7, I'm just not a fan of the food in this land. (And this comes from someone who LOVES the food found in Pandora – The World of Avatar.)
But, of course, I could be way off my rocker here….which is where you come in! Let me know why you like (or if you don't like) Ronto Roasters in the comments or on Facebook or Twitter!
Did you like this article? Make sure to share it with your friends! Check below for easy ways to share!  
Want to visit a Disney Destination? Contact The Magic for Less Travel for more information and a free, no-obligation quote.

Incoming search terms:
https://www themouseforless com/blog_world/dining-review-ronto-roasters-at-star-wars-galaxys-edge/