This post may contains affiliate links for your convenience. If you make a purchase after clicking a link we may earn a small commission but it won't cost you a penny more! Read our full disclosure policy here.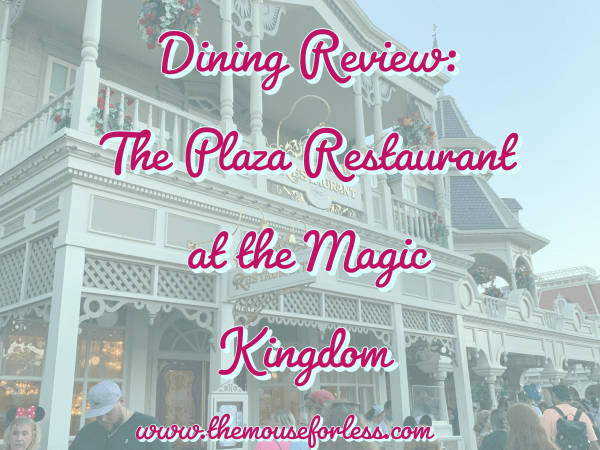 The Plaza Restaurant is well known in the Disney community for a couple of things. Of course, the major one is ice cream. So, I had to make my way over there for dinner, right? Which is located in the Magic Kingdom on Main Street USA. Guests who dine here are invited to experience an idyllic setting that recalls the simple fare and Victorian interiors of a turn of 20th-century America. Oh….and as I recently found out another perk of dining here…the view of Cinderella Castle as you dine.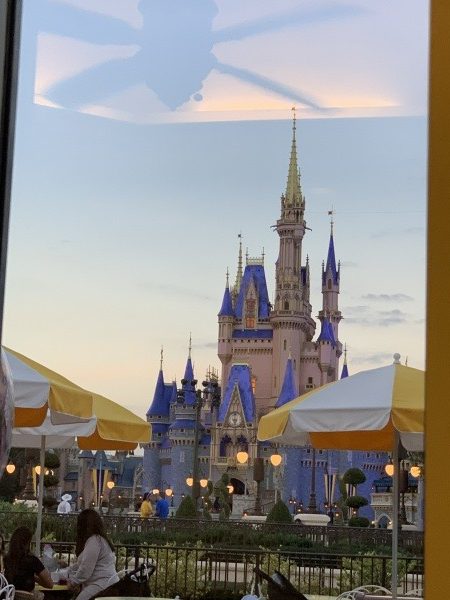 You really do feel like you are dining in a fantastic Victorian setting here. I love all the ornate touches. I was seated in the "patio" section. (It's indoors.) Here, I think I got the best view of Cinderella Castle. Now….I thought I had the perfect view for fireworks….unfortunately that would be proven false, as right as the show was starting, the Guests outside stood up on the stoop partially blocking my view. Then they put their kiddos on on their shoulders. So, any great view I had was quickly diminished. Which brings me to my point….don't dine here expecting to have fireworks viewing while dining. I could see bursts around the heads, but it is not an ideal spot if you want a view that's completely perfect.
Ok….let's talk food. For an appetizer, we got the Plaza Loaded Fries. These are Crispy Fries, Melted Cheese, Bacon, Lettuce, and Tomatoes. I don't know if it was just because we were hungry or what….but we devoured these fries and could have totally gotten another plate. The fries really were crispy, the cheese was gooey and delicious, and I don't know what the sauce was, but whatever it was, it was incredible. It was all just a wonderful salty treat. Granted, there were clearly no veggies on ours, which is what's advertised, but honestly, I would get these fries again, with our without the veggies. (As long as that sauce is still part of the fries….that really made it!)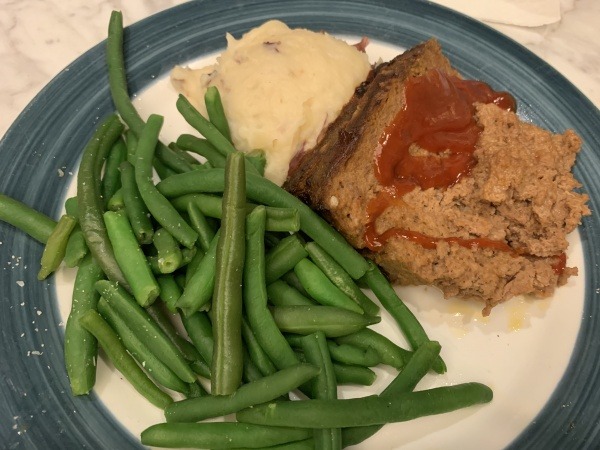 Next we moved on to the main course. I got the meatloaf, which is one of the meals they are known for. This meatloaf is coated in ketchup; my preferred topping for meatloaf. It was quite flavorful and very moist. I could easily cut it with a fork. There is plenty of meatloaf, as I was given three slices. In addition, the mashed potatoes and the green beans were the perfect accompaniment.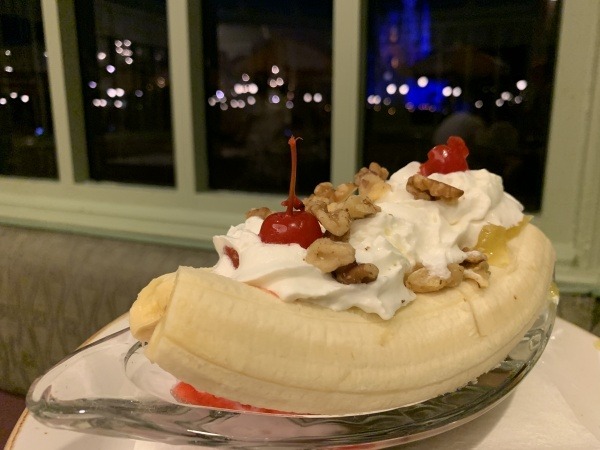 Finally for dessert, (yes, of course I saved room for dessert!) I got the banana split.  It's a Banana, three scoops of Ice-Cream (Vanilla, Chocolate, and Strawberry) topped with Hot Fudge, Strawberry Sauce, Crushed Pineapple, Chopped Nuts, Whipped Cream, and a Cherry. Oh it's so so good. It was the perfect treat for the end of the night.
Would I go back to The Plaza Restaurant? Well, it has taken me years to get here and I don't know what's taken so long. It was fantastic. So, yes! I would definitely come back and suggest you try it too!
Have you tried The Plaza Restaurant? What were your thoughts? Let us know them in the comments or on Facebook or Twitter!
Did you like this article? Make sure to share it with your friends! Check below for easy ways to share!  
Want to visit a Disney Destination? Contact The Magic for Less Travel for more information and a free, no-obligation quote.

Incoming search terms:
copycat meatluaf The pkaza at disneyworld