This post may contains affiliate links for your convenience. If you make a purchase after clicking a link we may earn a small commission but it won't cost you a penny more! Read our full disclosure policy here.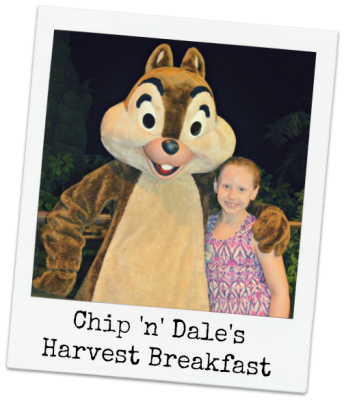 While we were visiting Walt Disney World this past weekend for the Wine and Dine Half Marathon and to celebrate our daughter's eighth birthday, we had the opportunity to try a new dining experience on it's opening day – Chip 'n' Dale's Harvest Breakfast at Garden Grill! Located in Epcot's Land Pavilion, Disney's only (slowly) rotating restaurant, Garden Grill, has long been one of our family's favorites for dinner. So naturally, we were excited when we heard that they would begin serving breakfast, and that the opening day coincided with our early November getaway.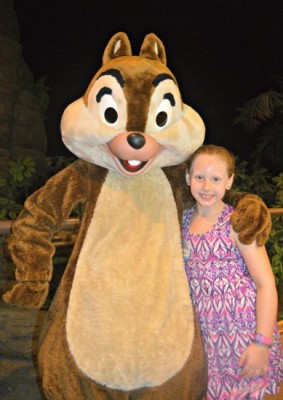 Chip 'n' Dale's Harvest Breakfast is an all-you-care-to-eat character meal and is served family-style, meaning that all of the food is served hot and fresh directly at your table. In our opinion, family-style character meals are preferable to the more common buffets – you don't have to worry about missing any characters during a trip to the buffet – everything (and everyone) comes to you!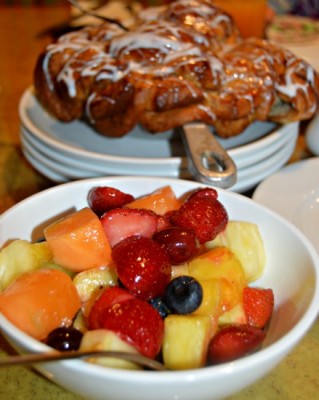 The harvest breakfast is served in two courses, the first of which includes "Chip's" Sticky Bun Bake and a bowl of fresh fruit. The sticky bun bake was amazing! It was similar to a cinnamon roll or monkey bread and was served warm in a skillet. The sticky bun was flaky, delicious and drizzled with icing. In our family's opinion, it was even more scrumptious than the giant cinnamon rolls served at Gaston's Tavern in the Magic Kingdom. The fruit was fresh and juicy, but let's be honest – it was totally overshadowed by that sticky bun bake!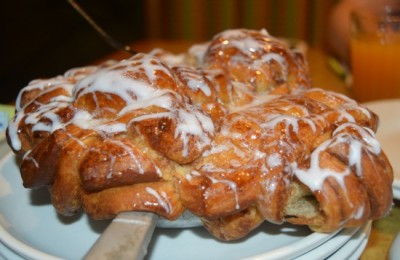 Next up was the main course – a large platter featuring scrambled eggs, bacon, ham steaks, hash brown potato barrels, and Mickey waffles. In addition to the platter, there was also a large dish of biscuits and sausage gravy. As far as first impressions go, the presentation of this meal was top notch, especially in comparison to the other family-style breakfasts we've experienced.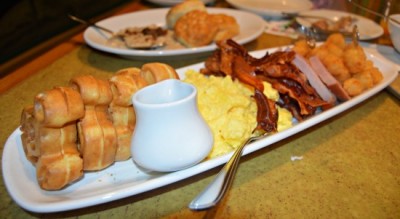 Everything was hot and fresh, and the meal was served with some uniquely delicious accouterments. The Disney-standard Mickey waffles were made even more delectable by the warm chocolate-hazelnut sauce that they were served with! The savory items were served with tasty condiments made with ingredients freshly sourced from the Land – including a salsa fresca for the eggs, salsa verde for the hash browns, and spiced apple compote for the ham.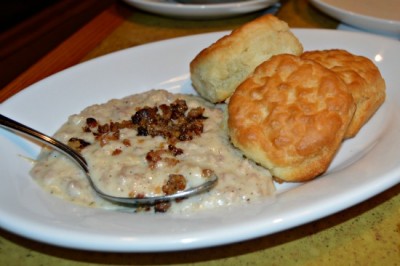 The meal was plentiful and delicious – we left Garden Grill stuffed and satisfied! Food-wise, this was definitely one of the best family-style breakfasts we've experienced at Walt Disney World. At $29.99 for adults and $17.99 for children, this meal is within the normal price range for character breakfasts, and we were able to save a little money using our Tables in Wonderland discount.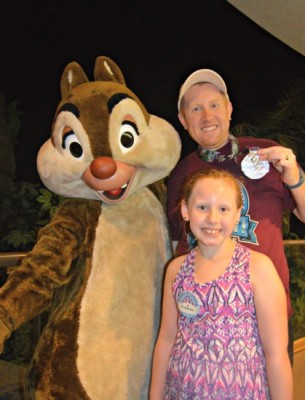 Characters present at Chip 'n' Dale's Harvest Breakfast include "Farmer" Mickey, Pluto, and of course – Chip and Dale! All of our character interactions were superb the morning that we dined at Garden Grill. Each character made sure to point out our daughter's birthday button and to "congratulate" Scott on his Wine and Dine medal. Maybe it's just because we dined there on "opening day," but the restaurant was surprisingly quiet that morning, and all four characters stopped by our table at least twice and greeted us with equal enthusiasm each time.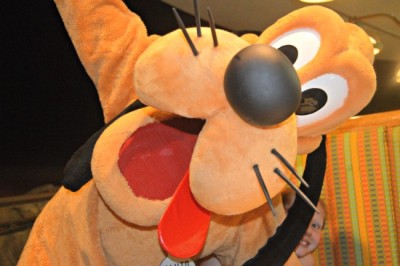 All in all, our first time experiencing Chip 'n' Dale's Harvest Breakfast was a huge success! We will definitely be returning to Garden Grill for breakfast– we would go back just for the sticky bun bake alone! I'm getting hungry just thinking about it.
Are you planning to try Chip 'n' Dale's Harvest Breakfast at Garden Grill? What's your family's favorite character meal? We'd love to hear from you in the comments!