This post may contains affiliate links for your convenience. If you make a purchase after clicking a link we may earn a small commission but it won't cost you a penny more! Read our full disclosure policy here.
Eating a good meal is part of every vacation. While Walt Disney World offers plenty of dining options, I try to occasionally venture out of the Kingdom of the Mouse to discover palatable and less expensive meals. I love a good prime rib and ethnic cuisine, so this is what I will focus on in this post.
If you, too, are looking to escape the frenzy of Walt Disney World for a delicious, unique, quiet, and economic meal, here are three of my favorite dining options outside of Walt Disney World.
Nile Ethiopian Restaurant is located on International Drive, close to Universal Studios, and is as authentic as it gets. You can opt to sit at a traditional straw table called a mesob or at regular dining table. Nile is lovingly decorated and offers great food and hospitality.
I recommend any of the Nile Specials for Two. You can opt for the meat or vegetarian platter. If you are a party of four, take one of each; if you cannot decide, go for the Chef's Special Combination. The food is served on injera, the traditional flatbread of Ethiopia, and comes with a basket of extra injera to pick up the bites from your plate. Injera, made out of teff flour, is a delicious, sourdough-risen flatbread with a unique, spongy texture. All three dishes are priced at $29.95 for two.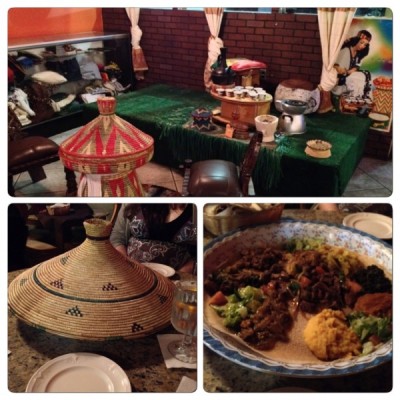 The restaurant is open Monday through Friday from 5:00 p.m. to 10:00 p.m. On Saturday and Sunday Nile is open from 4:00 p.m. to 11:00 p.m.
Nile is located at 7048 International Drive in Orlando. For reservations call 407-354-0026. Check out their menu here.
Merguez offers a unique blend of Moroccan cuisine. The setting is simple and clean. If, like me, you enjoy eating outside, Merguez has a very nicely appointed terrace. The staff is friendly and welcoming.
Try Bastilla, a traditional Moroccan phyllo dough pie topped with powdered sugar and cinnamon. I tried the chicken bastilla ($6.99); a seafood bastilla is also available for the same price.
I love gyro and so I had to have some. For lunch the gyro sandwich ($6.99), served with tzatziki sauce and a side of fries, is plenty. For dinner, my favorite meal is the mixed grill platter ($12.99), which comes with gyro, kefta, chicken, and merguez. The meat is served on rice and accompanied by a choice of a house or Greek salad.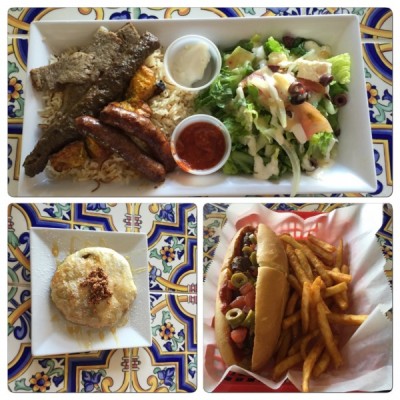 The restaurant is open daily from 10 a.m. to 10 p.m. and is located at 11951 International Drive in Orlando. For reservations call 407-778-4343. Check out the menu here.
A Dining Options for Meat Lovers
If you are looking for a slab of meat, I recommend Black Angus Steak House. There are three locations in Orlando, but the best one is on State Road 535. The restaurant is perfect for the meat lover in your party, and my favorite dish is the age roasted Prime Rib of Beef, carved to order.  This is a flavorful cut, well marbled with fat. Don't order this if you want a lean cut of beef. The 12-oz. Cowboy Cut is $ 25.99 and the 16-oz. Outlaw Cut costs $29.99. The dish comes with a House or Caesar salad or soup and homemade bread, plus your choice of one: vegetable of the day, baked potato, French fries, rice, or garlic mashed potatoes. I always have a hard time choosing between the garlic mashed potatoes and the baked potato, as both are really good. The restaurant regularly offers a 15% coupon on its website.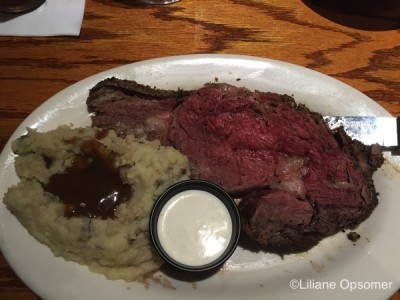 For a smaller and less expensive version of this meal, take advantage of the early bird hours offered daily from 11:00  a.m. to 5:00 p. m. The 8-oz. Prime Rib of Beef is served with a choice of soup of the day or salad, a choice of potato or fresh vegetable of the day, and the dessert of the day, as well as homemade bread, for only $14.99. Unbeatable!
Black Angus Steak House also offers a nice selection of fresh seafood and traditional fare, such as burgers. Service is friendly and attentive. It can get busy, so call ahead for reservations, 407-239-4414.
The restaurant is open daily from 7:30 a.m. to 11:30 p.m. and until midnight on Friday and Saturday. Black Angus is located at 12399 State Road 535 in Orlando. Check out the menu here.
For more fabulous dining options outside of Walt Disney World check out The Unofficial Guide to Walt Disney World.