This post may contains affiliate links for your convenience. If you make a purchase after clicking a link we may earn a small commission but it won't cost you a penny more! Read our full disclosure policy here.
From Our Magically Speaking Newsletter Archive – subscribe today!
By Ginamarie Palmieri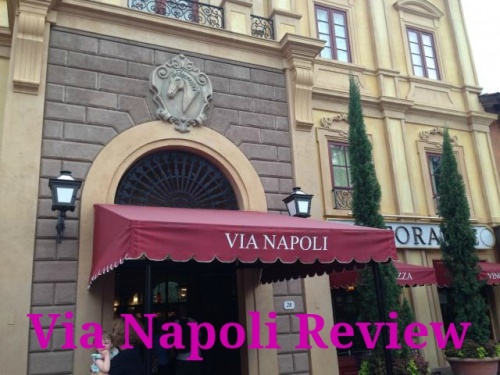 Via Napoli Ristorante e Pizzeria is one of three table service restaurants within the Italy pavilion at Epcot. Located in the rear of the pavilion, the restaurant serves lunch and dinner daily, generally from noon until 9 pm. Although the eatery is known for its pizza, the menu has various Italian appetizers, entrees and desserts.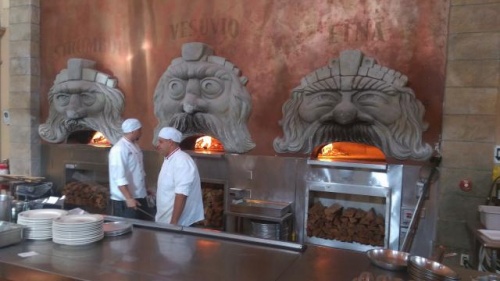 The restaurant is bright and open, with its three giant pizza ovens located to one side of the main dining room. These ovens each represent one of Italy's active volcanoes- Vesuvius, Stromboli and Etna. We found the environment to be very inviting and loved all of the colorful frescoes. True to the Epcot form, the wait staff at Via Napoli hails from Italy, the pavilion where this restaurant is located. So it's a good opportunity to learn more about life (and food) in Italy.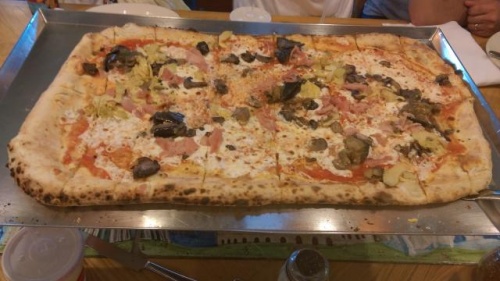 Being from New York, my family and I are pizza aficionados, and the pizza at Via Napoli has never disappointed us. It is a true Italian style slice, with a very thin, crunchy crust and toppings that are caramelized and crisp. The ovens at Via Napoli run extremely hot, and pizza is cooked quickly. There are many specialty pies and toppings to choose from, as well as a basic Margherita pizza with tomato sauce and mozzarella cheese. Pizzas can be ordered in three sizes: personal pie, large (for 2-3 people) or mezzo metro (for 3-5 people). The mezzo metro pies are the size of a large metal tray, and a good value for a large family. Our party of 16 people ordered two mezzo metro pizzas and a couple of entrees, and had leftovers to bring back to our room.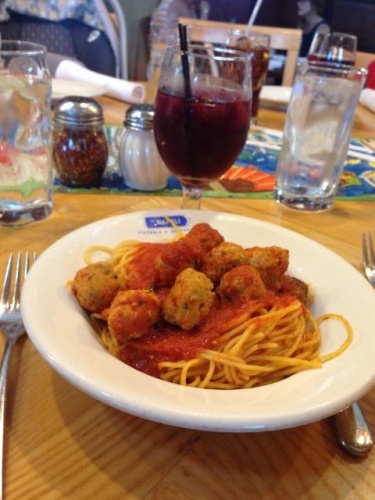 If pizza is not your dish of choice, they also serve several different kinds of pasta, lasagna, and chicken dishes, as well as a popular Italian salad to share among the table. We found the pasta to be fresh and the sauce to be authentic, and our order of chicken parmigiana was large and delicious, with a crunchy batter and loads of cheese.
Via Napoli also has a full beverage menu, which includes your normal soft drinks as well as Italian specialty drinks. There are options for Italian sparkling water and Italian sodas, but our favorite is the aqua fresca drinks, which come in blood orange and strawberry flavors. They are so refreshing! The restaurant also offers several specialty cocktails, Italian wines and beers. We ordered pitchers or Moretti lager and house sangria, and everything was delicious. Also, you will not want to miss having a cappuccino or espresso at the end of your meal.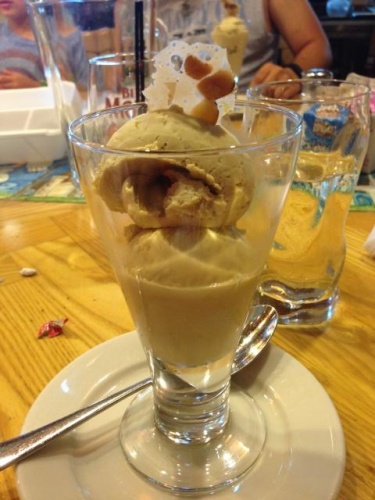 There's no better way to cap off a meal at Via Napoli than by indulging in their dessert menu. The zeppoles were hot and soft, but most of us wanted gelato. One of their specialties, the gelato frizzante, which is like an Italian ice cream soda, was a family favorite. We tried all of the gelato dishes though, and each one was perfection. Via Napoli makes true authentic gelato, which is creamy and flavorful (rather than full of artificial coloring).
I highly recommend Via Napoli for a meal at Epcot, especially if you are looking for Italian food in a less formal atmosphere than Tutto Italia next door (which we also love). Via Napoli is on the Disney Dining Plan, where it uses one table service credit per person. It is also eligible for discounts with your annual pass, DVC membership or Tables in Wonderland card.
Magically Speaking Featured Article
Library of Congress ISSN:1556-3863
Incoming search terms:
https://www themouseforless com/blog_world/dining-at-via-napoli-in-epcot/
https://www themouseforless com/blog_world/dining-at-via-napoli-in-epcot/#:~:text=Via Napoli also has a blood orange and strawberry flavors