This post may contains affiliate links for your convenience. If you make a purchase after clicking a link we may earn a small commission but it won't cost you a penny more! Read our full disclosure policy here.
By Jane Jones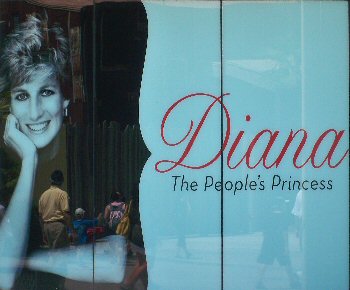 A princess and a prince. Castles and romance. Secrets and intrigue.
Sounds like a tale only Disney could spin…
Life, as we all know, is often stranger than fiction. You can find the makings of the Disney-esque royal and the woman of the people within the new DIANA — The People's Princess exhibit at Downtown Disney. It's now housed in the space formerly occupied by the Virgin Megastore.
Open since early summer and presented by The People's Princess Charitable Foundation, this experience offers a wonderful way to spend a non-park day, all for a minimal cost. Spend some time immersing yourself into the life of the British Royal Family, particularly England's Rose, Princess Diana.
Well, we did just that! I had been looking for something that would be a nice "lady's day" adventure for me, my mom, and my cousin's wife Cathy. We found the perfect fit in the DIANA — The People's Princess exhibit. The plan was for us to meet up at Downtown Disney late in the morning, tour the exhibit, then have a leisurely lunch at one of the West Side eateries. We were there for the 11:00 a.m. opening and were some of the first in!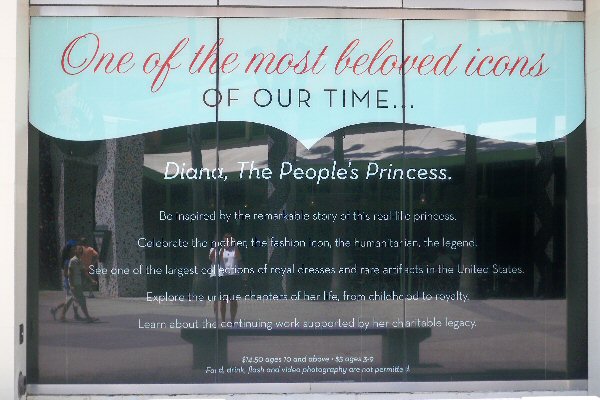 I was quite pleased with the cost of a ticket. With it being only $14.50 (10 & older), I felt that was reasonable, particularly knowing that the exhibit was part of a charitable foundation. There is a guide book of sorts available for purchase, but it is primarily about Diana's gowns (those on display as well as those not). While I would have liked a more souvenir-type guide book about the actual exhibit pieces and her life, the one offered is great for those interested in Diana's fashion influence. I decided not to purchase the $20.00 book, but must admit it was beautifully done. Unfortunately, there was not a gift shop, so no opportunity for purchasing any souvenirs or remembrances.
The first thing we found out was there was absolutely no photography of any kind allowed inside. The second thing we discovered was that the staff was very warm and helpful! They shared a bit of information about what we'd be seeing and how to get the most out of the experience, then we were on our own to explore! While we started together we soon split up to take in the exhibit at our own pace.
The space is elegantly draped from ceiling to floor, and huge images of Diana hang from the roof. While simple, the graceful décor accentuates the exhibited items. You begin your self-guided tour at the first of a number of video kiosks which show a short presentation on different aspects of her life beginning with her childhood. I very much enjoyed these and found them quite informative. From there, displays in glass cases were filled with items pertaining to that time period.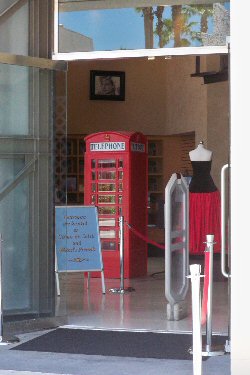 Even the most casual Princess Diana devotee will have their memory of her awakened while viewing the artifacts. Seeing a lifelike doll dressed in a miniature of her gown brought back the summer day of her wedding and for me, watching it in high school summer class with the rest of the "business math" students! I also saw a few items that I still have packed away and unbeknownst to me are now "museum pieces." Who knew (certainly not me) that the shortbread tin I saved with Prince Charles and Lady Diana's engagement photo on it would be in this same collection? And the paper dolls I have in a box somewhere! These too were a part of the displays. I got a real laugh out of that.
Besides the collectables and more souvenir-type items were the real regal treasures. I loved the remarkable replicas of her tiaras. There were gowns at every turn — beautiful and amazing in detail. I very much enjoyed the descriptions of where the gown was worn as well as a photograph of Diana wearing the piece. Alongside the gowns were cases of personal effects that made Diana real to us. You see actual correspondence from her to friends and employees where you get a feel of Diana's genuine appreciation of those close to her. There are menus and seating charts from wedding events and other social gatherings.  There are gifts to and from friends and those in her service, as well as the simplest of items like a favorite blanket, hats, and her daily calendar with hair appointments (and whether she'd be wearing a tiara or not!) and other commitments. It really made this royal quite common and one of us.
There were also numerous items and artifacts from others in the royal family such as Prince Charles and Queen Elizabeth, among others.  There are nice sections devoted to her children, her ancestral home Althorp, her impact on fashion, the many philanthropies she supported, and the "Sale of the Century" by Christies Auction House where Diana's gowns were sold to support these charities so dear to her heart.
Finally, there was a section devoted to her untimely death and ultimate funeral. It is tastefully done, with all the respect and reverence she deserved.
Experiencing the exhibit will take about an hour, but you can certainly stay as long as you like. Here is what you need to know to plan:
Tickets are $14.50 (10 & up) and $5.00 (ages 3-9)
Discounts available
Exhibit is open daily from 11:00 a.m. – 11:00 p.m.
Closing date is November 30, 2009
No photography or video
No food or drink
If traveling to Walt Disney World in the next few months, do take advantage of this once-in-a-lifetime opportunity to experience the life story of Princess Diana showcased through artifacts, images, gowns, and personal items. Her impact then and now is amazing.
I wonder what will replace this exhibit once it leaves. I can't wait to find out!