This post may contains affiliate links for your convenience. If you make a purchase after clicking a link we may earn a small commission but it won't cost you a penny more! Read our full disclosure policy here.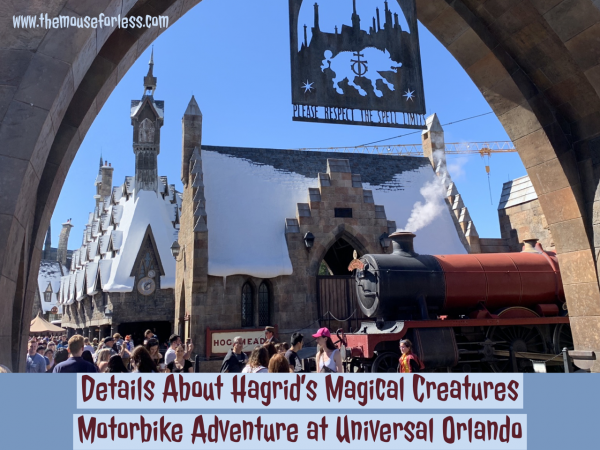 I am so excited about the upcoming coaster for The Wizarding World of Harry Potter. It was recently announced that Hagrid's Magical Creatures Motorbike Adventure would be opening on June 13, but we didn't have much detail besides the fact that the attraction would be opening. Now, we know a bit more and it sounds incredible.
The attraction begins with Guests joining in on Hagrid's Care of Magical Creatures class. Here, you will board magical motorbikes and yes, you can choose to either ride the motorcycle or board the sidecar, both of which will providing two unique experiences.
On your adventure, Guests will race through the Forbidden Forest, which is one of the most dangerous places on the grounds of Hogwarts and during your journey, you'll come face-to-face with some of the wizarding world's rarest magical creatures… but as often the case with Hagrid, things don't go as planned. (Honestly….they never do.) On the way, Guests will see a Centaur; a swarm of Cornish Pixies; Fluffy the three-headed dog; and even one creature that's never been seen in the films before.
This new experience will combine a new level of storytelling mixed with innovative coaster technology. There will be an absolutely immersive environments and sets. During the coaster, you'll twist, turn, and yes, even go backwards at speeds of up to 50 miles per hour in the forest. In this attraction, you'll go past challenging obstacles, encounter surprises, and yes, there is a drop….through a pit of Devil's Snare.
Want to learn a little more? Universal Orlando Resort shared a great video with Tom Felton (otherwise known as Draco Malfoy).
So, who else is ready to hop on Hagrid's Magical Creatures Motorbike Adventure? Share what you're excited about in the comments below or on Facebook or Twitter!
Did you like this article? Make sure to share it with your friends! Check below for easy ways to share!
Want to visit the Universal Orlando Resort? Contact The Magic for Less Travel for more information and a free, no-obligation quote.