This post may contains affiliate links for your convenience. If you make a purchase after clicking a link we may earn a small commission but it won't cost you a penny more! Read our full disclosure policy here.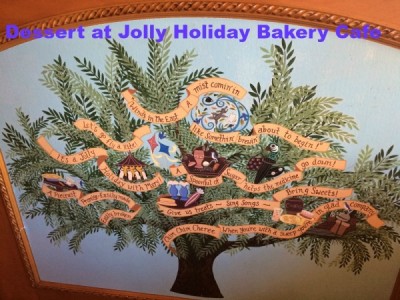 Lyrics from Chim Chim Cher-ee decorate the interior
The setting: Disneyland Park, the Happiest Place on Earth. On a day that was so hot it resembled my oven during a cleaning cycle, my family was on a mission: to find my daughter the perfect cupcake to celebrate her 10th birthday. I knew just the place to look: The Jolly Holiday Bakery Café on Main Street, U.S.A.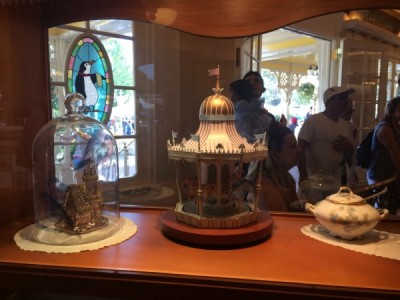 Lovely decor inside Jolly Holiday Bakery Cafe
The Café sits on the corner where Main Street meets Adventureland, and we've enjoyed tasty sandwiches and salads here before. But today was all about dessert! I just love this place. I am a bona fide Mary Poppins freak, and it's so nice to see Mary get some respect in Walt's original park.
Unfortunately, this is the only penguin waiter you'll find here.
My daughter looked at the cupcakes and tried to decide which one she wanted. Naturally, I suggested this one…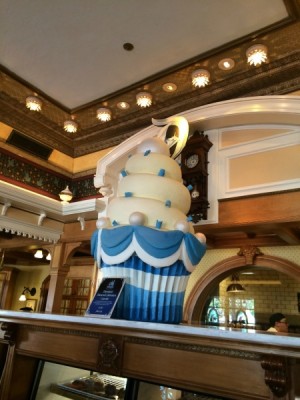 Too big?
…but she wisely concluded that she'd probably get a stomach ache if she tried to polish it off! She wound up picking a Red Velvet Cupcake, which was on the small side, since she didn't want to get too full.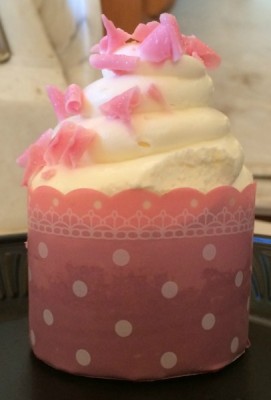 Red Velvet Cupcake
The cupcake liner was a thin sheet of plastic, and it was excruciatingly difficult to remove. Somehow I managed to get it off without dropping it. She loved her cupcake and said it was the perfect size, and that the frosting was cream cheese based.
I wasn't in the mood for a cupcake, but I knew what I wanted the second I saw it. How could I resist the Matterhorn Macaroon? I mean, it's a dessert that looks like a theme park ride! I'm in!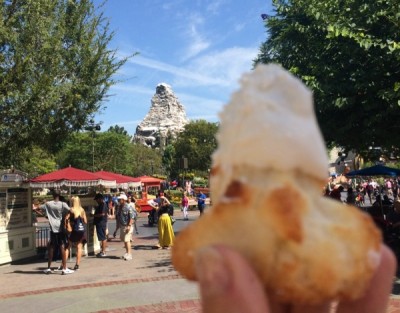 The perfect locale for this perfect dessert!
There was something "only at Disney" about sitting on the patio under an umbrella, eating this macaroon in full view of the Matterhorn. Plus, at $1.99, this is one of the least expensive snacks I've ever seen in the park. The topping was sweet without being cloying, and the macaroon was chewy and delicious. This is a home run.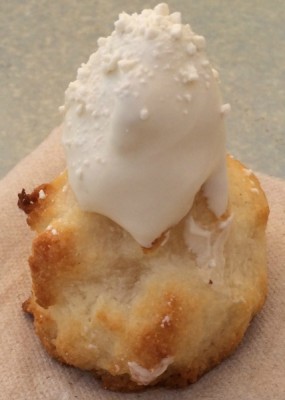 Behold the Matterhorn Macaroon!
My husband was more concerned with cooling off than getting dessert, so he got himself a Grande Iced Coffee. He was able to get it black and fix it however he liked it.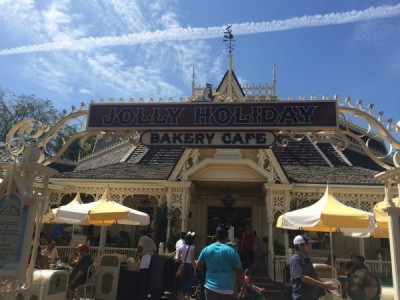 Stop by Jolly Holiday for a sweet snack!
The Jolly Holiday is a wonderful place to stop and grab a quick sweet bite. It's even more lovely when the weather is cool enough to enjoy the patio seating rather than trying not to melt in the heat. I hope you get to enjoy a sweet treat here soon!
Have you stopped by the Jolly Holiday for a treat or anything else? Thoughts?