This post may contains affiliate links for your convenience. If you make a purchase after clicking a link we may earn a small commission but it won't cost you a penny more! Read our full disclosure policy here.
By Jane Jones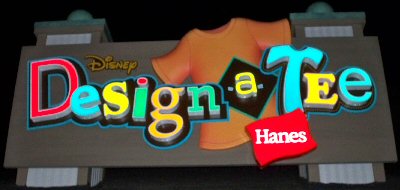 I've celebrated my honeymoon, birthdays, anniversaries, and even First Communions at Walt Disney World. "What Will You Celebrate?" is the Disney parks' and resorts' theme this year, and for good reason. Everyone who visits has something to celebrate!
We all love to wear those special buttons to show everyone why we're vacationing and to connect us with our fellow celebrants, but if you really want to stand out, personalized T-shirts are the way to go. But how do you get matching T-shirts for your group? Can you get them while you're on vacation, in case Grandpa doesn't get inspired to wear a T-shirt until he's actually at Walt Disney World?
There's now a wonderful shop at Downtown Disney that solves this dilemma. Called Design a Tee and sponsored by Hanes, it is located across from the Christmas shop (Disney's Days of Christmas) inside the old scrapbooking store. The shop advertises that you can design a personalized shirt in minutes. Too good to be true? I must admit, I was a bit skeptical, but I took my favorite Disney fans and let them try out the newest attraction at Downtown Disney. Here's what we found.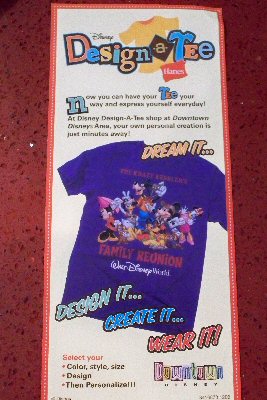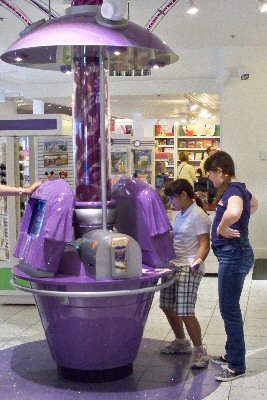 Follow the simple steps at a t-shirt themed kiosk.
When entering the store, you find a number of kiosks awaiting you. It is all very user-friendly touchscreen technology. The 9-year-olds I was with took charge and I stood back and watched as they created.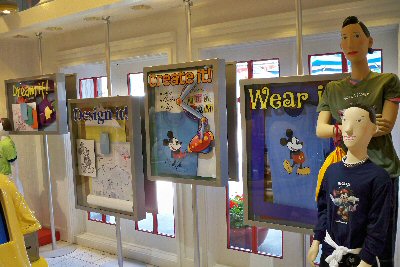 The directions are simple and straightforward. You are given lots of choices, which while plentiful, are limited enough so you aren't overwhelmed. You select your shirt style, the color, the design, and any personalization. The special designs may vary, as they are always adding selection, but they did have a wide variety: general characters (Mickey, Stitch), general Disney themes (pirates, princesses), special occasions (wedding, honeymoon, reunion), and some holidays (in advance of the dates —for example, there were Halloween designs available in March).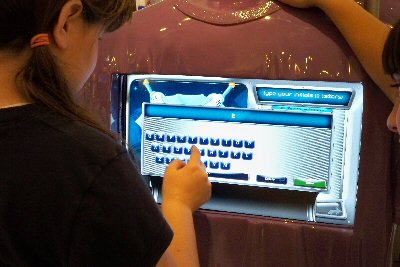 Typing in the selection.
As you make your design selections, you see how the shirt is coming along on the screen in front of you. You can always go back and make a change. One of my Disney fans loved one picture, but once she saw it on the screen didn't think it look great on the color of shirt she selected. She was able to adjust her choices instantly!
Your last selection is the wording you want on the shirt. Can't think of what to say? There are some stock phrases to choose from, or you can write your own text. One member of my group had her wording all planned out, while the other opted to not include any wording since the design already had words on it. Either way, you decide! You have quite a lot of room to write text, which surprised me. You can skip lines and have the wording run straight or curved, but you can't put wording on the back of a shirt.
Once you finishing designing your shirt, you input your initials and your hometown into the kiosk, and then with one last button press, you are done! A paper order prints out for you to take to the Cast Member at the counter. The CM reviews your shirt order and you pay. The cost is about $23 after tax, which is about what I'd expect to pay for an off-the-rack Disney T-shirt, so I was happy with the cost.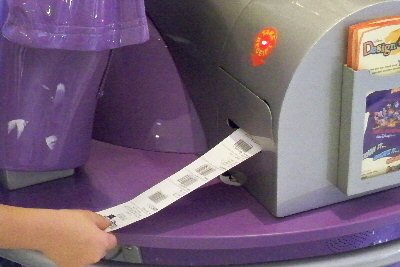 The order prints when you're done.
You'll be given a time to pick up your shirt (we were told 1 ½ hours). This was on a Saturday afternoon, but when we picked up our shirts later that night (we went to dinner and shopped) the wait time was much less. Either way, I thought the wait times were reasonable. It's fun to look up at the screen that shows whose shirt is being processed. You might even see someone else from your own hometown!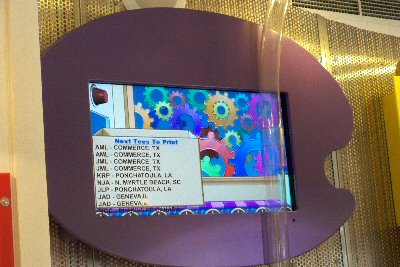 The display shows the queue for making t-shirts.
When you pick up your shirt, the Cast Member will verify your receipt, and then will bring your shirts for inspection. They are ready to wear, but if you are taking them with you, they will put your shirt in a cute jersey bag. They will also go over laundering instructions. The Cast Member will instruct you not to wash the shirt for 48 hours and to dry the shirt on low and inside out the first time. My T-shirt designers wore their shirts immediately without issue, but we did wait 48 hours to wash them. I'll admit, I did forget about the washing instructions when laundry day came! The T-shirts still came out wonderfully and still looked like new. They've been worn almost weekly since their creation.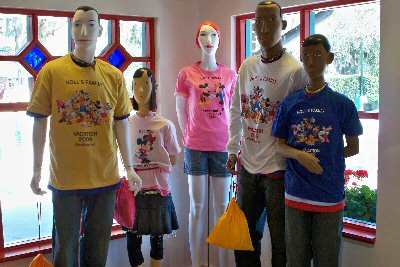 There are ideas to get you started.
It's as simple as that! Here are a few extra tips to help you design the perfect T-shirt:
There's no need to guess about sizes and colors — a wall of shirts shows you what you'll get, and you can try on the shirts, too.
The shirts run true to size, and I would even go as far to say they run a bit larger than smaller. If in doubt, try on a sample shirt!
There were LOTS of shirt sizes available, from baby to 3X+.
When we visited in the winter, you could also select sweatshirts and long-sleeved shirts.
If you need ideas, there are sample designs on mannequins as well as on the sample-size tees.
I was concerned about the quality of the design. Would it be that thick plastic? Would it be a cheap iron-on? The design comes out beautifully, not "heavy and hot," and looks and feels as good as any quality printed T-shirt you could buy at a Disney park. They hold up beautifully in the wash! Remember to check out the wall of samples if you have concerns.
Be considerate of the other guests waiting for a kiosk. Kids especially love to play on the machines while parents are ordering. It is frustrating to wait for a screen while kids (and adults) are just playing around.
This is becoming a popular experience, so arrive early in the day so you can get your shirts ASAP. Plan to shop or eat while your shirt is being made.
My Disney T-shirt team was thrilled with their shirts and they now consider them their favorite shirts. They have already asked to go back and design another tee! I would consider this a must-do experience, and the perfect souvenir for your special celebration at Walt Disney World. (I bet even Grandpa would be pleased.)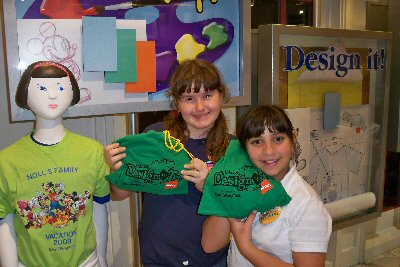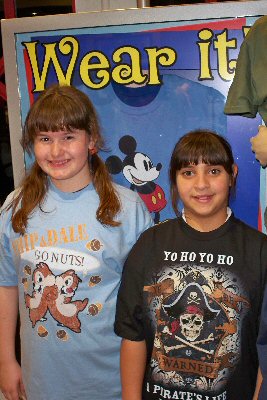 Displaying the finished product.