Delicious Disney Dishes – Gingerbread Cookies from Disney's Grand Floridian Resort
This post may contains affiliate links for your convenience. If you make a purchase after clicking a link we may earn a small commission but it won't cost you a penny more! Read our full disclosure policy here.
Sharing is caring!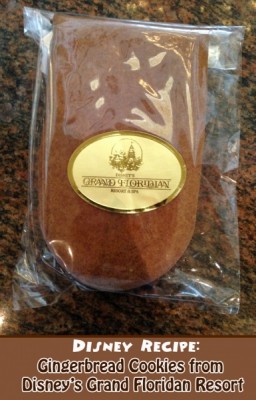 So as many of you know, a couple of weeks ago, I made a visit to Disney's Grand Floridian Resort to visit the infamous gingerbread house, and of course, pick up a great gingerbread cookie treat!
With it being the holiday season here, it is time bake delicious cookies at home, so of course, you're going to want to make gingerbread cookies. Why not make the recipe that's served at the Grand Floridian? Yay for Holiday Cookies!
Gingerbread Cookies
Disney's Grand Floridian Resort & Spa
Makes 36 cookies
2 sticks softened butter
2 1/2 cups confectioner's sugar, sifted
2 eggs
1 1/4 teaspoon baking powder
1/2 teaspoon salt
3 2/3 cups all purpose flour
2 1/2 teaspoons ground cinnamon
2 1/4 teaspoons ground coriander
2 teaspoons ground star anise
1 teaspoon ground fennel
1 teaspoon ground ginger
1 teaspoon ground clove
1/4 teaspoon ground mace
Ingredients for decorations (optional)
1/4 cup milk
1 cup colored sugar granules
Directions:
1. Cream the butter and sugar in a large mixing bowl until smooth using an electric mixer.
2.  Add the eggs and mix until combined.
3. Sift the remaining dry ingredients in a separate large mixing bowl and mix well.
4.  With the mixer on low, slowly add the dry ingredients to the butter mixture until dough forms
5. Remove dough from the bowl and wrap in plastic wrap. Place in refrigerator until firm, for approximately two to four hours.
6. Preheat oven to 350 degrees and grease cookie sheets.
7. Remove dough from refrigerator and allow dough to sit at room temperature for about 15 minutes, until pliable.
8.  Divide dough in half and place on floured work surface. Using a rolling pin, roll the dough out until about 1/8 inch thick. While rolling, flour the work surface and rolling pin as needed.
9. Cut out desired cookie shapes with cookie cutters.
10. Transfer cookies to a greased cookie sheet, placing them 1 inch apart.
11. If you would like to decorate the cookies, lightly brush them with milk and sprinkle with sugar granules, as desired.
12. Bake until firm and edges begin to darken, approximately 10-14 minutes.
13. Allow cookies to cool on the cookie sheet for a minute, then transfer to wire racks to cool completely.
Happy Cooking!
Sharing is caring!
About The Author

RikkiN
In addition to being the Blog Admin and a Website Content Creator here at The Mouse For Less, as well as editor of the Mouse For Less Newsletter, I am also the co-host of the Be Our Guest WDW Trip Planning Podcast and I post articles for TouringPlans.