This post may contains affiliate links for your convenience. If you make a purchase after clicking a link we may earn a small commission but it won't cost you a penny more! Read our full disclosure policy here.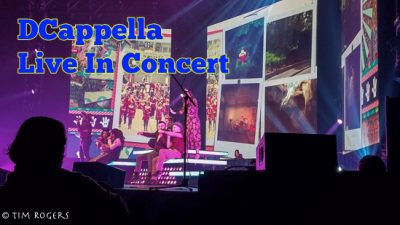 If you have been paying attention to the universe of Disney over the past year, you have probably run into DCappella at least once. They were on the soundtrack for Incredibles 2, released a bunch of videos, came out with an album, and appeared on the Christmas specials.
Now, they are also going on a national tour to bring some of that Disney musical magic to a town (hopefully) near you. Recently I got a chance to see their live show and wanted to let you know what to expect.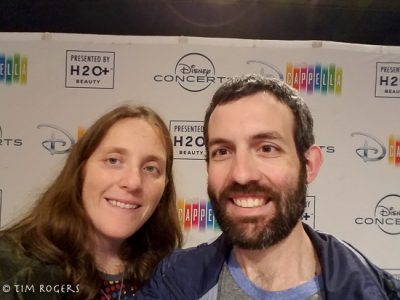 First, a little background on the members themselves. DCappella was formed through a national search, and several of the members will be familiar to Disney fans. Antonio Fernandez, the groups beatboxer, previously was a member of the American Music Machine, which performed in Epcot. Soprano Morgan Keene has a lot of Broadway experience, including the leading role of Katherine in the Newsies Tour (where I saw her a few years ago) and her stage presence was fantastic through the evening.
Outside the specific Disney connections, Shelley Regner, the mezzo, appeared in the Pitch Perfect movies, Orlando Dixon (baritone) appeared on The Voice, and tenor RJ Woessner appeared on the tour of Vocalosity. The group is rounded out by Joe Santoni (bass) and Sojourner Brown (alto). All of these musicians have years of performance experience, and all of that experience showed.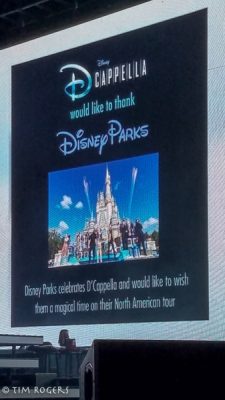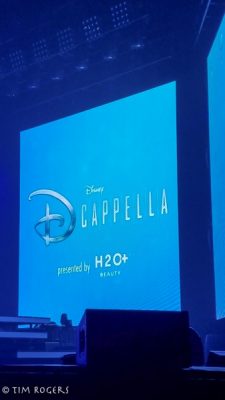 Side note: since H2O is a sponsor, you can get some free samples!
The show itself is a fun musical journey through Disney history. These include traditional arrangements of Disney hits, themed medleys, musical mashups, and other moments that are beyond categories. Through this they shared songs from a huge range of Disney movies, including Coco, Frozen, The Little Mermaid, Tarzan, Mary Poppins, The Aristocats, The Jungle Book, and more.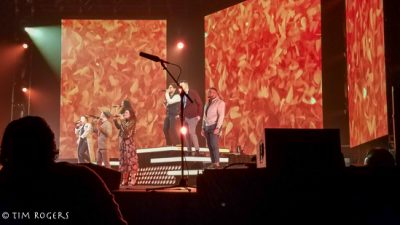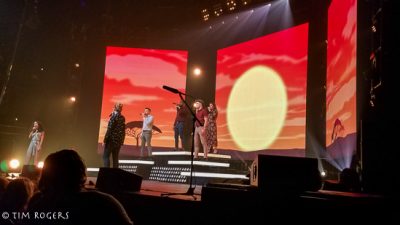 Through this there were definitely several highlights. One that Disney Parks fans will love was a tribute to the classic attractions of Disneyland, complete with photos and footage from the early days of the park.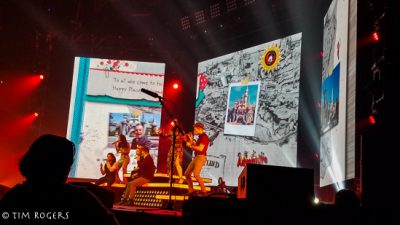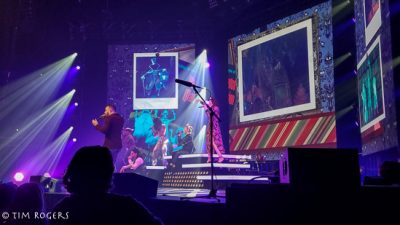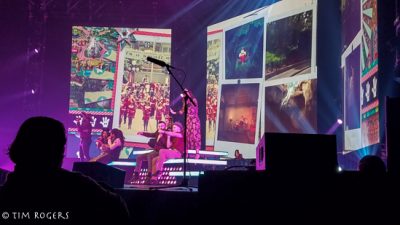 Several of the members got individual showcases, and probably the most impressive was that of the vocal percussionist Antonio Fernandez. Besides the normal excellent beatboxing you would expect with any high level a cappella group, he did some things with his voice that really defy description, including some multiphonics more commonly seem with traditional throat singing.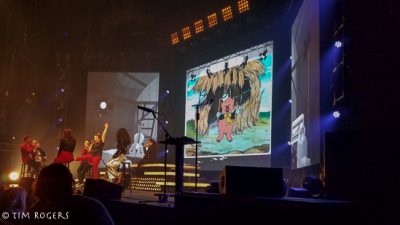 The highlight of the evening, though, was probably their rendition of the Three Little Pigs. This was a completely vocal soundtrack of the cartoon, complete with sound effects and a hilarious running commentary by Orlando Dixon. It was impressive, entertaining, and very well done.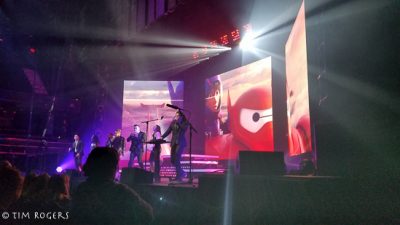 One thing I haven't really mentioned yet is the production itself – as you might imagine with Disney, this isn't simply people singing on stage, it is a full experience. Behind the members of DCappella are multiple screens showing some clips from the films or, often, new animations related to those songs created just for this concert. Additionally, several times throughout the evening a screen came down in front of them to insert the group directly into the experience. One quick word of advice on that, though – in the venue I was in there are a bunch of seats that wrap around to the side of the stage. For most of the show, this wasn't a probably at all, but for those moments when the screen came down that whole part of the experience was lost on us. If you are coming and want to get the full experience, being able to view the stage straight on would be your best bet.
So, as a whole, the concert was a fun evening that definitely will get you into the Disney spirit. If you are looking for a way to get your Disney fix, check out the tour schedule and hopefully you'll get your chance.
Have you caught DCappella live in concert yet? Are you planning on it? Let us know in the comments, or on Facebook or Twitter!
Did you like this article? Make sure to share it with your friends! Check below for easy ways to share!
Want to visit a Disney Destination? Contact The Magic for Less Travel for more information and a free, no-obligation quote.