This post may contains affiliate links for your convenience. If you make a purchase after clicking a link we may earn a small commission but it won't cost you a penny more! Read our full disclosure policy here.
Transatlantic Cruise on the Disney Magic May 2011 – Day 2 (Castaway Cay!)
Cast of characters:
Mic from The Magic for Less Travel
Missy, from The Mouse for Less list and of Minnesota mom's runaway to WDW fame , one of Mic's BFF's
Ross, Missy's darling husband (aka DH)
Ross is taking the blog today – the DH has a perspective too!  Up bright and early (well, early anyway, Mic and Missy are not early-birds) for Castaway Cay!
Foregoing the tram to the beach area in favor of a nice long morning walk in the early Bahamas' sun, we quickly reached our first goal – hammocks! We had no trouble securing 3 hammocks, a couple of supplementary lounges and our fun equipment:   snorkels and floaties.  While Mic pulled out the Kindle and settled in, Missy and I headed for the beach with our gear.    After getting used to the cool morning water we flopped around on the beach getting our flippers on (who invented these things?) and swam out to explore.  We quickly got the hang of things and were soon exploring the undersea world of the Cay.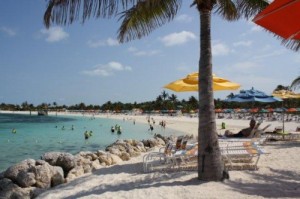 A quick note on the beaches:  we stopped at the first area near the snorkeling lagoon, it was not very crowded at all and stayed pretty light throughout the day.  Later explorations showed that the beaches around Pelican Plunge and Serenity Bay (adults only) were much busier – though still not over crowded.
We swam around a while, found sunken Mickey, Minnie and some fishy friends.   It was really cool and though it didn't seem like we were out long, my red legs and arms definitely told a different story (strong sun in the Caribbean).
After all that work, a nap in the hammocks was in order.  Lying on a Caribbean beach, listening to the wind through the palm trees is a wonderful way to drift off!  Waking up refreshed, Missy and I explored the island a bit, leaving Mic to the floaties, her book and the hammocks.  The island is wonderful, we explored the different areas, however we did not make it to the adult area, Serenity Bay…too far by foot (a whole 15 minute walk…ok, we were being lazy) and we did not want to wait for the Tram, the areas we did explore were not very crowded.  We think it was because of the lower number of children present for the Trans-Atlantic crossing.
After finding Mic again we got lunch at Cookies BBQ, ribs, chicken and assorted BBQ food – very good (cookies were especially nice).  However, a warning:  don't leave your trays alone.  The local birds are very stealthy and watch for trays that have been abandoned for a few minutes and swarm.  Given the level of cooperation they showed it is a well rehearsed maneuver.
After showering and a general recovery we explored the ship a bit more and headed to the Walt Disney Theatre for the early showing (ours will always be the early showing – we have 8:30 dinner seating) of Ricky Kalmon – Comedian and Hypnotist!  It was both very funny and interesting.  He ended up putting a couple of the volunteers into pretty deep suggestive states – one presenting his shoe to the audience as Simba ala the Lion King's coming of age scene and another believing he was different Disney characters each time his hand was shaken.  Missy is sure they were audience plants, but it seemed pretty real to me!
Afterwards we wandered into Diversions where they were holding a Family-Feud style trivia game.  We did ok, won free ice cream on deck 9 for the entire trip!  Ok…everyone gets that anyway…then it was on to Parrot Cay for a Taste of the Caribbean!  Awesome service, awesome food, and more new friends at the table!  This is definitely something that Disney does right!  We ended up chatting at the table well past 10:00 so Missy, Mic and I decided we would check out Match Your Mate in the Rockin' Bar D!
Match Your Mate turned out to be a Newlywed-style game show.  When they asked for volunteers Missy and I jumped up and ran to the stage!  (Mic here, it did take a little tiny push) There were four couples vying for the last seat.  We had to "prove our love" with a stand-up make out session.  After the first round of public "love" we were down to two couples.  We started a more aggressive (!) standing-make out session (this time with wandering hands on my part) – Missy broke off at the last minute and went after the other woman's man…that secured our spot, apparently proving we had what it took.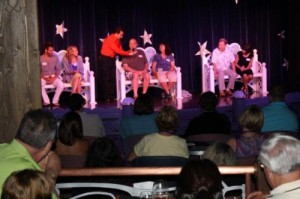 Long story short, we didn't win…I made the assumption it should be "Disney Clean", boy was I wrong.  By the end of the night the audience knew more about us than my friends do.  However, in true Disney style all the couples won a Rainforest Room Spa day – the winners got a very nice bottle of Champaign.
After that we were all wiped out – so back to our cabins, bed and our first of six days at sea (with NO LAND IN SITE)!
Mic  here popping in, Ross did forget a couple of things, like the 5K we ran on Castaway Cay as well as the leisurely ride on the bikes around the island.  I finally got to that lighthouse!      (and yes I have some oceanfront property in Arizona for sale if you are believing that).   Seriously though, Missy and I DID do some dancing with some of the ladies from that Bahamas, a crew member and some fellow guests, in preparation for an upcoming project I am working on to raise awareness for Metastatic (stage 4) Breast Cancer.    Details are still forthcoming, actually we haven't put it all together yet, it still in the Imagineering stage.