This post may contains affiliate links for your convenience. If you make a purchase after clicking a link we may earn a small commission but it won't cost you a penny more! Read our full disclosure policy here.
Held every two years, the D23 Expo could be called the ultimate in Disney fan experiences. The next Expo, coming up this weekend August 9-11, 2013, will be full of fan fun. This is the third Expo to be held in the history of the D23 Disney Fan Club. The location, the Anaheim Convention Center, is right next to Disneyland, so it's easy to spend some time in the evening over at the parks after the events of the day.
Visiting the Expo is quite the experience. Tickets went on sale a year prior, but can still be purchased on the D23 website. Since the advanced purchase savings are no longer available, an adult one-day ticket is currently $57 and a three-day ticket is $166. The Expo could sell out on certain days, so if you haven't gotten your tickets already, do so quickly. Attendees to the event will line up early each day to get it, and current D23 members have preference.
What do you get for that price? Everything you could imagine about Disney. There is a Collectors Forum, a Disney Dream Store (selling general merchandise and Expo-exclusive items), and booths showcasing various  branches of the Walt Disney Company (Disney Channel, ABC, Disney Studios, etc.), Disney Consumer Products, Disney Parks and Resorts, various corporate and fan-based vendors. There is also a second floor with a silent auction, and some amazing Disney treasures on display. Various booths will give out trinkets, samples, or information on their upcoming featured items. There are many freebies and lots of shopping.
In addition to the booths, there are presentations and special events held throughout the three days. Celebrities will be on hand for some presentation (both the actor variety and the Disney Imagineer variety). All of these presentations have limited space (although many of the popular ones are held in the large D23 Arena) so make sure you line up early if there is an event you really want to see. Some events are just for fun, some will have special announcements, and some will have celebrity sightings. Some events will leave people left out because of space limitations, and a few will have a little room to spare.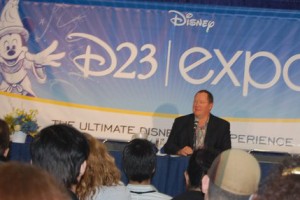 The best way to keep track of all of the fun is the D23 Expo app. Download this to your smart phone and all of the information will be at your fingertips. This is a necessity when trying to make sure to hit all of the highlights. The app even has a fun looking scavenger hunt – scan the QR codes throughout the Expo and you will have a chance to win a Disney Nature DVD.
There is so much to see and do at the Expo, it's impossible to list it all. The best part about the Expo is that there really is something for every Disney fan. The Expo is not only about the parks (although there is some amazing parks information there) – there are movies, TV shows, consumer products, music, artists, and more.
A few things to note for those attending:
Costumes are welcome – there are restrictions such as not pretending to be a Disney character if you are dressed like one, family friendly dress, not weapons, etc. There is even a costume contest to be held on Friday (participants have already been names)and the winners will receive Edna Mode (from the Incredibles) trophies.

Don't forget your tickets and your D23 membership card (or e-mail confirmation of membership) if you have one. There are separate D23 entrances and you will need your card to take advantage of those.

The show floor is open 10 a.m.-7 p.m. all three days. D23 members can get in at 9:00 a.m. each day.
New this year is StagePass

. Like a Fastpass, guests can get a ticket for seating at shows on Stage 23 or Stage 28 for sessions 11:00 a.m. – 3:00 p.m. Guests won't have an assigned seat, but they will get a seat as long as you arrive to the theater at least 15 minutes early.

Make a plan! Take a look at the maps and schedule prior. It's best to make sure that you plan to see the presentations that top your list. The booths will be open all hours, so those are easier to fit in.
Have a great time at the D23 Expo! It's quite an amazing fan experience.