This post may contains affiliate links for your convenience. If you make a purchase after clicking a link we may earn a small commission but it won't cost you a penny more! Read our full disclosure policy here.
By Kate Abbott
If you missed the first-ever D23 Expo this year (or if you went and want to relive it), we've got a mini tour for you right here. The Expo is organized into areas for exhibitors' booths (like The Magic For Less travel / Magically Speaking newsletter), Disney-sponsored booths, and panel discussions / screenings. We'll walk you through all of these areas — with no waiting in line or tired feet!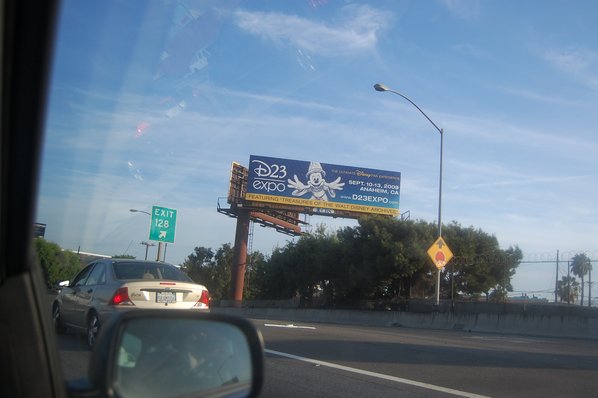 The Expo exposure begins early, on a billboard near L.A. It mentions the display of "Treasures of the Disney Archives."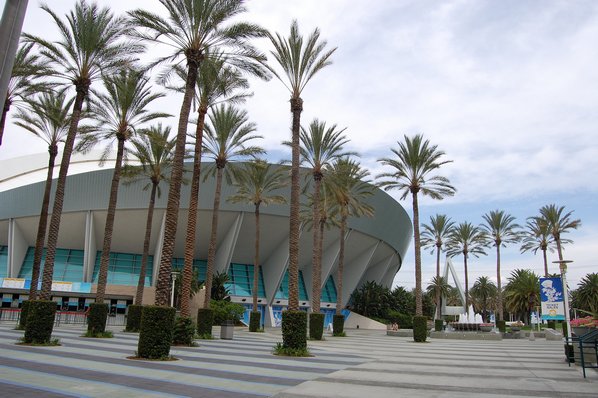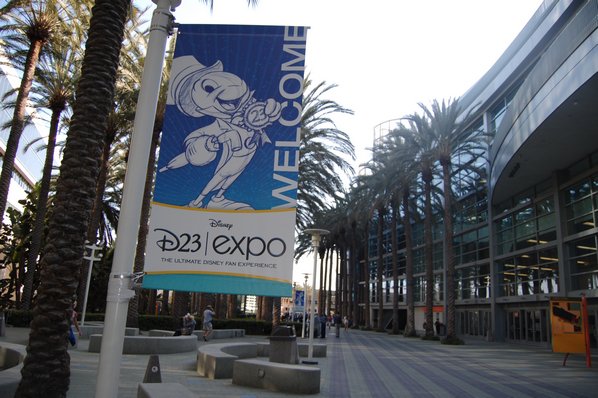 Welcome to the Anaheim Convention Center, across from Disneyland. You've arrived at the Expo, and have successfully navigated the rather confusing parking garage!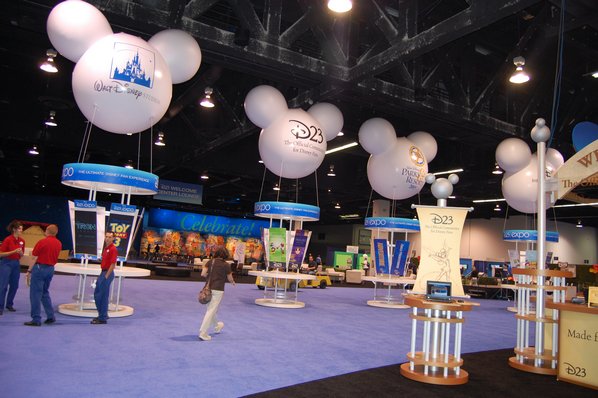 Your view inside the Expo. Very expansive, very organized, and pre-9 a.m. opening for the public, very easy to get where you're going. Let's go!
Our Booth
The day soon gets into full swing, and the Magic For Less travel / Magically Speaking's booth is busy with visitors spinning our prize wheel! Here, travel agents Steve and Ric help out vacationers while Linda organizes the prizes in the back. Magically Speaking tote bags are a hit.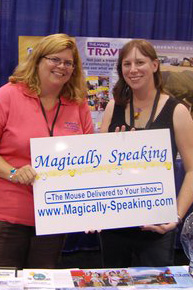 Carol and Kate try to lure in new Magically Speaking subscribers. Welcome to our new readers — thanks for joining us!
Disney Booths
OK, on to exploring the rest of the Expo. I check out the Imagineers' Future of the Disney Parks and Resorts exhibit first thing. (It's hiding behind the wall of vintage attraction poster images in the main Expo lobby.)
The exhibit, which was put together by Imagineers, is also staffed by dozens of them. Anyone can ask them questions and get a true insider's perspective from the people who know the projects best. I even got a personal tour of the exhibit, and was so impressed I'll detail it more in a future issue. But for now, on with the tour….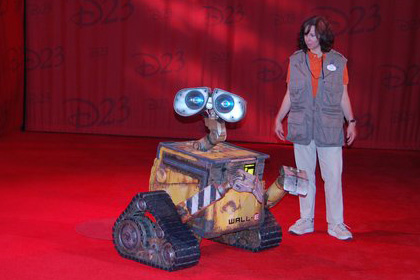 WALL-E makes special appearances to interact and take photos with visitors! He moves amazingly, as does…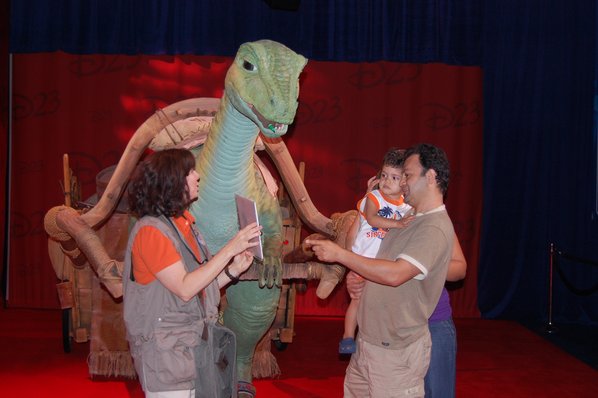 …Lucky the Dinosaur, who is signing an autograph for a young fan. (His "signature" is a clover.)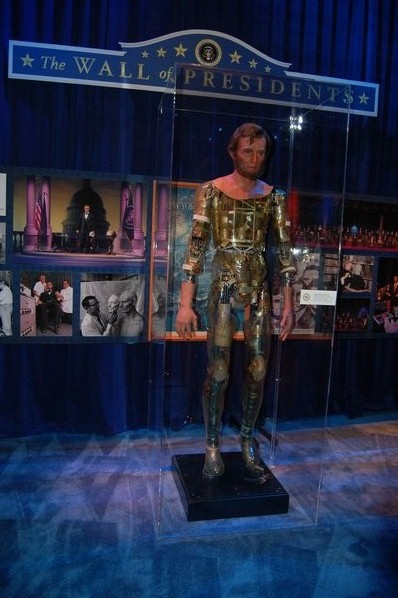 Also in the audio-animatronics area is Mr. Lincoln, revealing more about himself than seen in the parks.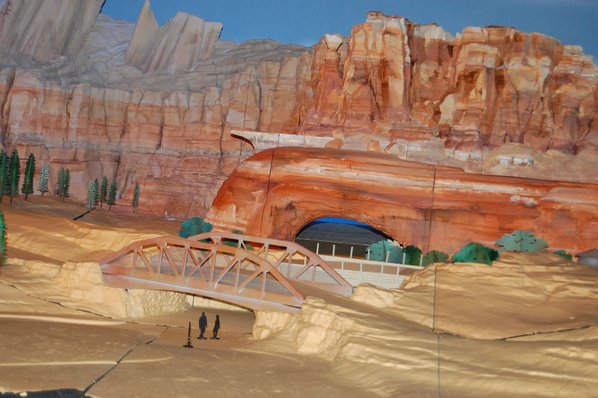 Cars Land, the upcoming expansion to California Adventure, has its own area of the exhibit, looking beautiful in scale models…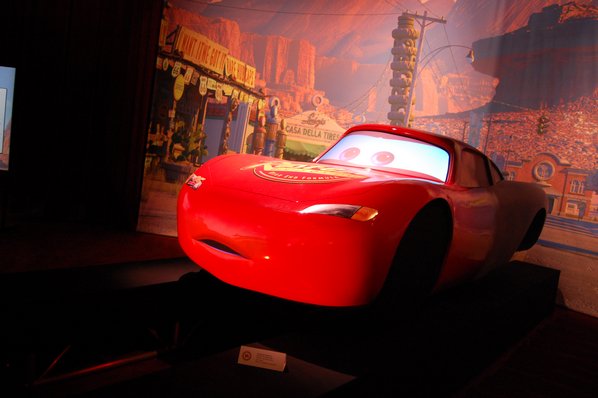 …and fun with an impressively expressive Lighting, whose mouth moves when he talks and looks around! At the exhibit, he wasn't ready to make sounds yet, but his expressions were amazing.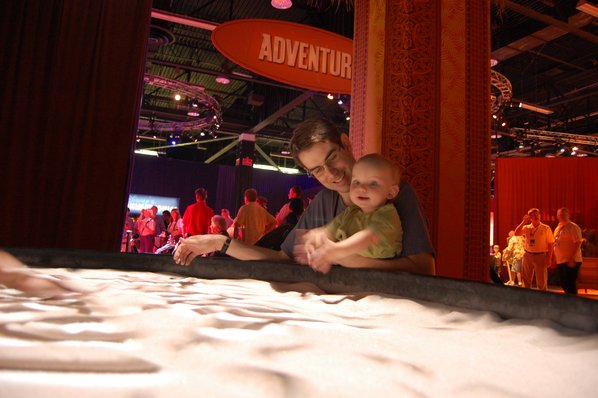 A section is devoted to new adventures beyond the parks, and my baby especially enjoys playing in the "magic sand," which responds to your touch and features fabulous moving images of Alaska, Hawaii, or the Bahamas.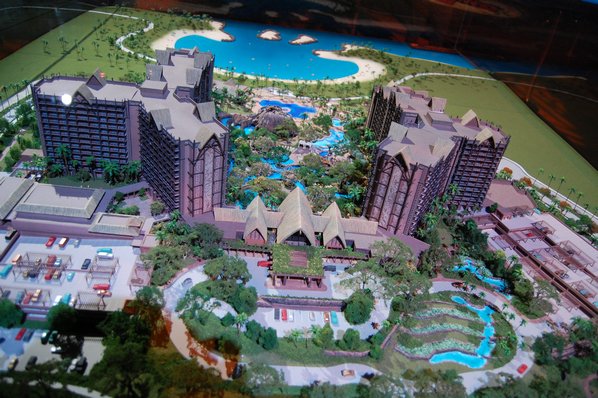 Of course, a hit of the "adventures" area: a model of the upcoming Disney resort on Oahu. Looks like a giant Tiki Room to me. I'm ready to book my flight.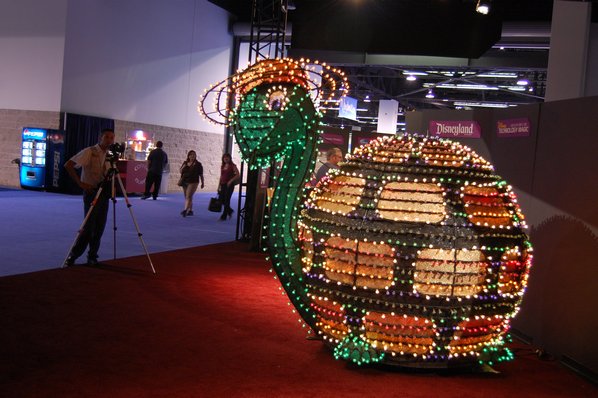 Outside the Parks and Resorts exhibit, the turtle figure from the beloved Electrical Parade poses for photos with a PhotoPass photographer at the ready.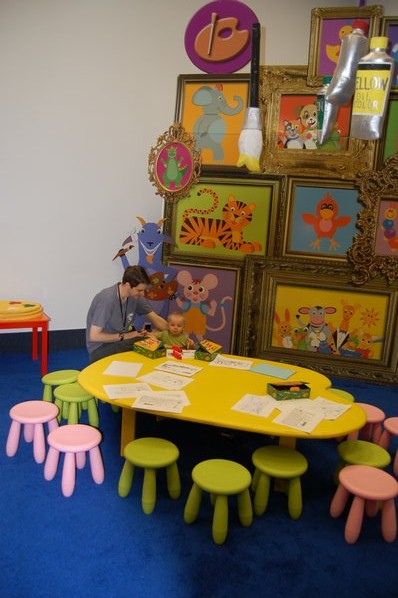 Time for a break—we head to the Baby Einstein play area on the second floor. I suspect Baby H enjoys playing with instruments, crayons, and balls here more than anything else in Disneyland.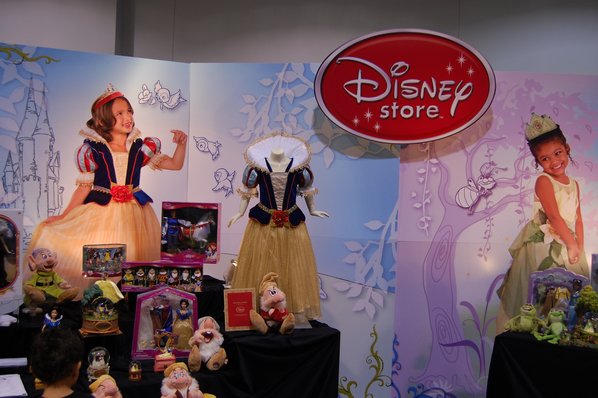 Back on the show floor, we check out more Disney exhibits. I love helping with the daily Disney "voluntear" project, which included assembling healthful snacks for children and making blankets for local children's hospitals.
On the commercial side of things, Disney playhouses, Disney home decor, Disney Behr paint, and Disney wedding dresses feature prominently. Of course, the Disney dress obsession starts early — check out this gorgeous little Snow White dress on display at the Disney Store booth!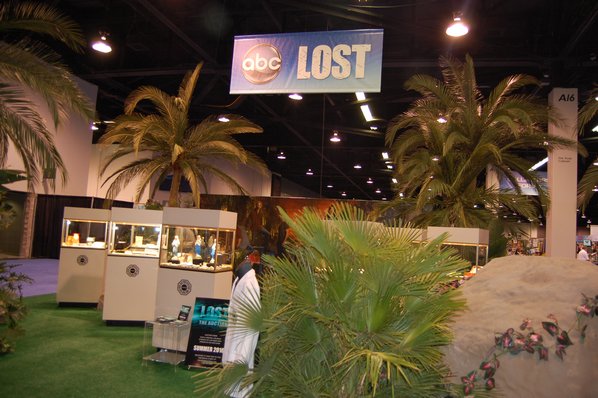 I have a few obsessions of my own…and am way too excited to find the Lost booth, featuring props used on set.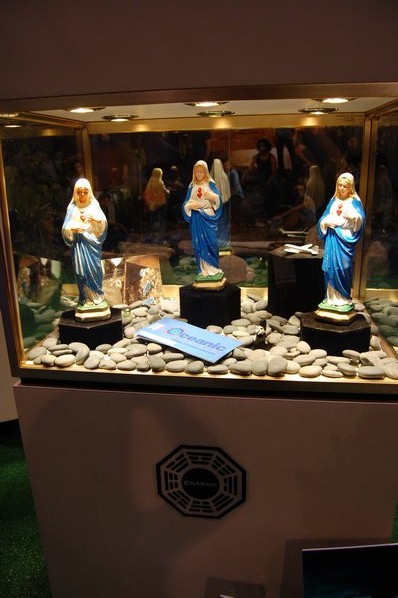 I send a jealousy-inducing picture message to my Lost friend back home. The Expo features all sorts of displays and exhibits to make your Disney friends envious!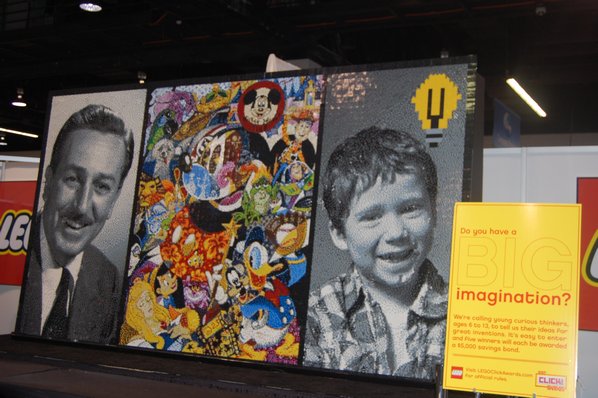 Across from the Lost booth, an impressively detailed mural is created with LEGOs over the course of the Expo.
Other Exhibitors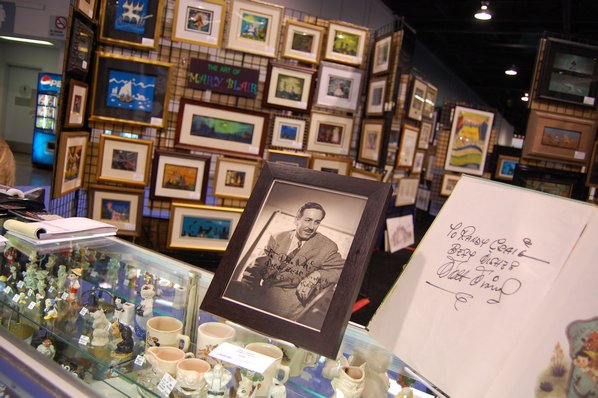 The Disney booths are enjoyable, but one of my favorite experiences of the entire Expo is visiting the Van Eaton Gallery's booth. I don't want to sound like a commercial, but I have to mention this because their collection of Disney animation art honestly impressed me more than Disney's "Treasures of the Disney Archives" exhibit. They had a huge range of original Disney sketches, cels, and paintings, which anyone could experience up close and personal.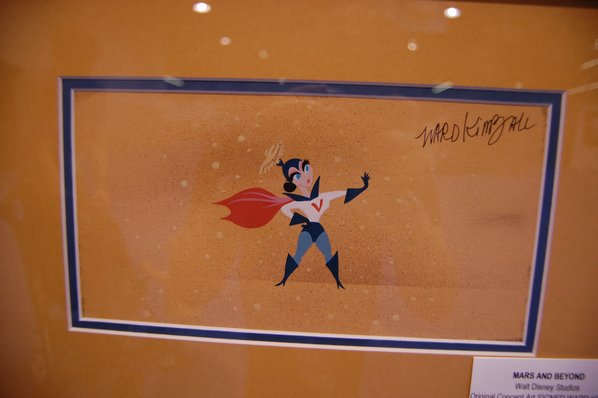 The wall of Mary Blair originals wowed me, as well as paintings by Disney Legends like Ward Kimball. This Ward Kimball original from the Disneyland TV show's episode "Mars and Beyond," looking very Incredibles-like (despite being created half a century ago) was sold by the end of the Expo. I also loved flipping through the hundreds of original sketches, production cels, and paintings that were in boxes. What a great treasure hunt!
Speaking of which, the Disney-operated "Treasures" exhibit disappointed me because it featured almost entirely costumes from Disney movies and TV shows, and seemed to be skewed heavily toward recent releases. OK, I was very excited to see Mary Poppins' costume (her shoes look purple!) but I was really expecting some art or at least more "classic" costumes. Maybe I'm just too old, but the huge display of High School Musical costumes didn't meet my expectations of "Disney Treasures."
Anyway, at least I got my art fix at this booth…and I even made a purchase! You can't do that at the archives. (And incidentally, you can't take pictures in the Treasures exhibit, either. Sorry about that.)
Panel Discussions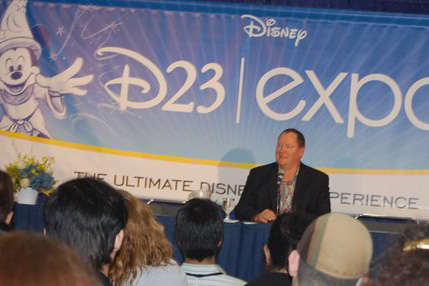 Panel discussions are a highlight of the Expo, and there's at least one for every Disney-related interest. I was lucky enough to attend John Lasseter's presentation and press conference. From these events, I was most excited about Pixar's upcoming ABC Christmas special, Prep & Deliver, involving the secret-agent like ways of Santa's elves.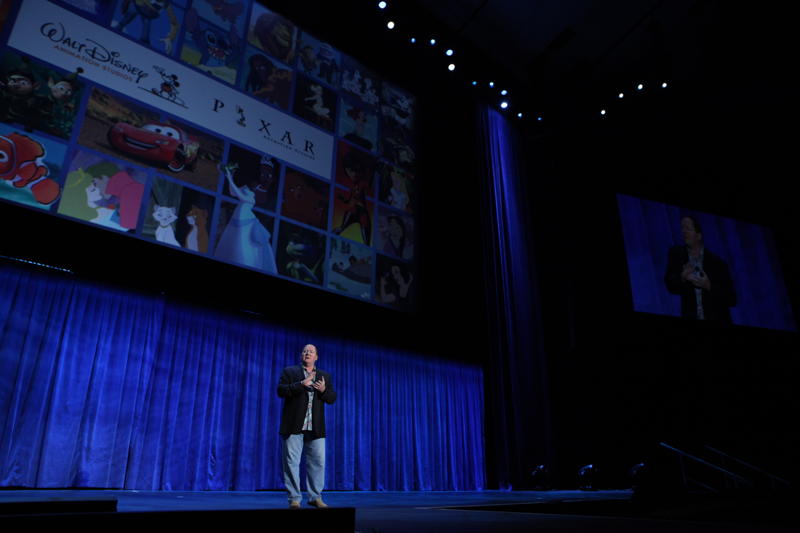 John Lasseter puts on a great show for guests at his presentation on Sunday.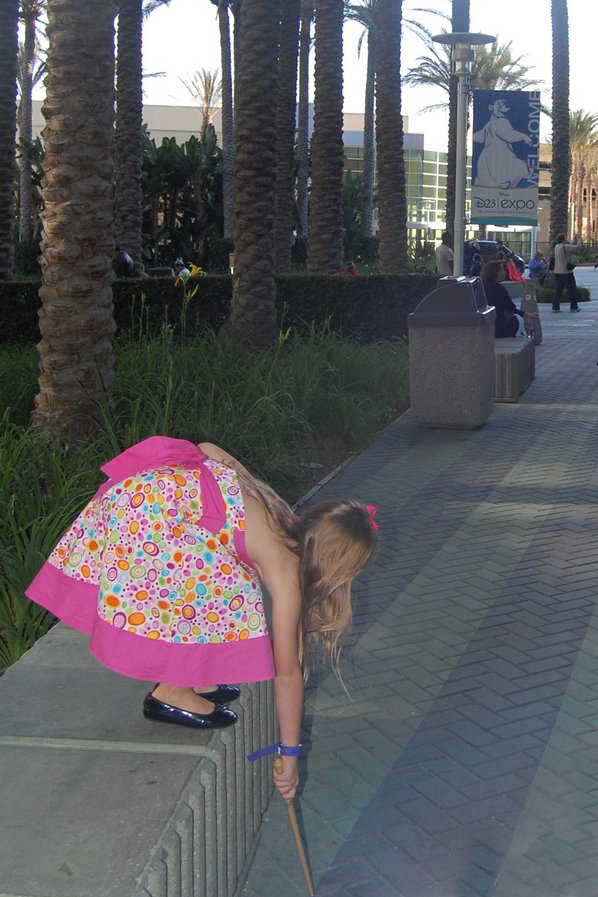 At the end of a long day at the Expo, getting a little overwhelmed with Disney products of every variety, I spot a girl playing with her wand giveaway souvenir from the Wizards of Waverly Place panel. She's dancing all over, casting spells, completely engrossed in her own imaginative world, and I think that maybe that's the very best thing I've seen all day. I'm ready for a night with my family in the parks.
Thank you for taking a brief tour of the Expo with us. Next year, we hope you'll visit in person, and stop to say hello … and will also stop to enjoy the magic (not necessarily the marketing) that attracts us all to Disney in the first place.